After a decade of cementing themselves as a pop superstar, Demi Lovato is stripping back the radio-friendly mask with a snarl. Shedding the butter-wouldn't-melt poppy sonics, 'HOLY FVCK' is a sharp shift back to Lovato's heavy roots. Riling with a dark punk-rock attitude, this is an album that thrives in its heaviness, searing with venom and gloriously bold. Truly proving Lovato as a mult-faceted force to be reckoned with, 'HOLY FVCK' is a howl of brilliance.
Lovato's embrace of her roots is brazen; opener 'FREAK' immediately sets itself apart from Lovato's more recent work, the Yungblud feature riling with goth-rock guitars. The track harks back to 2008 debut 'Don't Forget', yet the ferocity is heightened – rather than pop-rock, this is far harder, etching euphoria within the howl of its dark soundscapes. And Lovato doesn't care if this version of themselves is 'digestible', as 'Eat Me' gloriously states. Equally as delicious, the track overflows with attitude as Lovato cries "you'll have to eat me as I am."
'HOLY FVCK' also oozes sexuality, lustful anthems paired with an equally sinful soundscaping. While Lovato has definitely released sexually-charged anthems in the past, the darker tone serves as an aphrodisiac; title-track 'HOLY FVCK' and the bass-heavy 'BONES' slowly undress themselves, the dark tone carnal, while 'HEAVEN' is equally as irresistible, a lip-biting energy captured on track as Lovato whispers into your ar, devilishly thick with tension.
—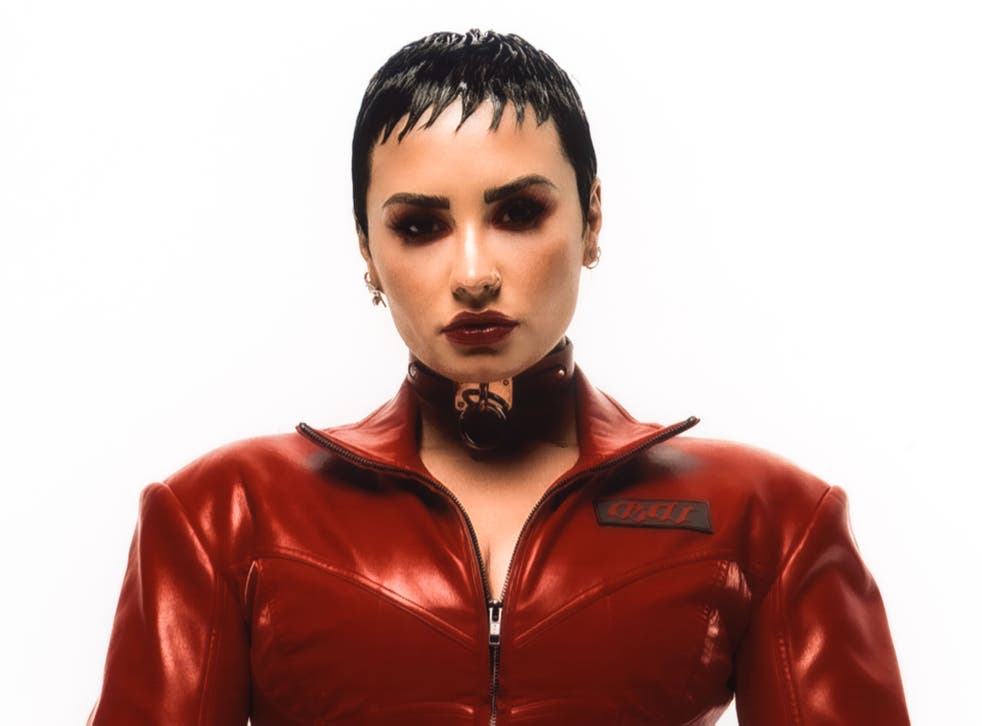 —
However, not every track is focused on Lovato's transition into a darker sound. While lust and a biting attitude make up the bulk of the album's aesthetic, there is an undeniable vulnerability explored on this record. 'SKIN OF MY TEETH' is painfully authentic, touching on Lovato's experience in rehab and struggle with addiction, reflecting "I'm alive by the skin of my teeth." Slower tracks like 'WASTED' and '4 EVER 4 ME' also serve up gooey-eyed, gentle rock, 'WASTED' reflecting that the highest high is nothing on love, "getting wasted on you" the ultimate cure. It must be said that these slower moments can sometimes disrupt the flow and aesthetic of the record, however.
Yet nothing compares to the raw pain captured on '29'. Undeniably the stand-out track in every way, '29' is harrowing and outstanding. Now 29 themselves, the track reflects on Lovato's relationship with Wilmer Valderrama when Lovato was 17, Valderrama 29. Lovato's cries are goose-bump inducing, a bruising ache of emotion; with every howl of "thought it was a teenage dream… but was it yours or was it mine" your hair stands on edge. While the track is not the heaviest sonically, focusing instead on Lovato's powerful vocals and soaring drums and guitars, it is crushing. A truly poignant track that leaves its mark.
Overall, 'HOLY FVCK' serves as brilliant proof of Lovato's hard rock capabilities. Lovato suits hard rock, those vocals absolutely gorgeous when paired with a sturdy burst of heavy soundscapes. While Lovato can knock out a summer-ready banger, it's equally as thrilling to see them lurking in the shadows.
7/10
Words: Emily Swingle
—
NOTE: Clash have used she/her pronouns for this review as per Demi's recent podcast interview