Having been quickly hailed as the "biggest new rock act in the world", 5 Seconds of Summer have tugged on pop music's heartstrings since the start of their career. Plucked from obscurity, after being spotted on YouTube in 2011, and planted on some of the world's biggest stages due to their resident slot supporting One Direction, the Australian four piece made their mark through heady pop-rock anthems and ballads full of reflective and intimate lyrics. By blending their experiences and continuously shifting gears for each era, a decade down the line, the band are almost unrecognisable. The bright-eyed simplicity of their first project has developed into a more complex, considered and complete soundscape that highlights their multifaceted artistry and growth over their decade-long career recalibrated in an authentic way.
Described as an "extremely introspective" album that was "almost accidental", '5SOS5' reflects on the many changes in the bands lives since 2020's 'CALM'. The songs are built on a hypnotic sound, that all take a surprising psychedelic twist, and finds the band tackling raw emotion on a dynamic scale through all the joys and pain life has to offer. It is an intense rollercoaster of mainly synthesised pop but even in its stripped back, more vulnerable moments, the record hails a promising new era and bright future.
Opening up the record, lead single 'Complete Mess' is quintessential 5 Seconds Of Summer. It aptly balances an expansive, epic vibe with a contemporary pop sensibility, which embraces varied inspirations like Kasabian and Massive Attack. The slow building, stripped back track is carried by the layered vocals that drive the rhythm and through introducing the instruments singularly that slowly climax in the choruses. 'Complete Mess' offers a maturer take to pop music compared to the bands earlier material which was inspired by the likes of Green Day, but the layered vocals and near perfect harmonies are still 5 Seconds of Summer at their core.
Honing in on their intent of interrogating the emotional root of their songwriting, much of the album unfolds in layers. 'Bad Omens', 'Bleach' and 'Red Line' are airy, atmospheric soundscapes filled with softly strummed guitars, ultra-crisp percussion and perfectly harmonised head-voice vocals. The devastatingly lyrically themed jams metaphorically touch on things such as ignoring red flags ('Bad Omens'), letting go and moving on ('Bleach'), and unrequited love ('Red Line'). They radiate a sense of peace with their swelling synths and beats paired with lead vocalist and guitarists Luke Hemmings' impeccable vocals.
—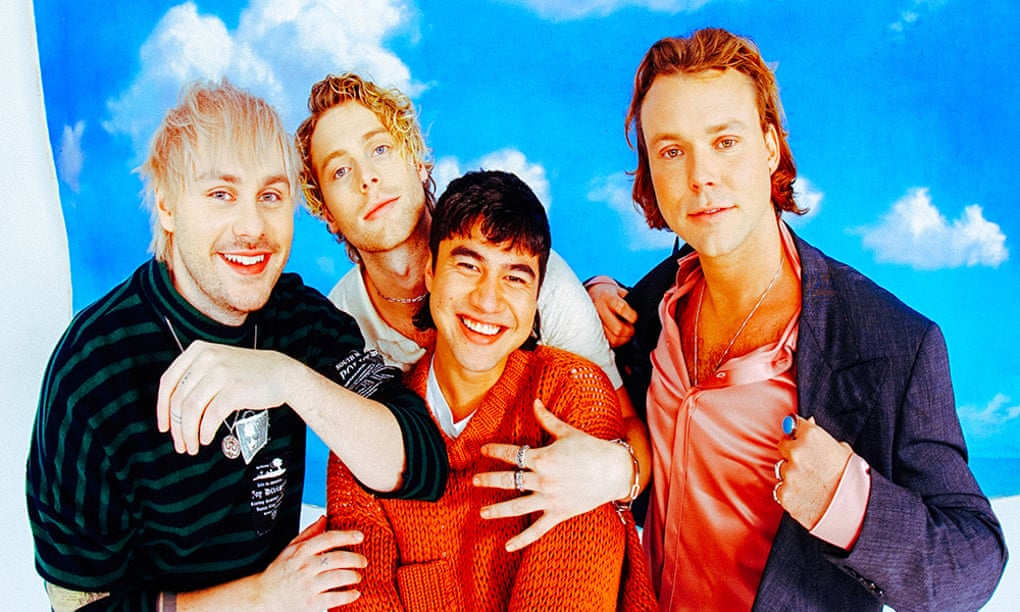 —
Despite growing up, memory lane seems to be one of 5 Seconds Of Summers' favourite places. Continuing the theme of their previous tracks '2011' and 'Old Me', the bright and breezy 'Best Friends' recognises the true power of friendship and touches on the bands unbreakable bond. Indulging in nostalgia, the admirable track expresses gratitude for the magical moments together as Hemmings' proudly proclaims his love for his band mates. Also hailing the past, 'Emotions' and 'Moodswings' sonically nod to the band's 'Sounds Good Feels Good' days with layered harmonies reminiscent of fan favourite 'Jet Black Heart'. They see guitarist and vocalist Michael Clifford at his strongest, especially as he takes the reins on 'Emotions', with his unique cursive twang that Blink-182's Tom DeLonge could be proud of.
Straying away from the propulsive pop-punk formula they perfected and could've easily continued to exhaust, where the record truly shines is where it treads newer ground. An indie repetitive guitar line and deep muted bass give way to dance track 'Haze' whereas 'Carousel' takes a cathartic yet restless confessional turn. Nearing the end of the record, a dark propulsive energy drives 'Flatline' as it takes unexpected vocal turns with beating synths to match and is chased down by penultimate track 'Bloodhound', which is ridiculed with a groovy, all-encompassing bass-line. The funk-punk tracks are simple melodically but are immensely lifted by skilful production which is carried throughout the record.
In short, 5SOS5 shakes out to feel like their most cohesive and impressive work to date. They have finally found their niche within atmospheric pop, even though the influences they draw on suggest their sound is set to expand even further, and as one of the most successful musical acts in Australian history, they've had an undeniable growth. The carefully crafted record, which is sonically their best when it comes to poetic lyricism and intricate production, realistically captures their ten years of experience and proves that stepping out of your comfort zone and taking risks can pay off. 5 Seconds of Summer have truly done themselves proud with this one.
8/10
Words: Shannon Garner