London – born, LA – raised Yale student and pop songwriter Lila Drew spoke to us, via Zoom, from her dorm room in the East Coast, USA. She explained how her confidence as a songwriter has grown since writing the lyrics for her debut album, her obsession with music and also how she struggled with feeling that her personal life experiences may have originally appeared too 'boring' to become songs, until she set out beyond the studio walls and began to create her own memories — which, in turn, inspired her songs. She hopes listeners will pick up on the honesty in her music but also the "funny" side too.
Lila's debut album 'All The Places I Could Be' is out now, with a live film of one of her performances due for release soon after. The title of the album doesn't necessarily refer to a particular place, but more an idea of being someone, as she explains.
"I think the whole record, really, is so encapsulated by the title, which is weird, because I came up with the title after I'd written the whole record. It was not something that I had in mind from the beginning. But I think it really toes this line between, but also encompassing, both exploration and this sort of aspirational thing."
She adds: "The exploration element being I wrote this album between the ages of 18 and 20-ish. I'm 22 now… And I think the whole process for me was not only figuring out what sort of stuff I like, what sounds I like, what lyrics worked best for me, what resonates most for me from a musical perspective, but also figuring out 'what are stories in my life that feel most worthy of being shared?'"
—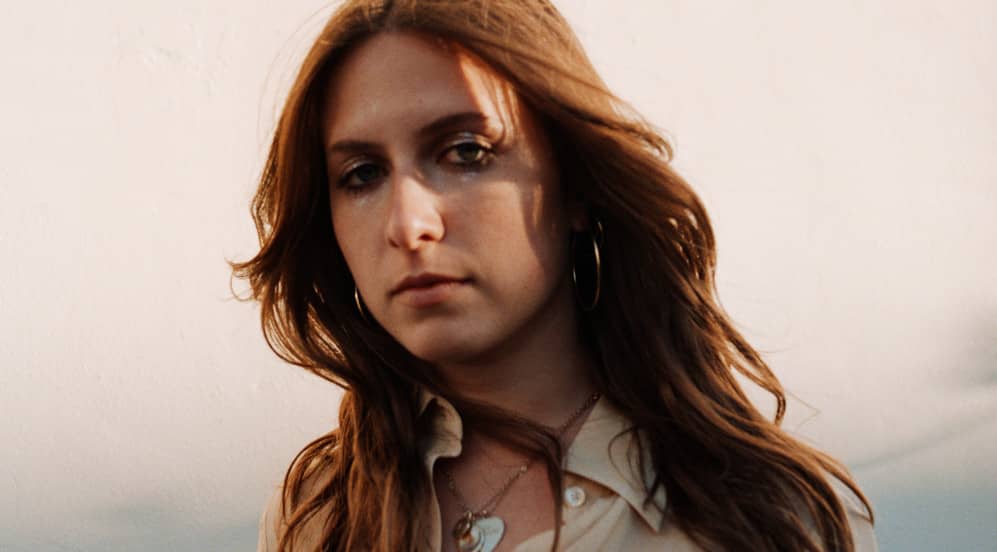 —
The record was written at such an important time in Lila's life. "I really felt like all of my stories, and all my experiences were totally unworthy of sharing. Only because I thought they were uninteresting — not because they were traumatic or something that was too personal… But I spent a lot of time trying to decipher how to tell stories that were mundane to me, in a way that also felt honest and trying to understand that there is a lot of realness in boring, everyday, mundane things."
She describes herself as "such a big fan of music". "All I do in my free time is listen to music. I just love listening to music more than anything, way more than writing music, more than making music. I love consuming other people's music. And I think that was really tough for me as a young person trying to make my own music. That's sort of where that aspirational thing comes in with 'All The Places I Could Be' — about wanting to sort of embody something that's larger than yourself or embodying an experience that you haven't had before…Music is the thing I love the most. Like I said before, it's not even about making music, just music period is really, I can't even express it. I just love it so much. There's nothing more important to me in my life."
Lila's real-life events form the basis of her songwriting, but iconic Joan Didion essays and Joni Mitchell references have played a part in the songwriting process too. "I find it difficult to draw on things that I haven't experienced, I just find that difficult as a writer. 100% of it is based on my experiences, 100% of the record. But I'd be lying if I said that some of it wasn't me romanticising my experiences as well… 'Lila's theme', for example, is really heavily inspired / about Joan Didion's essay, 'The White Album', which I was reading at the time, but also that sort of tied into my experiences."
There is a rawness and realness to the album, which adds to its authenticity. "We really tried so hard, me and everyone who I collaborated with on the record, tried so hard to make sure that you can hear all of the discrepancies and all of the mistakes and everything in the music, and that when you listen to it, it feels like we're all in the room and we're like right there."
Lila's musical influences change all the time and aren't "static". There is one songwriter who has made a big impresson on her, however. "I think Matty from The 1975 is a huge, huge, huge inspiration of mine. Just massive. I think that his ability to weave intellectualism and humour is so unique and so singular to him and I just love his writing so much and I feel like it gets better [with] every record."
—
—
Lila Drew's debut album 'All The Places I Could Be' is out now.
Words: Narzra Ahmed
Photography: Vincent Haycock