A decade on from his passing, Lou Reed remains an enduring influence on modern music. Just last year, for example, Light In The Attic went deep on his early recordings, and the results sounded startlingly fresh, achieving across-the-board plaudits in the process.
From his groundbreaking work with The Velvet Underground through to his broad-ranging solo career, Lou Reed strived to locate something new, and hitherto unexplored. From 'Metal Machine Music' through to his opinion-splitting Metallica collaboration 'Lulu', the New York artist walked his own path.
Back in 1999, Lou Reed was invited to submit his Top 10 albums to a magazine interview, sending across a hand-written list. The results illustrate some early influences and perennial touchstones, alongside some more personal recommendations.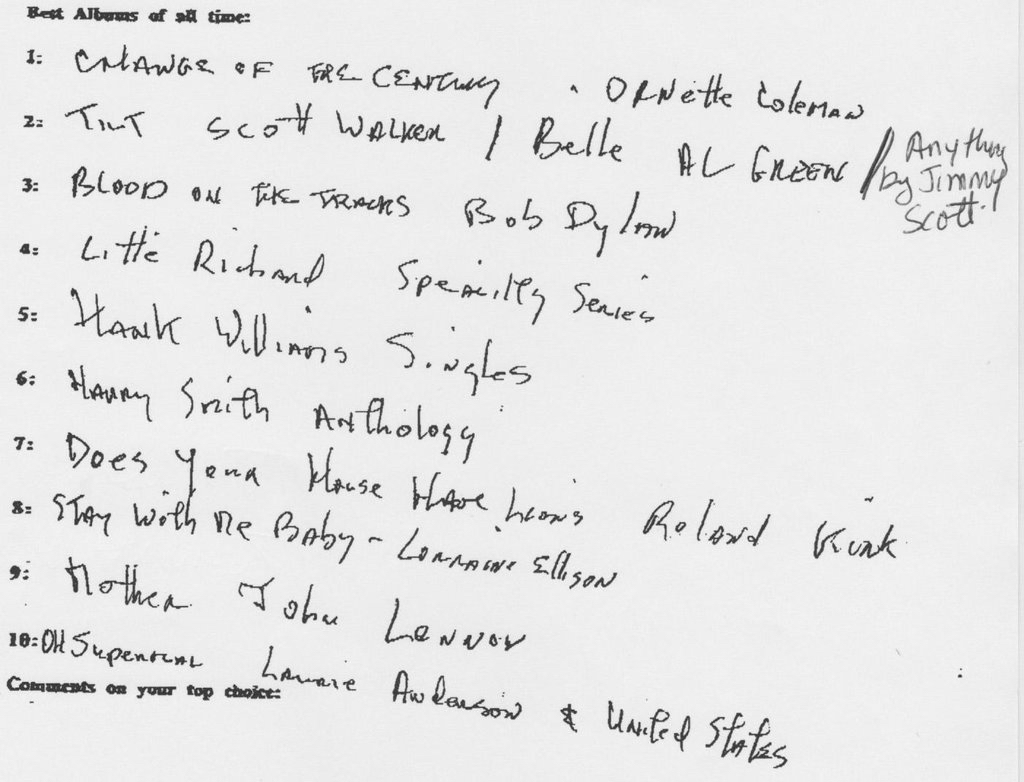 It opens with Ornette Coleman's 'Change Of The Century', a pivotal free jazz recording that epitomises the atmosphere in New York's avant grade during Lou Reed's teens. Elsewhere, you can find collections of work from Little Richard and Hank Williams, while Lou also doffs his cap to Scott Walker, Al Green, and "anything" by fabled vocalist Jimmy Scott.
Roland Kirk is cited, alongside Harry Smith's huge anthology of American folk music. He also cheats a little, citing John Lennon's 'Mother' – it is of course a song, which appears on 'John Lennon / Plastic Ono Band'. There's a nod to Bob Dylan, though, citing his work 'Blood On The Tracks'.
There is, naturally, a personal touch: Lou Reed recommends 'O Superman' as an entrance point into the work of his wife, Laurie Anderson.
Lou Reed – Top 10 Favourite Albums:
Ornette Coleman – Change of the Century
Tilt by Scott Walker / Belle by Al Green / Anything by Jimmy Scott
Bob Dylan – Blood on the Tracks
Little Richard's Specialty Series
Hank Williams' Singles
Harry Smith Anthology
Does Your House Have Lions, Roland Kirk
Lorraine Ellison – Stay with Me Baby
John Lennon – Mother
Laurie Anderson & United States – O Superman