Download Festival 2023: Day One – The Full Round-Up
The best sets at the alt weekender swings into gear...
Happy 20th Birthday, Download! 110,000 of us are here to join the party. The sun is beating down, the symphony of cans cracking open is deafening, and the celebrations begin. This year's festival features an entire extra day of music on the Thursday, including a meaty headline set from heavy metal original guard members Metallica (who are back for another one on Saturday!). There's a little time to lose on a lazy morning, to sleep off last night's killer Doghouse DJ sets or the exhaustion from sitting in killer traffic, up to you. But by early afternoon, the arena is full and the spirits are soaring – and the first riffs ring out. 
Our first stop is the Dogtooth Stage, for a wake up call from SNAYX, who are here representing punky alt-rock at its best. Fuzzy, snarling vocals and uptempo riffs easily get the waves of heads bobbing, with an energetic many coaxed into jumping around. With their irresistibly punchy tunes and the beginning of a weekend of much more of the same, it's no surprise that SNAYX kick things off triumphantly. 
—
—
Over on the main stage, Mammoth WVH is welcoming in the morning punters with a rumble of sturdy riffs. Frontman Wolfgang Van Halen is overflowing with charm, a cheerful air elevating every juxtaposingly hard-hitting breakdown. With the sun beating down on the Apex Stage, every lick of guitar hits just right; from the intricately crafted polyrhythms to the all-out anthems, it's very clear that Mammoth WVH serve up a perfect dose of assured rock bangers.
The grinding bass sprawling out of the Dogtooth Tent are our first clue that something cool is going down; the appreciative crowd sprawled out is our second. Mimi Barks is here, joined by her band of hypemen who rouse us up like a trap-metal Bez. Even with all the energy, though, it's undoubtedly Mimi's gravelly voice that exerts the sheer command over us, backed by trap beats and blacklight-bright electronica. Occasional piercing melodies break through her growls and murmurs in glossy autotune, and Mimi balances the whole show's energy perfectly, even when she takes a break from vocals to smash out a bone-rattling drum track. 
—
—
Back over at the main Apex Stage, fans are barely ready for the ferocity of Ukrainian metallers Jinjer. Opening track 'Perennial' ethereally rings out, weightless, before crashing down into a gruelling wave of blast beats. This ebb-and-flow  of grace and brutality is what carries the crowd through the set, Tati Shmailyuk's mighty stage presence delighting crowds as she headbangs and bodyrolls along to the whirling breakdowns, rough growls truly formidable. Following on is the equally as feral Halestorm. Lzzy Hale is truly a woman who needs no introduction; a pro in every way, her vocals immediately make the crowd stop in their tracks. With her lungs of steel, Lzzy's voice stuns; holding sharp, bellowing notes bolstered by a hard-hitting groove of drums and guitars. Soaking up the magnitude of their sound, it's clear why the collective won Best International Artist at this year's Heavy Music Awards – a total heavy metal spectacle
A sharp tonal shift is taking place over in the Dogtooth Stage, however. Moving out of the sunlight into the darkness of the tent feels like stepping foot into the thick of an underground nightclub. The darkness of Parisian synthwave artist Perturbator hits immediately, his sharp beats pulsing through the floor as a spectable of neon lights flash behind him. Each thrum strikes a chord in your body, the gloomy beat thrumming through your bones. Bodies are moving rhythmically everywhere, the typical mosh swapped out for rhythmic dancefloor-worthy bopping. It's almost a shock when it's time to leave the thick veil of synths and darkness into the daylight, the immersive nature of the set indisputable.
—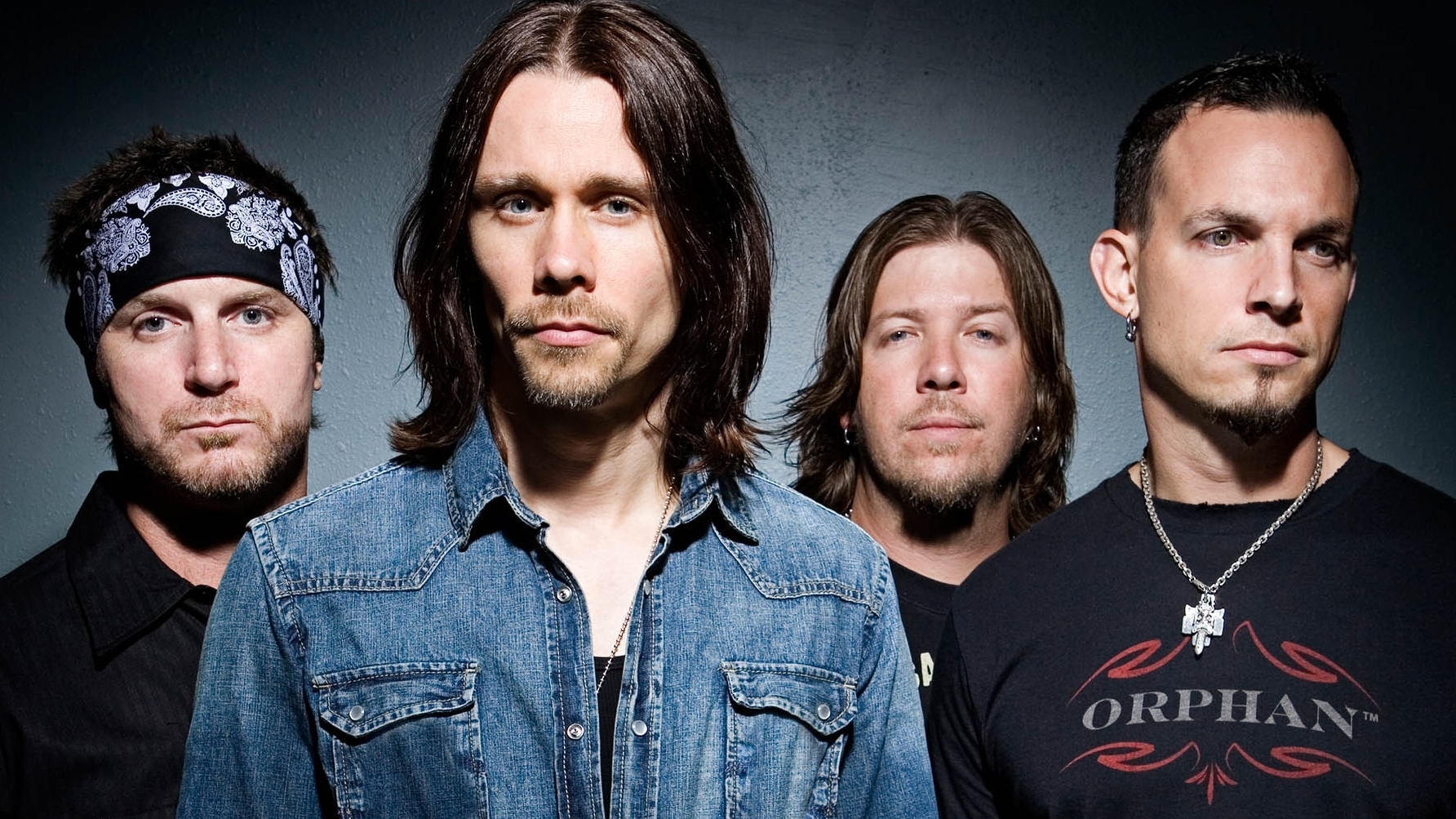 —
For Download Festival's own "sunset slot", a cheeky nod to legends and future headliners, it's been clear all day from the many many T-shirts that Alter Bridge are beloved. Their fans rep them in numbers only beaten by Stranger Things' Hellfire Club, cursory efforts at going for Download's 2023 fancy dress theme – at least some Eddie Munsons have got the wig! Alter Bridge's fans, though, arrive in droves to cover the rolling hills overlooking the Apex Stage, as the Florida rockers deliver deliquescent riff on riff. No one here expects them to prove their chops, and they don't need to either – but they do anyway, and leave us ready and raring to go for Metallica, comfortable that we've enjoyed some rock royalty already. 
Headliners from Downloads gone by have brought a LOT with their production. Even just last year saw Kiss's Gene Simmons descend to the main stage on a zip line from the sound tower, Iron Maiden with an elaborate set transporting us to a Samurai wonderland. Metallica's set tonight doesn't pull out the bells and whistles, with the exception of the incredibly dystopian 360 degree screen towers that have erupted from the Derbyshire hillside, letting us see seven James Hetfields instead of one. Other than that, it's straight up rock and roll – but each track is equally exciting and unnerving, because Metallica have FOUR hours to fill for us over the weekend. So what deep cuts will they pull out? When will they knock out the big guns? 
"We're just practicing," chuckles Hetfield good-naturedly – he, Lars Ulrich, Kirk Hammett, and Robert Trujillo, with their decades of experience, fill the stage and the slot with ease, and with the comfortable familiarity of a homecoming. It is, after all, Metallica's fifth time headlining Download, which mean they've headlined a quarter of all Downloads – hello, old friends!
Tonight, we're treated to a setlist on the fresher side, with the opportunity to hear tunes from their latest LP '72 Seasons' which, to be fair, shine a lot brighter when they get their moment in the sun outside of the context of the album. Alongside the new tunes, we get a hint of a hidden gem with Orion, but it looks like Saturday's set might go further into the archives, as the setlist mixes new stuff with a peppering of the classics – 'Creeping Death', 'Fade to Black', 'Seek & Destroy'… and of course, for all the Eddies out there, we close the night with the eternal riffs of 'Master of Puppets'. 
—
Words: Emily Swingle + Ims Taylor