The Coachella Valley Music & Arts Festival is all set for 2023, marking its return to the Californian desert once more. Shining its spotlight on artists from all across the world, this year's annual event is a highly anticipated venture into the unexpected.
Fans are suspecting a shift in sound and direction following last week's line-up announcement, hinting towards the future of pop and electronic music. Bad Bunny, BLACKPINK and Frank Ocean currently occupy the top spot, ready to showcase the visionary forces of Reggaeton, Alt R&B and K-Pop. Alternatively, the likes of Nia Archives, TSHA and Overmono offer a distinctly British and club-adjacent appeal to the bucket-list festival.
With all that being said, CLASH have compiled a list of everything else you need to know about Coachella 2023…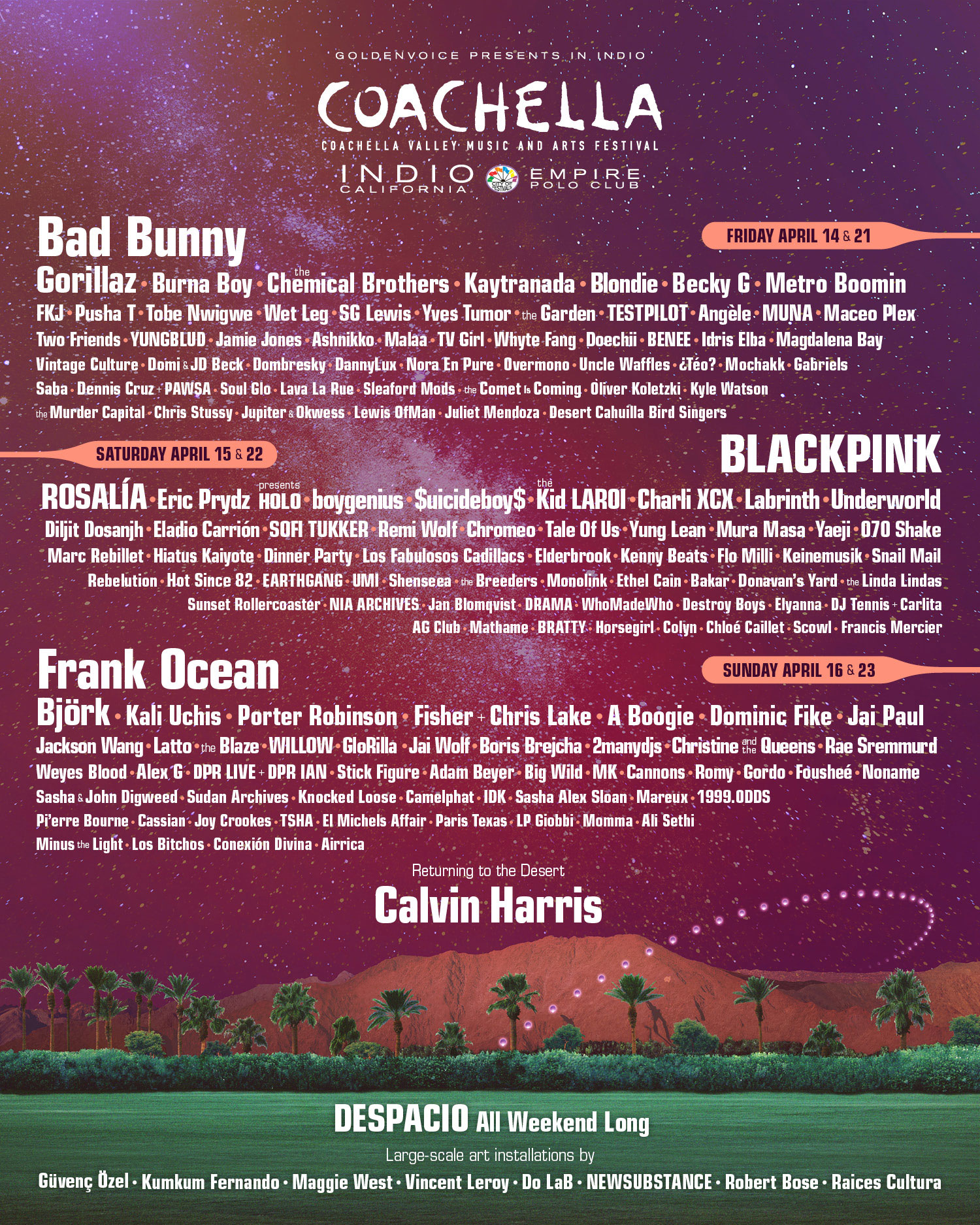 When will Coachella take place?
Kicking things off on April 14th, the festival will stretch across the first weekend, later returning on the 21st for a second round of performances. The line-up remains the same on all Fridays, Saturdays and Sundays.
Where can I find it?
Taking place in the desert region of Indio, California, the festival ground is located to the East of Palm Springs. Across both weekends you can expect lots of sun, with temperatures ranging between 35 to 39°C.
How can I get tickets for Coachella 2023?
Coachella's presale went live on January 13th, with early access offered to 2022's ticket holders and members beforehand.
Weekend 1 is sold-out however, there is a limited amount of passes still available for Weekend 2.
Ok then, how much will it cost?
Tickets are divided in three tiers, currently priced at $549 for general admission to Weekend 2. There are also shuttle and VIP packages available on the festival's official website.
Who is on the line-up for Coachella 2023?
Goldenvoice have curated an ample dose of all things globally new and exciting whilst honouring those who have shaped the music of today. The main headliners include BLACKPINK, Bad Bunny and Frank Ocean, notably amongst the youngest set of performers to grace the festival stage. Other acts include Gorillaz, Burna Boy, The Chemical Brothers, Charli XCX, Björk and Rosalía.
It's a line-up that challenges the conventions of a mainstream festival, championing an array of voices from DIY renegade Lava La Rue to the underground's unsung hero, Jai Paul.
Make sure to follow @coachella across Twitter and Instagram to follow the latest updates.
—
—
In the meantime, check out our 5 Surprises from Coachella's Line-Up Reveal…
It's A Year Full Of Firsts
An abundance of opinions will be hurled at Coachella's way, but 'playing things too safe' surely won't be one of them. The festival has resisted against the predictable genres that would've once taken its centre-stage, now focussing towards the gleaming vision of K-Pop, Reggaeton and Alt-R&B.
Consequently, Bad Bunny will be the first Latin-American, Spanish-language artist to headline Coachella on the Friday, a feat to join the dominating force's lengthy list of accolades. Equal in their impact across commercial music globally, BLACKPINK will be the first Korean, all-female group to trump the festival.
Change has felt long-overdue, but is at last on the horizon.
Jai Paul Is Ready For His Debut Performance
For many, Jai Paul is an undisputed emblem of underground influence. The enigmatic figure made his breakthrough with 2011's 'BTSTU (Edit)', a turning point for the MySpace MP3-era that would go on to be sampled by the likes of Drake and Beyoncé.
Apart from a series of leaked demos and singles, new material is an accepted rarity across Paul's artistry. A live performance has never truly come into fruition, either. That is, until now, where his name sits comfortably amongst Coachella's highlight acts of 2023.
KAYTRANADA was quick to share his thoughts on Twitter:
"forget about me performing, i'm going to see Jai Paul."
Frank Ocean Will Finally Make His Return
It's been six years since Frank Ocean left his mark onstage, a painful seven since his last full body of work, 'Blonde.' Coachella 2023 will mark the R&B renegade's return.
Since 'Blonde', Ocean has perfected the art of mystique, dealing with the limelight in a measured, almost comical manner. An appearance at 2021's MET Gala alongside a green animatronic baby, at times, felt like a milestone achievement for us all.
It's always hard to predict when Frank Ocean will be releasing new music. However, it's a prospect that is never too far out of reach. According to Blonded RADIO, Ocean's past year has been soundtracked by all sorts, from Congo Natty to Headie One and Pet Shop Boys, building plenty of buzz for the performance ahead.
boygenius Will Merge Forces Once More
In 2018, Lucy Dacus, Julien Baker and Phoebe Bridgers shared a creative spark that would arrive in the form of boygenius. Since the release of their one and only self-titled EP, the trio quickly returned to their solo careers, giving little sign of a combined return.
Coachella's lineup poster has vowed to change that, placing their name in bold for everyone to take note. Indeed it's worked, re-centering our attention towards one of the recent years' most exciting supergroups.
It's Official: 90's Big Beat is Making its Comeback
This year's line up,at first glance, seems heavily fixated on the new. Yet, at its core, Coachella 2023 is an echo of nostalgia and legacy. Gorillaz, Blondie and Maceo Plex are clear examples of this, offering new audiences a masterclass in the building blocks of today's sound. New-gen junglist Nia Archives equally finds her place across the April weekend, re-imagining the old-skool without losing sight of the genre's soulful, drum-heavy production.
Amongst all names, The Chemical Brothers continue to stand out. Last summer, the electronic duo took over UK festivals to assert the incredible influence and relevance of 90s big beat. This year, they continue their mission, returning to Coachella after over a decade.
—
Words: Ana Lamond