With A Little Help From My Friends – The XCERTS Interviewed
"We wanted to make a record that was a world that could have only been created by us..."
As a means of stating a band's return, 'GIMME' – the first original material track we have heard from the XCERTS since 2019 – is about as bold as they come. Clocking in at just over 90 seconds, it is a scuzzy, hook heavy, rock & roll stormer. Managing to retain elements of their core sound while embracing something altogether new the trio have moved from dealing in well placed jabs and combinations to swinging for nothing but knock out blows. So how did they get here? The answer to that question starts pre-COVID and ends, like the best of stories, in the arms of friends who mean the most. 
—
—
Following some heavy touring in 2019 which included supporting Busted, and their own anniversary shows to celebrate ten years since the release of their debut 'In the Cold Wind We Smile', the group had some time on their hands to work on new songs.  "I think we had upwards of 30 songs written and recorded," explains frontman Murray Macleod. "We had just started the conversation about who we were going to make the record with and then lockdown happened."
While the harsh impact of COVID and the subsequent lockdowns on musicians have been well documented, the XCERTS were initially optimistic. "We personally thought we timed it quite well. We saw bands trying to rush release records during that time through no fault of their own, because they thought that was the sensible thing to do. And we had a bird's eye view of that. It seemed really tough."
But we were like, "We fucking we've nailed this,"" laughs Macleod, recalling their initial naivety. "We thought; we will be locked down for a couple of months; we can really hone in on the songs, make sure they're as great as possible and then we'll be out and recording…but then three years passed!"
As time rolled on, the inevitable doubts and second guessing began to creep in. "There were real ups and downs for us. There were times where we thought we were going to need to scrap everything and just restart once we came out the other end of the lockdown. But thankfully, we didn't do that."
—
—
It was at this stage that the first intervention from a friend provided an opportunity for the band to step away and get some perspective; putting the songs they held so dear into the hands of someone they trusted. 
"There was a real sense of belief between the three of us that we would make the best record that we've ever made" says Macleod by means of explaining what they felt was at stake. "We found ourselves having a conversation with our good friend Steven Ansell from Blood Red Shoes, and he was like, "I have to make this record with you.""
And so began another round of painstaking but ultimately rewarding work. "We spent pretty much another year making the album because we had the time," says Macleod. "The demos were really polished so Steve had a huge job of pulling apart the car so to speak, looking under the bonnet and ripping everything out and screwing it up."
'GIMME' and its incredible follow up 'Ache' are both laced with a spirit of creative abandon. They are unashamedly anthemic, harbouring styles and sounds not witnessed from the band to date
"We certainly had the conversation that we may never play this record live," says Macleod. "Everything felt so absurd and terrifying for the live sector of the music industry. We thought maybe this will just be a studio album. Then we'll make a follow up really quickly that's more equipped for a live setting."
Unshackled by the burden of thinking of how they would create the songs on stage saw them double down in the studio with Ansell. "This album was really born out of complete artistic freedom. It's the first time we've made a record being in the studio every single day and utilising the studio space as much as possible. It's a bit of a cliche to say, but using the studio like an instrument."
—
—
Pop is not a new word to describe the XCERTS. But until this point it has almost always preceded Punk or Rock as a means of confining them to the parameters of a particular genre. On these songs though the band fully immerse themselves in big pop moments – melodically and compositionally – like never before. "The pop influence seeped in quite early into the writing process" agrees Macleod. "The initial batch of songs that we wrote were straight up pop. I was lost in this idea that we're going to make this grand modern pop record." By his own admission he was perhaps a little too lost, as when the time came to play some of his new material for band mates Jordan Smith (Guitars) and Tom Heron (Drums) their response was less than overwhelming. "They were okay," says Macleod of the songs in hindsight. "But they were pretty vacuous.  I was going through a bit of an identity crisis and I just didn't know where my head was at in terms of being a songwriter."
While the initial songs may have been shelved the influence of modern pop remained, spurned by the groups mutual adoration of Haims 'Women in Music Pt. III'. "We just went nuts for it," says Macleod. "That record is just so brilliant, so smart, and so fun. It sounds like they've made this very intricate world the only home could make. And that influenced us. We wanted to make a record that was a world that could have only been created by us. And that was really, really important. We wanted it to sound in a very, very specific way sonically."
Macleods increasing interest in modern hip hop has also crept into his songcraft, with beats, structures and interludes all borrowed from the genre. But perhaps most importantly in his admiration for the artistic risks hip hop acts take. The way in which they write for themselves first, without thinking of outside pressures. "There's so many different artists in hip hop that don't really care for the listener, and I fucking love that," beams the frontman.
The buoyant nature of these new songs often belies their subject matter, masking a period of turmoil for Macleod. "This record in particular, is really heavy lyrically. I was involved in a really horrendous, toxic relationship that inspired a lot of the record," he explains. "I tried to showcase both sides of it, because I didn't want to make a record that was one person berating another person, because that's not how relationships work. I was fucking dreadful person at times so I had to be balanced. I wasn't just a victim. It was two people, who weren't right for one another and it just escalated to a point of madness and despair."
The themes and narratives are only semi-autobiographical though, with one eye on the surrounding world at all times, so much so that Macleods personal pain becomes collective. "Maybe people will hear certain songs and think that they're personal when actually they're more observational and vice versa" says Macleod before emphasising the fact that "they're all very, very real. The crucial thing about it is making sure that these stories were told in a way that was authentic."
"The people that inhabit the record aren't good people. I find a lot of humour in the album personally, but I also hear a lot of sadness. A lot of the songs were influenced by things I saw. I was out a lot and drinking during this toxic relationship period. And so many scenes occur when you're in a city at night. So observing all these scenarios going on, and my friends telling me what was happening with them. And post COVID it was like the fucking Wild West."
—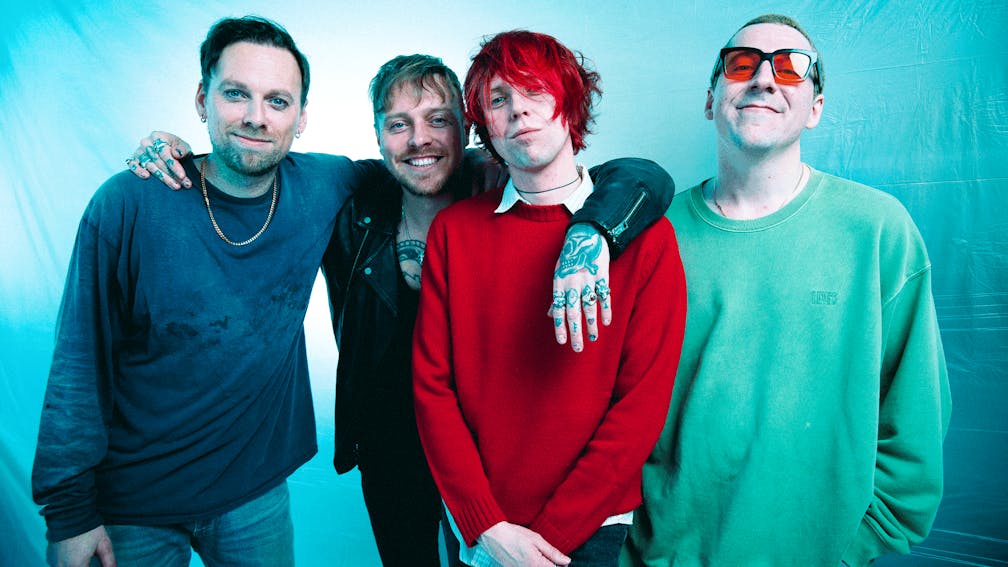 —
A familiar voice to many crops up on the band's breathless new single 'Ache'. And for those who don't know, the history between Sam Carter of Architects and XCERTS extends back to the two bands earliest days. "Me and Sam met when we were 17 on the first day of college, when myself and Jordan moved to Brighton," explains Macleod. And while Macleod sang on Architects track 'Youth Is Wasted On The Young' in 2014 its taken almost a decade for another chance at collaboration to come to fruition. "I used to say to him, we just hadn't written the song that he should feature on" laughs Macleod. "Then, as soon as we wrote 'Ache', I was like, this is the one that we can get Sam on." 
Carter's appearance on the song also acts as a reminder as to how the love and support of his friends have guided Macleod through a stormy few years. The song was written around the time Macleod had just met his now girlfriend, a period during which he describes himself as "very quietly just begging for help."
"I didn't realise it at the time but like I had I had fallen in love with her but I had this guard up and couldn't let anybody in. Sam was there during that whole period to help me and be my therapist, best friend and brother. He really guided me towards having a very healthy relationship with my partner. It's really special that he's on that song.
The first line of the chorus "I'm picking flowers in a junkyard" is pinched from A Streetcar Named Desire. My girlfriend gave it to me during lockdown and I read that thing like three times over. So it's all very personal and linked with two people that I love which makes it even more special."
The fact that we can be dissuaded from our most destructive tendencies by those closest to us is tethered to the core of the XCERTS most recent output. Three friends, driven by a common goal and guided by those they hold dear, they continue to carve out a view of the world that only they could. 
—
—
Words: Craig Howieson
Photo Credit: Zak Pinchin