Scouting For Growth: mui zyu Interviewed
The Dama Scout frontwoman takes us through her debut solo LP...
They fuck you up, your mum and dad – how is it they can fuel you, too? On top of a Chinese restaurant in Kent, Eva Liu was often serenaded to sleep by the clatter of cooking, the amiable chatter of dining customers, and the nocturnal mahjong games downstairs. Dreams of being a musician were quickly shattered. 
"Growing up, I had elders say to me – and it would hurt so much: because of the way you look, you're not going to succeed in a Western society" she recalls. "Look at the people you listen to. How many look like you?"
—
—
Sat in a home studio adorned with various instruments in Hackney, Liu is now discussing her debut solo LP as mui zyu ('little sister pig' in Cantonese, a childhood nickname). 'Rotten Bun for an Eggless Century' tracks the protagonist's journey to self-acceptance, weaving in the emotional histories of Liu's own family experiences. But how did she get here? 
For that, you'll have to meet the Liu family. Her paternal grandfather immigrated from Hong Kong in the seventies, opening restaurants around Ireland and Northern Ireland. He stomped on grapes in a bucket in the backyard to make wine for the restaurant, and imported ceramics from China. Occasionally, he played the erhu, a two-stringed fiddle, for leisure.
Her father grew up in Hong Kong and played in a family folk band, covering songs by Peter, Paul and Mary, and The Osmonds ("I've been trying to get them to get together and do it again!"). Eventually, he moved to the UK and worked in restaurants: "My dad always wanted to make people happy. All the customers loved him because he'd always go around and chat to people."
Young Eva lived above these restaurants in white-majority towns like Tunbridge Wells and Staines. She has two older siblings, but a twelve- and eight- year gap meant Liu was largely left to her own devices as a child, resulting in isolation.
"When I grew up, I sort of resented my family," she explains. "Obviously not any more! But as a teenager, you probably do – and I even more so – went through a tricky time getting my head around my family and trying to understand them. There's parts in this album that embraces and celebrates them."
Music was a hobby for Liu, influenced by her older siblings – her sister was into R&B; her brother was an Oasis fan who took Liu to buy her first single: No Doubt's 'Don't Speak'. But it wasn't until she met bassist Luciano 'Luci' Rossi and drummer Daniel Grant that she started to toy with the idea of being a musician.
"Dama Scout were such great people to be in a band with because they were very encouraging," Liu raves. "They made me think differently about music, approach certain things differently. I definitely learned a lot from there, and I don't think I'd be here doing my solo stuff if it wasn't for my experiences at that time."
Through Dama Scout, Liu tentatively started sketching out a music career. Taking multiple jobs on the side like project coordination and PA work ("that was pretty horrid"), Liu eventually started to scatter EPs from 2016-2018, culminating in 2022's full-length album, 'gen wo lai (come with me)'.
—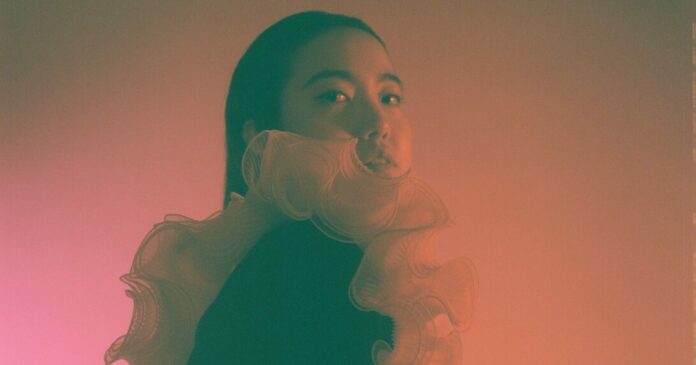 —
Her parents initially weren't too keen on the idea of Liu being a musician. "At first they were worried about it. Most parents would be if the child is pursuing music as a career." Luckily, Liu had the support of her brother and sister, who were supportive and encouraging, "but I think they think it's weird."
"My sister's always like, it's great that you're doing it, but I don't get it. I'm like, that's OK, you don't have to get it," she laughs good-naturedly. Her parents are now more accepting of Liu's music career, though equally as confused as her siblings.
It all seemed to be going well, until Liu's parents moved back to Hong Kong in 2018. Then, Covid hit, just as Liu was trying to discover her heritage having rejected it for so long. Stranded from her family and bandmates, Liu began to write under the name mui zyu.
Covid, she says, was a "scary" time for a lot of East and Southeast Asian people due to the "horrific racism", especially in North America and Europe. But despite this, Liu was able to reconnect with her heritage through the ESEA Sisters. A creative collective born from the pandemic and bolstered by the 2021 Atlanta shootings, Liu found the community integral to the story of 'Rotten Bun…'. 
"Many of us have felt like we've been alone growing up," she explains. "But now that we've met such an amazing group of people who have shared such similar experiences and stories… that process and the experience of being part of these collectives and the solidarity amongst them has also been part of this album."
—
—
Though the album is taken from Liu's personal experiences, it dips in and out of autobiography and fantasy: "There are examples of certain relationships I've had – toxic ones, stuff to do with interactions with people that in the past I've blamed myself for and then realised it wasn't my fault."
As mui zyu, Liu also aims to create music that occupies the liminal space between catchy and unsettling: "I love creating a sort of space that's a bit unnerving and something that sounds horrible, but something that makes the listener enjoy the song as well."
Throughout the recording process, Liu's father would send voice notes on how to cook beloved dishes. He personally redid the voice note in a more narratorial tone for Liu to use as an interlude on 'Rotten Bun…'. 'Ho Bao Daan' is a tribute to her father, as he walks her through how to make Hong Kong-style fried eggs, or 'pocket eggs' – so called because the egg whites are flipped over the yolks to form pockets. 
Liu also recruited Rossi as a co-producer for the album: "He has a way of materialising my ideas and he understands what I like and what sounds I want." Their friendship catalysed one of the most difficult tracks to create, 'Paw Paw'.
"'Paw Paw' was pretty hard, and is probably the song that bonded Luci and I the most," she says. "He had just lost his grandma, who he was very close to. I'd just lost my [paternal] grandfather, and my [maternal] grandfather the year before that. This song came a point that really helped us process it all and it was quite a tough one to finish putting together."
The pair recruited Charlie Wardle to play the erhu as a sonic tribute to her grandfather. "When I did see him play, I was quite moved by it as a child because he wasn't a man of many words. It's probably the most expressive I had seen him," she recalls. "That was an emotional one to put together." 'Rotten Bun…' is a fantastical patchwork of the various friendships Liu has formed across her life, and it's also a radical personal achievement. "Because of the way you look, you're not going to succeed in a Western society", her elders echo. It's cliche, but true: gazing upon the millennial-stylised artwork for 'Rotten Bun…', the protagonist's sword slicing through clouds and dragons, Eva Liu has already won the hardest battle.
—
'Rotten Bun For An Eggless Century' is out now.
Words: Alex Rigotti
Photo Credit: Celia Tang