Pieces Of Me: Clash Meets Steve Mason
Scottish songwriter on the impact of parenthood, his new album, and rejecting toxic masculinity...
Meeting people whose art you respect can be daunting. It can either go well, or badly. Over the years I've had equal helpings of each. So, I was more nervous than I realised when I began my interview with Steve Mason. Any worries I had quickly vanished as we compared notes about primary schools, and ultimately all a five-year-old wants to eat is a potato in various forms.
After formative project The Beta Band went their ways, Steve Mason started releasing music under Black Affair and King Biscuit Time banners. The reason was, seemingly, he didn't want to come out as Steve Mason just yet. "It sounded like a wanky solo acoustic artist that no one would be fucking interested in," he laughs. "What is he… a baker, an astronomer or a musician? It sounded dull to me."
—
—
After a few albums Steve Mason ditched the AKAs and released 'Boys Outside' in 2010. Since then, he's released three more exceptional albums. Latest one 'Brothers and Sisters' – out now, pop pickers! – might be his best yet. It's classic Steve Mason but more sonically eclectic. So, I had to ask what he's currently listening to…
After moments pause, he replies: "I've always been eclectic and unafraid of anything…" before offering a selection of songs that would make an incredible playlist. Gospel music from the 1940s, Theon Cross, Raekwon's mighty 'Only Built 4 Cuban Lynx', Slim Gaillard, The Fall with 'I Am Curious Oranj', even Cliff Richard's 'Wired For Sound'. He then tells me about an app called Radiooooo. It has, pretty much, every current radio station but, and here's the kicker, you can check out regions and countries by decade from the 1900s. "You can listen to radio from Ghana in the 1930s, or Japanese radio in the 1980s". As a result, he's never heard the same song twice and all of it is new to him. "It has three settings," he points out; "Slow, fast and weird…" there is a slight pause, before he adds with a wry smile: "Always weird!"
Work on the new album started in the summer of 2020, but as the Scottish songwriter feels notes "it took me quite a while to get going". Initially he'd write and record something, but then delete the results if it sounded crap. After a while he realised this wasn't the best way to work. "Look" he tells me. "You're going to have to stop deleting things and just finish something even if its shit!"
—
—
He was locked in a cycle and the only way to break it was to do something different. "I just kept working on one track and eventually it morphed into something different… and eventually I had the template."
"With my previous album (2019's 'About Light') I felt that I was heading down a path which could potentially lead to me making an album that I didn't like, my fanbase didn't like, and didn't get played on the radio" he points out. A previous manager was always looking for songs which could be played on the radio. It makes sense. "But if you get to obsessed with that mantra you can end up becoming a bit more mediocre as an artist," he points out.
Becoming a father also made the songwriter feel additional responsibility to his family. "But then I remembered I was an artist and I owed it to myself, the people who like what I do – and artists in general – to forget about any form of financial pressures and concentrate on making art. Something that is astonishing and leave no stone unturned in this pursuit".
Listening to his new album 'Brothers and Sisters' you can pick up on some of the weirder things he's been listening to. There are Eastern influences on almost every song. From Indian instruments but interesting time signatures and some guest spots, it is a real melting pot of styles, but it never feels like he's plundering different cultures for pop hits. Instead, he's taking things that catch his ear and treating them with respect.
"I've made political albums in the past. I never thought that the British middle classes would ever get off their asses. Their problems are knocking at their door. I thought they didn't need any more from me!" he laughs. "It's time for them to shake themselves into some kind of action. I set out my stall on 'Monkey Minds In The Devil's Time' and most of what I spoke about has unfortunately come to pass. It's definitely not improved" he laments. "So, I wanted to offer a form of respite from the daily fucking grind that all of us are cursing through".
Becoming a father comes up. "The great thing about having a child is I am no longer the most important person in the room, and certainly in my life, and that's been fantastic". He pauses then says: "I suffered from depression for ten to fifteen years. The thing about depression is that is makes you incredibly selfish. You are constantly monitoring exactly how you feel all the fucking time". Having a child, he says, finally freed him from all that.
—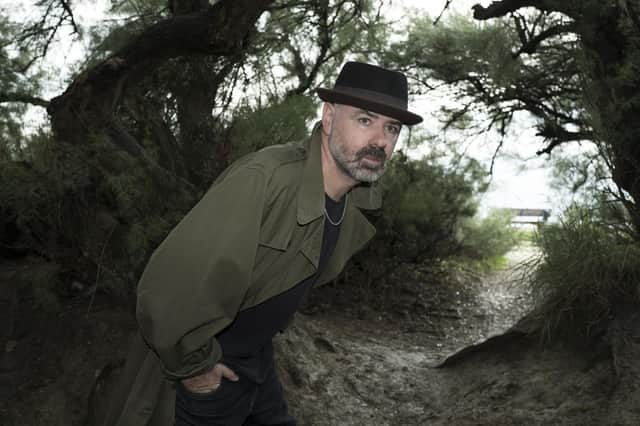 —
Steve Mason tells me that title song 'Brothers And Sisters' is loosely based on The Special's classic protest song 'Ghost Town'. "Up North towns are just dying. Local councils, and the government in general, have this blanket policy attempt to close down venues."
"With 'Brothers and Sisters' I wanted to update that idea and take what Terry Hall was talking about and get some of that spooky atmosphere. This generation won't be able to take those things for granted. I don't know what will be available to them in terms of collective recreational experiences".
Javed Bashir is one of the people that Mason worked with on the album. "We were watching West Is West (the sequel to East Is East) one night and in the closing scenes there is a party and Sain Zahoor is singing this amazing piece of music. So, I did some investigating into him. He's established and I thought it would be nice to find the next Sain Zahoor. My wife, whose parents are from Kashmir, said 'Have you heard of Javed Bashir?' and I hadn't."
As it transpires, Bashir is a playback singer – a singer who records a song, while an actor lip syncs in the actual film – who was in Once Upon a Time in Mumbai. "So, we watched the film, and I thought his vocals were beautiful. His manager is based in the UK… we reached out and it was all very easy. He did an amazing job and we slotted it into the track. It sounded amazing straight away".
—
—
"I sort of discovered Indian and Pakistani film music around 1995. And it just blew me away. Sonically it was one of the most exciting things I'd ever heard. It was more like the Wall of Sound than the Wall of Sound," he chuckles. "It was a rolling cavalcade of people. You have a grand idea in your head and sometimes you try them and it's a mess… but somehow it all worked on this album".
It would have been remiss if Clash hadn't asked Steve Mason about The Beta Band. He says that it was a reaction to Britpop and the toxic masculinity of the era. "Who are these pricks?" he thought. "The men who behave like that are terrified. Absolutely terrified and weak. They can't talk about feelings, or who they love or if they're having problems, but they're sitting there mocking someone who is going to paint a picture or write a song or make a sculpture. And what you realise is, the artist who is willing to sit down in front of you and sing a song about how they feel… well, if that's not brave then I don't know what is!" 
—
'Brothers And Sisters' is out now.
Words: Nick Roseblade