Keeping The Love Alive: Clash Meets Wallows
"We're dedicated to making it work..."
Crashing into our Zoom call evidently still running on adrenaline from the weekend they've just had, Wallows are fizzing with excitement. "I've never been so drenched in sweat after a show," proclaims drummer Cole Preston as the indie three-piece begin to reminisce. "See, I have, but even then, that Liverpool show had me wondering whether I was going to be able to get through the full set," singer Dylan Minnette takes over whilst the band shuffles around a table in Atlantic Records' UK office. "That's the winner for being the hottest show we've ever played. I don't think it should be legal for it to be that hot in any venue. There has to be a way to make rooms cooler than that."
"We were supposed to play another song at the end but we couldn't put ourselves or the crowd through it," Minnette notes. "We knew we had to play 'Are You Bored Yet?' but we also knew we couldn't let people be in that room any longer," he adds. "There was a funny moment after 'Remember When', which was the second to last song of the main set, where I tried signalling the band to just cut it and then come back for the encore. I started saying goodnight, thinking that they were going to get my signal, but they just started playing the song."
—
—
It's been a swift rise for the three childhood best friends since Wallows, comprised of Dylan Minnette, Braeden Lemasters and Cole Preston, dominantly burst onto the scene in 2017. In truth, their journey began years earlier, back in school, but since having evolved into their current form, their trajectory has been accelerating at a warp speed. "Those shows were so rowdy," says Preston as he reflects on the bands first ever UK festival performances. "People like to get sweaty here. You're always excited to see live bands," he adds. "Maybe it's because of the extensive history of bands coming from the UK but those Reading and Leeds crowds had ridiculous levels of energy."
"I'd say those experiences set a new bar for us in terms of crowd engagement," begins Minnette. "I wasn't mentally prepared for the size and energy of the crowd and it was the most pleasant surprise ever. I think I counted about six mosh pits at one point," he continues. "We can also tell the difference in crowds from UK festivals to US ones now too," he states. "You guys sing the musical parts and you're all so passionate about living in the moment that there were hardly any phones out recording. Everyone was just moshing or jumping about," he reflects. "We still love playing festivals in America but it's so different here," he explains. "It's just nice to see most people enjoying your music, whether they're a fan or not, and doing so whilst having insane levels of energy."
Part of the real magic of Wallows, however, is the chemistry between them that's proven to be incredibly strong. Whether they're on stage, in the studio, or casually hanging out, their bond is undeniable and their chemistry constantly radiates between them. "Being friends is the most exciting part about being in a band," Preston exclaims. "I think it's because, as a kid, this is what we had imagined doing and now we actually get to do it together."
"I feel like our friendship and love of music is kept alive through the fact we chose to do this," guitarist and singer Braeden Lemasters tells us. "We're dedicated to making it work and I don't think it would have lasted as long as it has if we didn't have the love for it or for each other," he continues. "That and the fact we've still got many more goals to achieve," he beams. "That's another thing about keeping the love alive. Having healthy growth. We want to keep growing as a band but also as friends."
—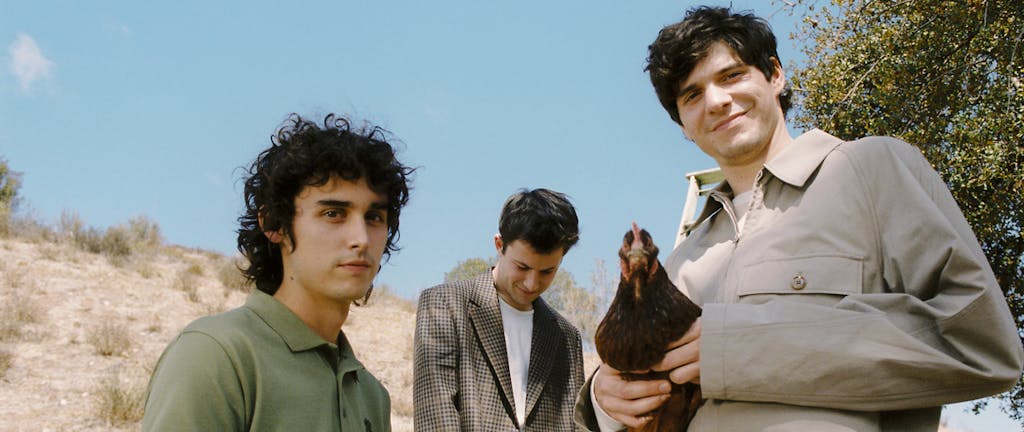 —
The close-knit relationship helped the LA-based trio craft their most ambitious and dynamic project yet as 'Tell Me That It's Over' finds the band challenging themselves with new sonic textures and exploring new approaches to writing. "Relative to our first record, we went into the studio for 'Tell Me That It's Over' with less preconceived ideas of what the songs would end up being like," begins Preston. "By the time we got around to working with our producer Ariel, a lot of the songs were in a limbo incomplete demo phase," he elaborates. "It was only by listening to them that we then built on the arrangement and structure of them."
As the bold offering record rapidly began to take shape, the new approach of going in openly transformed the demos alongside working with pop production legend Ariel Rechtshaid. "Ariel definitely brought knowledge, a fresh perspective and a new dynamic to the table for us," says Lemasters. "He makes you feel so relaxed but in a way that gets the best out of you."
"Quite often as well, he would throw a more unexpected, wild idea at us and completely switch up the track," Preston shares. "For example, our song 'Hurts Me' was originally a moody, almost downtempo ethereal track and with Ariel, it ended up turning into some sort of beachy pop song," he points out. "It's still the same song meaning-wise and lyrically, just in a different musical universe, and it was only by working with Ariel that we were able to achieve that."
—
—
Narratively, 'Tell Me When It's Over' captures the rollercoaster moments in a relationship when the scales of love and dependency start to tip; you can hear the theme of emotional connections throughout. "Even though we weren't focusing on it for the majority of this record, other than relationships, I'd say anxiety and insecurity are other occurring themes on the album. They kind of go hand in hand as well with the experiences we touch on," Minnette shares. "Normally, we do like to have as much as a cohesive theme as possible but, with going into this process without conceptualising it in advance, this time around we were just trying to make the best songs naturally and authentically."
When it comes to opening up within their tracks though, for Minnette, one of the key aspects of the record was emphasising a deep relatability and emotional resonance whilst still drawing a line on how much is openly revealed. "There's always going to be that conversation of what we're comfortable with sharing and what we aren't," he opens up. "We wanted to make sure everything was coming from an honest place but also from a place where we're respectful of all parties involved in the stories being told," he elaborates. "We chose a life in the public eye so it will always make sense to have some sort of line there. It's like, sure, I can share parts of my relationship in one aspect but do I really want to sing about another part and let our fans know every single detail?" he questions. "Plus, it's not just about what I'm comfortable with. If it's a song about my relationship, it's also about what my partner's comfortable and happy with me sharing."
The upcoming year promises to be a big one for the band as their future plans consist of finally continuing their long-awaited tour and achieving new goals. "We want to be filthy rich!" Minnette declares. "I'm joking. Well, I'm not, doing this is kind of our job so we need to be able to live off of it," he rambles.
"On a more serious note though, we don't picture a glass ceiling," he adds. "If the opportunity to play bigger venues came up, even stadiums, we definitely wouldn't turn it down."
"We want to continue our growth as a band and always be in a position where we can interact with our fans by giving them exactly what they want. We want to continuously be ourselves and, forever, be able to express that message. You know, the sky's the limit and we've got lots more we want to achieve!"
—
'Tell Me That It's Over' is out now.
Words: Shannon Garner