Record Store Day Drop 1 offered an interesting spin on the traditional event, with plenty of queuing still happening but less fanfare about who got there first and when. Many shops opted for socially distanced lines and very limited browsing numbers, while appointments were popular where offered. Even with reinforced servers and the predictable influx of thwarted shoppers, many of the shops' websites buckled when the 6pm online sale time arrived.
Most satisfyingly, allowing far more rapid internet selling seemed to put a significant dent in the flippers' business model. Instead of a seven-day wait in which collector anxiety can override common sense, a ten-hour window proved much more tolerable for most and it was noticeable just how many titles were available at close to RRP on Discogs and eBay in the days thereafter.
Stories also emerged that vinyl was outselling CD, even if the specifics actually reflected turnover rather than numbers of discs. Likely to be the outcome of the reduced casual purchase of CDs caused by lockdown while us vinyl folk ordered online, it isn't quite the dramatic headline it might first have seemed.
Drop it like it's hot too
A few RSD Drop 2 titles have made it to the Just Played turntable in recent weeks, so a small preview is once again in order ahead of the September event. The delightful packaging of a pair of Two Tone compilation reissues from Chrysalis is indicative of the vinyl discs contained within.
'Dance Craze' is an endearing curio, collecting together live performances of some of the most notable tracks from the label's catalogue as originally featured in a documentary of the same name. A half-speed master using the original tracklisting, it's the first official reissue since its original release in 1981. An Optimal pressing, it sounds quiet and as open as the material can, given its provenance.
The more desirable of the pair is 1983's hits compilation 'This Are Two Tone', which crams in sixteen tracks across its two sides. The vibrant pink, tip-on sleeve is a tactile delight and the capacity for half-speed mastering to preserve high-frequencies is especially helpful given the number of songs on side A especially. Madness, The Beat and The Selecter are all present, alongside a number of outs for The Specials, including 'A Message To You Rudy' and 'Ghost Town'.
You'll have heard it all before but it's a joyous set and done with love. Exactly what RSD is about.
Demon Records continue to sate the vinyl lust of indie fans the length and breadth of the country with a double 10" vinyl reissue of 'Turn Ons' by The Hots Rats, a Supergrass off-shoot from a decade ago. Gaz and Danny adopted a Zappa-inspired new identity to barrel through a decent swathe of the rock and pop canon in the company of legendary producer Nigel Godrich. Speaking to them for Clash at the time, Gaz described it to me as "just a bit of fun [that] turned out better than we expected, so we thought we'd have a little crack at putting it out."
It recently had the deluxe CD-book treatment with live recordings and bonus tracks aplenty and this hot pink 10" version can now take its place alongside that edition. Originally only available on vinyl via an underwhelming red US pressing, this is the first domestic outing and it sounds clear and quiet. It's not the most dynamic sounding record, but this is in keeping with its first appearance. Side D adds a clutch of bonus tracks, including a take on Kelis' 'Milkshake'.
Snap, Crackle and Pop
Those with the fine taste and good fortune to have picked up the original double disc, gatefold pressings of Doves' albums up to their hiatus will know just how beguiling their music can sound in the vinyl realm. Open, rich soundstages with taught bottom end and controlled highs were notable. The debut 'Lost Souls' still sounds enormous, while 'Kingdom Of Rust' escaped the overly-loud mastering awarded to its CD counterpart. All of which made the workable, bare bones coloured reissues of the first three last year a little disappointing. Skimping on artwork, cutting and pressing was notable, but they served their purpose on Instagram.
When 'The Universal Want' was announced, there was much grumbling about the deluxe edition featuring only a picture disc edition of the main album. Given its reputation as an aesthetic gimmick, it seemed a very odd format choice for what would otherwise be the version of the record targeted at the most obsessive fans. It was, however, a fair warning of what to expect when the band's fifth album emerged.
A solid retread of past glories, varnished with several new belters in 'For Tomorrow' and 'Cathedrals Of The Mind', the record has been curiously mastered and lacks nuance. Where normally this would be unpicked to some extent for the vinyl master, something still seems awry on this GZ pressing.
The first copy Just Played received had considerable paper detritus across the smeary-looking vinyl and even two ultrasonic cleans at the heaviest setting couldn't rid it of considerable surface noise.
A second copy had less dirt on the disc and was spared much of the unacceptable volley of pops and clicks of the first, but the sound on both was simultaneously shrill and muddy. Whatever the merits of the music, the percussion sounds like it's coming from a neighbouring commuter's headphones while the mid-range often appears to be underwater. Approach with extreme caution.
Going Round Again
Several months ago, this column lauded the early releases in Spoon's 'Slay On Cue' vinyl reissue campaign and barely contained its excitement at the run of albums that would follow. 'A Series Of Snakes, 'Girls Can Tell' and 'Kill The Moonlight' have now emerged and the delights continue. Pressed at Optimal in Germany and with crisply reproduced artwork, they make for pleasingly straightforward and laudably affordable ways to enjoy some remarkable music. The bass is a little less prominent than on previous reissues which, to these ears, is ideal, tightening up the overall presentation and letting their impeccable rhythm dominate. 'Girls Can Tell' is the highlight, but it would be remiss of me not to recommend all three.
Cherry Red's endearingly eccentric approach to identifying albums in need of a revival has resulted in a double, red and black marbled vinyl edition of Mercury Rev's 'All Is Dream', which appends to the main record some of the highlights from last year's 4CD deluxe edition via a second disc. Pressed with care by MPO in France and situated within poly-lined sleeves in a beautiful gatefold sleeve, this is clearly a labour of love.
Oft-overlooked because of the majesty of its predecessor, 'Deserter's Songs', this 2001 set is no slouch. The mastering is open and relatively dynamic, certainly more than on the original release, and the discs are mostly quiet. Both densely-layered opener 'The Dark Is Rising' and the relatively nimble 'A Drop In Time' fare well, while the bonus material includes enchanting covers of 'Lucy In The Sky With Diamonds' and John Cale's 'I Keep A Close Watch'.
While the labels have cottoned on to the money to be made in reissuing Nineties titles, those either given a limited run or no vinyl outing at all in the early Noughties are still largely overlooked. Drag City have wisely opted to put Espers' first two records back in the racks via Carl Saff cuts pressed at RTI in America. Having spent some time with this new edition of the 2004 debut, it's a pleasure to report faithful artwork and an open, engaging soundstage. These have been done right and afford the expansive acid-folk room to breathe while still possessing a rhythmic heft with only very occasional surface noise. Grab them before they're gone again.
As anyone who sampled the sonics of Peter Gabriel's half-speed mastered catalogue reissues in recent years knows, he's a stickler for sound quality. Having now embarked upon a programme giving similar treatment to a number of live albums, the first of those – 'Plays Live' – picks up where those studio sets left off. Matt Colton, while still at Alchemy, cut Tony Cousins' master using the same process and the result is excellent, with four silent sides through Optimal in Germany. Dynamics are intact and crowd noise nicely balanced to avoid the shrill bursts that can be prominent on stage recordings.
Essentially a concert-based compilation of highlights from his four self-titled albums, it's an impressive setlist that sounds about as good as an early-Eighties live recording can. The vibrant artwork has been freshly re-scanned to complete a very satisfying package. A similar approach is promised for subsequent titles.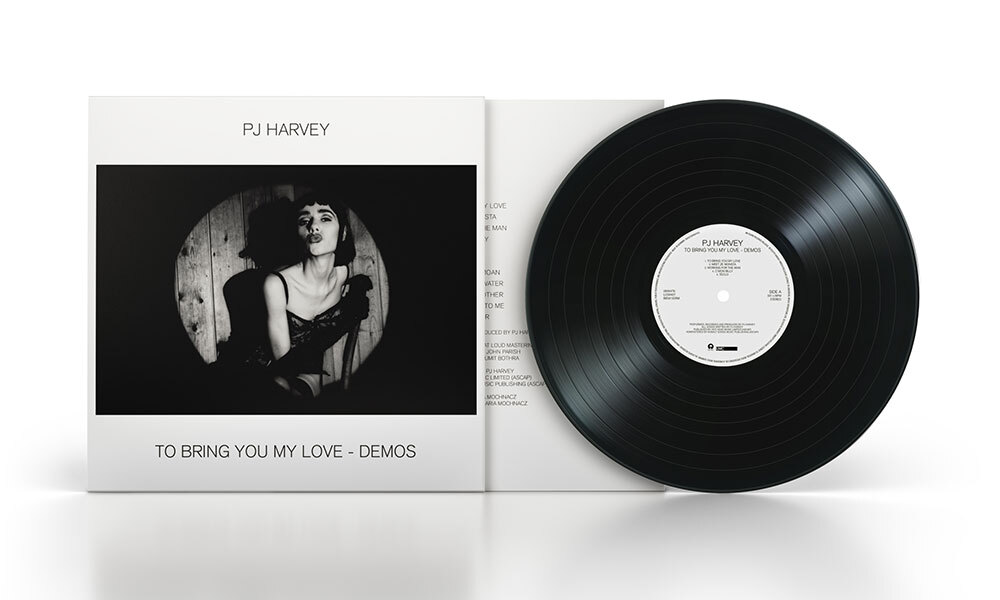 While regular readers won't be surprised to hear that the PJ Harvey reissue campaign has delivered another pair of delights, it's still worth acknowledging the consistent quality of this series, still pressed at Optimal. Rather than joining the current obsession with multi-coloured frisbees, the label has opted for attention to detail when replicating the original sleeves and pursued audio quality over everything else.
'To Bring You My Love' and its accompanying demos set are so compellingly three-dimensional in their presentation that you'll forget that a turntable and some speakers are involved. 'C'Mon Billy' and 'Down By The Water' are as imperious here as when they first impressed twenty-five years ago. The fleshed out demos offer an alternative take on the album, accomplished as they are, that is fascinating for the devoted. Essential stuff.
Ultravox's 'Vienna' album has been treated to a 40th anniversary deluxe vinyl edition, following a teaser 12" for RSD Drop 1 containing both the Steven Wilson remixes and original Conny Plank versions of 'Sleepwalk' and 'Waiting'. Returning to the original 1980 masters, rather than using the new Steven Wilson remix available in the accompanying deluxe CD box set, this is a half-speed cut through Alchemy and pressed at The Vinyl Factory, the former EMI plant.
The artwork is nicely done, along with the incorporation of a wraparound paper band explaining the content, while the sound is consistently involving. Synth notes hover beautifully, while piano passages are clearly defined and resonant. The bonus disc has its moments, though one might struggle to pitch it as essential.
Freshly Pressed
On a balmy Saturday in June, Gilles Peterson put aside the best part of an hour of his always excellent 6 Music show to play a new album by Sault in its entirety. An opening pair of records, '5' and '7', had been released in 2019 but this took their global soul sound to another level.
'Untitled (Black Is)' proved to be one of the albums of lockdown and found spirit and hope in music while the world fell apart. Although the digital release came almost instantly, production schedules have meant that the vinyl edition is newly upon us. A double disc set through Optimal, it sounds glorious, with a broad soundstage that lets the music fully occupy your room. Just as this pressing landed, they released another new and remarkable album, 'Untitled (Rise)', which is scheduled for a physical release in November.
– – –
– – –
The distinctive and raucous guitar playing of The Stooges' James Williamson and the direct vocal delivery of Radio Birdman's Deniz Tek are united on 'Two To One', an album which offers simple but lively pleasures. Dynamic and melodic, it has its heart in the garage scene but shimmering alt-rock like 'Take A Look Around' is no less beguiling just because it slows down a little. A largely quiet pressing that looks to have been done at RTI, this likeable pairing are served well by this vinyl release.
Marina Records have quietly released one of the most joyous covers sets I can recall in recent years. The Colin Steele Quartet's 'Joni' is really very special indeed, with the Scottish jazz group traversing Mitchell's career to phenomenal effect. Steele's trumpet playing is enrapturing, 'Both Sides Now' and 'River' every bit as stirring as the originals. The swing of their take on 'California' is utterly infectious and cemented it as one of the pieces of music for which your correspondent has reached most during the more oppressive moments of the past six months.
The mastering for the German vinyl cut is a delight, providing 3D space around the instruments and offering a dextrous but taught rhythm section. If you're looking for something unexpected to shake your listening up a little, this release is the one for you. A magical record.
Some artists seem to suit particular listening experiences. Going back to the Smog days, I have always found Bill Callahan to be someone whose music works best on the turntable. That's not to say I don't like to have most of his catalogue at my fingertips at any given time, but there was, once again, something special about putting 'Gold Record' on the deck.
Drag City vinyl is normally pretty dependable, with a little light surface noise here and there not uncommon but serious issues very rare. This release, seemingly done through RTI like the Espers reissue, is excellent and almost silent. Callahan's typically languid vocals have a captivating presence on a very precise mastering. And his first words are "Hello, I'm Johnny Cash." What's not to like?
A childhood diet of vintage soul and jazz mixed with an education in the classical greats has led Alexis Ffrench to a hybrid sound that offers, in his words, "magical escapism." Often string-swathed and with a definite fondness for luscious production, his second album 'Dreamland' crept into the world just as lockdown commenced and has been dusted off for a second go this October. The vinyl pressing is mastered well but isn't the quietest which, given the nature of the music, is particularly noticeable on this Optimal DMM cut. Welcome balm for troubling times but perhaps a stream will suffice.
Recorded in the beautiful surrounds of Pembrokeshire in West Wales, Emily Barker returns with 'A Dark Murmuration Of Words'. A fan of vintage equipment and known for a previous, all-analogue recording, 'The Toerag Sessions', Barker can always be relied upon for excellent sound quality. This is no exception and a near silent vinyl pressing through Optimal captures some of her finest songwriting to date. Music can really evoke locations and this resonant, brooding folk feels like a crisp autumnal walk in the Preseli Hills, with its affecting beauty lingering long after the moment.
Matt Berry has made some bewitching vintage folk records down the years, reflecting a lifetime as a student of the genre. More than mere pastiche, his music inhabits an alternative universe where we never ditched analogue for digital. The production sound always evokes the atmospheric openness of recordings from fifty odd years ago and, as a result, it seems fitting to listen via vinyl.
Sadly, Acid Jazz haven't always favoured premium pressing for his output. This latest album, 'Phantom Birds', his finest since 2013's 'Kill The Wolf', has been done via GZ and needs a bit of a clean to get the best out of it.
B.J. Cole's pedal steel is majestic across the record and 'Moonlight Flit' is a fabulous psych-folk boogie that sounds enormous. Great artwork too.
Front Of The Racks:
For one of the excellent Bandcamp Fridays, an initiative which gives the company's share of any purchase within those 24 hours to the artist, I was scouting about for interesting things to try and found several folk whose ears I trust recommending the previous album by Scottish multi-instrumentalist Andrew Wasylyk. 'The Paralian' was an excellent tip and it ensured a keen interest in his new release, 'Fugitive Light and Themes Of Consolation'.
Somewhere between jazz, folk and ambient, this is music for burdened minds and frazzled souls. Arriving with a beautiful booklet of photography also by Wasylyk, this vinyl pressing via Optimal sounds superb. His fondness for David Axelrod, Alice Coltrane and, notably, the remarkable Virginia Astley is worn lightly but endearingly across these pieces, which fill the room thanks to the exquisite mastering. Essential.
All of the titles reviewed above were cleaned before playback using the ultrasonic record cleaning machine, Degritter. A full review of its capabilities will follow in a future column.
– – –
Words: Gareth James
(For more vinyl reviews and turntable shots, follow @JustPlayed on Twitter)
Join us on the ad-free creative social network Vero, as we get under the skin of global cultural happenings. Follow Clash Magazine as we skip merrily between clubs, concerts, interviews and photo shoots. Get backstage sneak peeks, exclusive content and access to Clash Live events and a true view into our world as the fun and games unfold.