Record Store Day comes but once a year. Normally. It was originally set for its usual place in April, before being delayed, optimistically, until June. It soon became clear that this wasn't going to be possible either and so were born the RSD Drops, which are scheduled for the final Saturdays of August and September plus October 24th for the third. While a few items from the original list were released across the summer, most notably Neil Young's excellent 'Homegrown', most have been divided across these three dates, with the vast majority landing on the first 'Drop' this Saturday, August 29th .
Much of the joy normally comes from the camaraderie and enthusing about music in the queue, live performances in the shops and a sense of community celebration. This, of course, is not quite the tone for the 2020 celebrations, with many shops opting for socially distant queues and more stringent browsing procedures with others managing an appointment system across the day. Those opting for neither are able to join the rest of the stores in selling online whatever stock they have in their possession come 6pm on the day.
As ever, there is a substantial list of titles from which to chose and one person's chaff may be another's wheat. The good folk at Record Store Day UK have had their work cut out in ensuring labels kept hold of their stock for these events and collaborating with shops to ensure the Drops could go ahead. In addition, they've invited us to preview a small selection of titles that will be in the racks this weekend. As a result, this month's column is in two parts. We'll begin with the RSD Drop 1 titles before moving to other new vinyl releases that you'll be keen to know about. Do let us know how you get on this weekend and which titles set your speakers alight.
– – –
– – –
Drop It Like It's Hot
Earlier this year, Manic Street Preachers' second album, 'Gold Against The Soul', was reissued in a deluxe hardback book and on vinyl with a not especially successful remastering job done on the audio.
Originally intended to contribute to the build up of this release, but now coming hot on its heels, is a special 12" EP inspired by a 1994 white label release that featured a variation on one of the tracks included here. With the 'Done and Dusted' title repurposed, this set now includes two Ashley Beedle remixes of 'Roses In The Hospital' and two Chemical Brothers remixes of 'La Tristesse Durera (Scream To A Sigh)', each pair offering a vocal and dub version. The stadium indie soul of the former is given an early-nineties funk workout that is irresistibly shameless while the latter is taken to a darker place by Ed and Tom.
This marks the first non-promo vinyl release for the 'La Tristesse Durera' remixes and they sound pretty sharp, if a little bass heavy. The 'Roses In The Hospital' remixes aren't quite as open and agile as on their original 12" vinyl release but they're still engagingly rhythmic. The pressing is pretty quiet and through GZ in the Czech Republic, while the packaging is also based on that 1994 white label. Add in the fact that it's raising money for the War Child charity and Manics fans will be wanting to pick this one up.
Oh, and the significance of the EP's name? The Chemical Brothers were, of course, formerly known as The Dust Brothers prior to some legal wrangling from the original users of that moniker.
– – –
– – –
Ben Watt has released three rather wonderful solo albums over the last six years, finding a sound that wouldn't be out of place in the Seventies folk-rock stable of Island Records. But, the other side of his time in Everything But The Girl, he released several solo records as well as a collaborative EP with Robert Wyatt. 'Summer Into Winter' hasn't been issued on vinyl since it first appeared, thirty-eight years ago. Cherry Red are putting it right for Drop 1 with a half- speed mastered, transparent turquoise cut done through Optimal in Germany.
Given the mastering and plant chosen, it probably won't surprise you to learn that it sounds tremendous – as well as looking quite pretty, if you like that sort of thing – and offers a welcome opportunity to listen to this lost gem.
Also getting its first vinyl reissue is [email protected]'s 'Nuisance', originally released at the height of Britpop in the same year as the Blur versus Oasis bunfight. Much-derided at the time as the embodiment of an A&R wet dream, hastened by front covers and TV appearances before they even had a record out, they offered up a brief, shameless and infectious set of indie rock. You might recall 'Daydreamer', but 'Being Brave' was better.
For this release, non-album single 'We Love You' has been appended to proceedings, following previously (and arguably best left) hidden track 'Bones and Red Meat'. The former is a joyful and jangly singalong, the latter an execrable attempt at one of the jaunty B-sides that Blur favoured at the time.
Is it an essential album? Of course not. Is it the sort of enjoyably retro release the one might be tempted by in the Record Store Day excitement? Absolutely. The artwork is crisply done by Demon Records, with a quiet and fairly dynamic sounding orange vinyl cut through GZ. One point off for the numerous typos and grammatical errors throughout the lyrics on the inner sleeve, though. The highlight is from 'Little Miss Pinpoint Eyes' which already made minimal sense before talk of the subject's farcical existence became "her life is totally farticle." £23 for a decent pressing, aching nostalgia and a neologism? What more do you want?
– – –
– – –
If the answer to that question is an orange and yellow splatter vinyl edition of a well-regarded live album by The Fall then this is turning into quite the day for you. With fresh artwork and a remastering by long-time engineer for the band, Andy Pearce, '[Austurbæjarbíó] Reykjavik Live 1983' is a double vinyl pressing through increasingly prominent Austrian company TAKT. It's a sharp sounding release – in as much as anything featuring music by The Fall can be – and it's a great performance, which previously emerged on CD back in 2001.
Capturing an iconic line-up in excellent form, 'Austurbæjarbíó' is already an essential offering for fans before we get to the afore-mentioned splatter effect. Regular readers may be surprised to learn that I actually think it looks tremendous, taking its inspiration from the original artwork from its 5 inch incarnation at the turn of the millennium. Strictly for the initiated, mind you.
Also making its first appearance on this format is Suede's previously fanclub-only compilation 'See You In The Next Life'. Issued in 2004 to mark the, albeit temporary, demise of the band, it collects demos and acoustic versions of tracks from across their career. The beguiling string parts from 'She' and 'Still Life' top and tail the record, highlighting the charming sense of being allowed special access to the archive.
While plenty of B-sides and early recordings have been shared via the numerous deluxe editions of their albums that have emerged in recent years, this set works so well because it was specifically compiled as a thank you to those who loved the band most. Given the varying provenance of the material, it sounds surprisingly cohesive both artistically and in terms of the mastering.
Demon Records have put out a lot of Suede releases over the past decade, but this may well be their finest to date. 'She's In Fashion' is represented in its demo form, an elongated, noodling shimmy that breathes anew, while Mick Jones' remix of 'Attitude' adds a rhythmic hiccup that has plenty of charm. A red GZ pressing in a spacious inner sleeve which does an excellent job of repurposing the original artwork, this is no reissue cash- in. Just as it was for its original release, this vinyl edition was clearly a labour of love.
– – –
– – –
The good folk at Music On Vinyl have dusted off the debut album by The Sugarhill Gang, as part of their admirably diverse travels through the mists of time. As a label, they are often applauded for their attention to detail when it comes to artwork and this self-titled collection is a fine example. The crisp colours and sharp text across this sturdy gatefold makes it a pleasure to explore. Sonically, it is full-bodied and the all-important bottom end is well defined.
There's much more to this band than the perennial smash, 'Rapper's Delight', which closes the record. The conventional soul of 'Here I Am' and 'Bad News (Don't Bother Me)' is great fun, while 'Rapper's Reprise' features female hip-hop trio The Sequence. This yellow pressing looks to be a direct metal mastering cut via the always dependable Record Industry in the Netherlands and serves the album well. It's certainly of its time but this edition provides a welcome opportunity to put that famous single back in context.
Ticking the 'massively in demand modern reissue' box this time around is a stellar double vinyl set of Robyn's self-titled album. Other than an abbreviated pressing which crept out in Germany in 2007, it has never been on this format previously. Restoring the original 2005 artwork and pulling together all of the bonus tracks, it becomes the definitive version of one of the pop releases of the Noughties. A sturdy gatefold houses printed inner sleeves with the full lyrics and two red discs pressed, once again, at Record Industry. It's worth pointing out that this isn't just a quick cash grab and its quality and sonics are excellent.
Unforgettable singles 'Be Mine!' and 'With Every Heartbeat' are presented with clarity, avoiding the muddied bass sound so often present when pop records are put to vinyl with far less care than this release. It's rare when one of these Noughties reissues actually surpasses expectations but 'Robyn' definitely delivers.
– – –
– – –
As Britpop faded, the bands who had caught the public's attention during that curious phase of musical history had to decide what came next. Ever-declining crowds en route to the toilet circuit, reinvent and press on or just call it quits. Oft-misunderstood and under-appreciated, Gene finished the Nineties being quietly binned off by Polydor and so opted to mark a new millennium with some nascent live streaming from a gig at the Troubadour in Los Angeles. Some 60,000 viewers tuned in for some dancing pixels and rather muffled audio, prompting a CD release of the set several months later.
The original release always sounded a little like it was being broadcast from inside a pair of very warming hiking socks and that hasn't really changed for its first appearance on vinyl via Demon Records. Pressed at GZ, the discs are quiet (one yellow, one orange) and side 4 features a faintly superfluous etching of their logo. Unfortunately, there's not an awful lot that can be done with the original recording which, while muddy, features some excellent versions of 'London, Can You Wait?' and 'For The Dead' along with an early outing for 'Somewhere In The World' which would later appear on 2001's 'Libertine'. For completists wanting their whole catalogue on vinyl, this is about as good as it gets but don't go expecting any sonic marvels.
And, speaking of Gene…
Going Round Again – Non-RSD releases
Your correspondent has written at length about the Gene catalogue previously for Clash and I stand by those words. Martin Rossiter has a truly wonderful, emotive and compelling voice which he largely keeps to himself these days but which soars on record. His former band's four studio albums, along with the compilation of early singles, live tracks and sessions 'To See The Lights', have been reissued on vinyl for the first time as part of Demon Records' 'Gene – The Albums' eight disc set. Housed in a really rather lovely spot varnished box and with a slight but enthusiastic accompanying booklet, the main draw here is the chance to own those early releases on this column's preferred format. The band have also signed a print of the box set artwork for this limited edition run that adds to the sense of something special.
However, our primary concern is the sound quality and it's something of a mixed bag. The discs, a variety of colours all coming from Demon's usual plant, GZ, are largely quiet in-house cuts. If your desire is simply to have these albums on 12" discs so as to enjoy a tactile experience you can't get elsewhere, then these will do the trick, but they're not a sonic upgrade on the originals.
Near-perfect debut 'Olympian' comes in a sleeve that has clearly proved difficult to scan from the original, as the colours are darker and less defined. The sturdy and sizeable lyric booklet from 1995 has been retained and is a welcome addition but the sound is only solid and a little boxed in. It won't be especially disappointing if you've not heard an original but neither will it feel revelatory.
'To See The Lights' is similar, both sonically and it terms of artwork quality. 'Drawn To The Deep End' keeps its gorgeous gatefold but is no longer cut at 45rpm. It sounds a little more dynamic, presumably as a result of being spread across two discs and is, perhaps, the most pleasing pressing in the box. 1999's underrated 'Revelations' also keeps its original booklet and sounds, again, like a digital master transferred to vinyl.
Their final outing, 2001's soulful 'Libertine' didn't have a contemporary vinyl release, with Demon putting it out first in 2014. This is a fresh cut and sounds a little better to these ears. In short, collectors will probably be happier than audiophiles. Should probably make a t-shirt out of that.
– – –
– – –
The PJ Harvey reissue campaign continues and the quality is, once again, exceptional with carefully replicated artwork and no loss of definition. The matt sleeves for both 'Rid Of Me' and its accompanying '4 Track Demos' are sturdy and an indication of the superb job done inside too, where contemporary blue Island centre labels continue the delight. Both have been pressed via Optimal and are sonically captivating, especially important given Steve Albini's production on 'Rid Of Me'. The title track will certainly catch out anyone assuming the master will have been compressed. As a catalogue that has been in demand for such a long time on vinyl, it is a real pleasure to receive each title in this series and be treated to such magnificent work. They serve as a model for how to approach these increasingly common reissue programmes.
HMV's reignited passion for vinyl has seen its prominence in stores increase massively over the last couple of years, especially after Canadian firm Sunrise purchased the brand in 2019. Although we have written about their increasing prices previously, it is worth keeping an eye out for special offers and events like their 'Vinyl Week' which culminates in a batch of exclusive releases. Normally timed to fall 24 hours prior to Father's Day, Covid necessitated a revised plan and so it ended up in the middle of August. It mainly involves re-pressing existing, in-print titles on different coloured variants. There wasn't a great deal to yelp about this year, but Fairport Convention's self-titled debut caught the eye and the recently reissued 'Absolute Beginners' soundtrack got a red and blue polish.
Both titles are part of HMV's anniversary 'Nipper' series which largely seems to mean they get a little paper obi-strip down the side of the sleeve and a different colour. The Fairport Convention record is not on a par with the essential trio 'Unhalfbricking', 'Liege & Lief' or 'What We Did On Our Holidays', but it's a charming, occasionally raucous folk record which has been out of print for a while.
An orange pressing via GZ, it sounds solid but unspectacular. A few years back, some superlative reissues of a number of Fairport, Sandy Denny and Richard Thompson titles set a very high bar that is some way off being met here. It looks to be an in-house DMM cut and, sadly, it's not all that quiet either. The odd tick and pop here and there are fine, but a repeating run of clicks through 'Decameron' have been reported by other customers too. It is, perhaps unsurprisingly given all of this, still available but best avoided.
The other Nipper title we sampled, 'Absolute Beginners OST' is great fun. A who's who of the mid-Eighties produced by the imperious duo of the time, Clive Langer and Alan Winstanley, and also featuring jazz royalty in Gil Evans, it is more positively regarded than the Julian Temple film it soundtracks. David Bowie's title track sets the scene in its joyous full-length form, while Sade, The Style Council, Jerry Dammers and Ray Davies are amongst those who follow.
This dynamic and delicate mastering has transferred to vinyl well and it's a pretty quiet GZ press with an informative track-by-track guide supplied by Michael Mulligan. A standard black edition is also out there for those not overly concerned by pretty colours and obi-strips.
– – –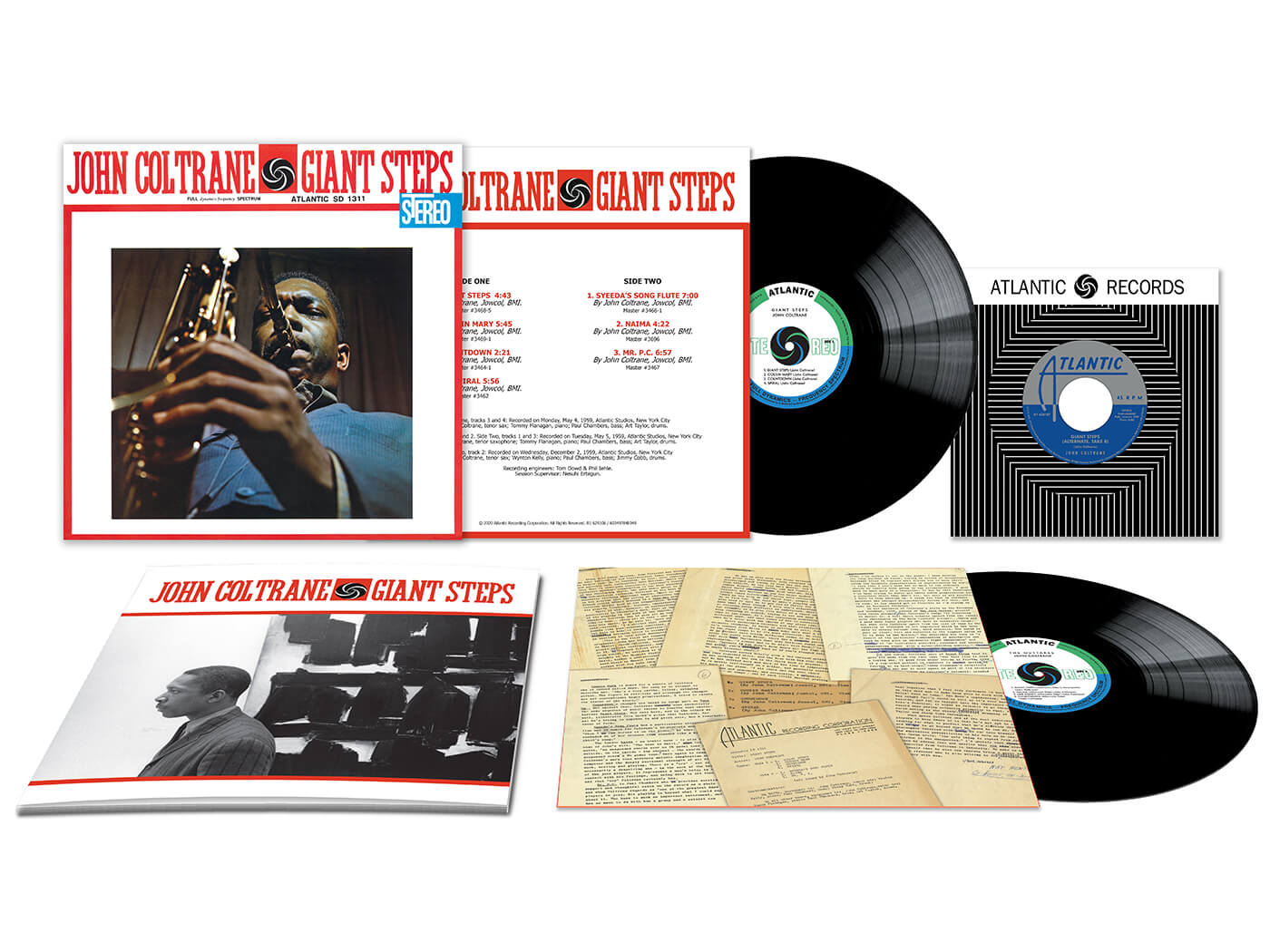 – – –
The jazz reissue market is a whole different ball game to the rest of the musical world. American audiophile labels have been falling over themselves to get 2x45rpm cuts of many magical titles out into a market where customers are happy to pay £50 and up in order to have fresh analogue cuts in vibrant artwork. They are beautiful items but only a select few are in a position to make that a regular commitment and so more conventional approaches such as the Blue Note 80th anniversary series are often many listeners' route in.
This September, Rhino are reissuing one of John Coltrane's Atlantic Records masterpieces, 'Giant Steps', to mark its sixtieth anniversary. A 2LP set, the original album is paired with eight session outtakes, previously only available in the splendid but sizeable 'The Heavyweight Champion' box set and all are freshly remastered. Comparing the main record with the edition in the aforementioned collection, it performs favourably. While bass is more prominent, it is still sculpted and arguably more involving than the older version. The box edition's rhythm section sounds a little recessed to me and I definitely enjoyed listening to the remaster a little more.
The outtakes also benefit from some careful polishing and the accompanying booklet with text by Coltrane authority Ashley Kahn makes this a very welcome deluxe edition indeed. While it's not cheap, it's not quite in the audiophile price bracket and you get a little more for your money.
Freshly Pressed
If you've ever thought "I quite like The Killers, but I'd like them more if their singer had an even sillier surname" then Sea Girls, fronted by Henry Camamile, are here to deliver. Their debut 'Open Up Your Head' is exactly the sort of music muddied young folk would have enjoyed losing their proverbial shit to in sizeable fields over the summer had we not all been inside pretending to read whilst just browsing social media.
Despite its presence on streaming sites sounding like it has been produced by quickly hitting the button marked 'anthemic' on the desk to keep everything loud and thrusting, there is a little more light and shade on the GZ-pressed vinyl edition. It's still a little heavy on the high end, with the sort of percussive sound that feels like being in a windy alley, but the strident delivery of opener 'Transplant' and lively recent single 'Do You Really Wanna Know?' does the job. It's not the quietest disc, but the music is rarely gentle enough for you to notice.
Few and far between are the record collections with Can but not Stereolab or vice versa. The latter's Sixties influences and more languid melodies were underpinned by the Krautrock sensibilities of the former. A potent brew of the two, with some shoegaze thrown in for good measure too, arrives in the form of Deradoorian's second album proper, 'Find The Sun'. Specifically designed for vinyl, comprising four distinct sections, it is a bewitching record which rattles and hums around the speakers. Drones, flutes, bells and lashings of reverb make for an atmospheric listen that necessitates your full attention.
Background music this is not, from the striking monochrome sleeve on in. The black and white theme is carried through to the labels but perhaps not the songs, which reject the conformist labels of modern society and instead encourage a journey of self-discovery. 'Find The Sun' is a record with staying power that will likely thrive in the even bleaker than usual winter months ahead. This Record Industry cut isn't perfectly silent, but it delivers an excellent soundstage nevertheless.
– – –
– – –
With a Big Star-inspired name and a love of keening double-tracked vocals atop hazy psychedelia, El Goodo were always going to be pretty, er, goodo. They really found their feet with 2017's 'By Order Of The Moose' which I compel you to go and purchase right now. It's ok. I'll wait.
'Zombie', their latest, is of similar stock and features some of their very finest songs. Fans of The Coral at their most jangly melodic will be delighted, as will those fond of the band who provided this group's name. 'Things Turn Around', 'The Grey Tower' and the more maudlin 'Oh My!' are highlights, should you wish to sample the songs before committing. The pressing looks to be via the aforementioned TAKT and delivers a warm, dynamic presentation, despite being a little noisy at times.
Front Of The Racks
Sometimes music can seize your thoughts, obliterate your surroundings and elevate you out of the moment. That can be down to a voice, a situation or even a particular recording. One of the quiet wonders of the past month was a discreet reissue of Mark Eitzel's 2002 album, 'The Ugly American'. Revisiting songs from his earlier band, American Music Club, in the company of an ensemble of Greek musicians, he delivered one of his very best vocal performances to date.
With fresh artwork and a new vinyl-specific master through Abbey Road, this has been pressed at the old EMI plant now known as Vinyl Factory and often used for deluxe releases. While this is a fairly straightforward package at a very reasonable price, the sound wouldn't be out of place in one of those high-end sets. This is, quite sincerely, one of the finest renderings of a singer's voice on vinyl I can recall hearing in many a year. The soundstage is beautifully balanced throughout and offers a welcome re-evaluation of a fairly obscure gem. Only 500 copies of this one, so don't sleep on this absolute delight.
All of the titles reviewed above were cleaned before playback using the ultrasonic record cleaning machine, Degritter. A full review of its capabilities will follow in a future column.
– – –
Words: Gareth James
(For more vinyl reviews and turntable shots, follow @JustPlayed on Twitter)
Join us on the ad-free creative social network Vero, as we get under the skin of global cultural happenings. Follow Clash Magazine as we skip merrily between clubs, concerts, interviews and photo shoots. Get backstage sneak peeks, exclusive content and access to Clash Live events and a true view into our world as the fun and games unfold.