Just Played: A Column About Vinyl Records #7
A look at the latest physical releases...
It has been a fairly frenetic month in vinyl as the industry and retail have attempted to find a degree of normality. As I write, the limited time period for purchasing seven of the eight different vinyl versions of the largely splendid new Taylor Swift album is coming to an end and the sense that the format is changing its purpose for many is hard to ignore. This was brought into stark focus by a recent comment by one well-regarded record shop.
Specialist online music retailer Boomkat flagged a growing issue with regard to the difference between people's expectations of vinyl and their actual experiences with it. Ever since the notion of a 'Vinyl Revival' caught the attention of documentary makers the world over, the most common stereotype attached to it as a format has centred around a turntable arm being lowered onto a record which proceeds to crackle briefly before the first track kicks in. People talk of warmth and trot out the old Peel quote "life has surface noise."
friendly note to vinyl buyers pic.twitter.com/INnF1ggN0z

— Boomkat.com (@boomkatonline) July 22, 2020
This is all rather splendid if you're in need of a convenient shorthand or using a cliché for representation, but well pressed and well looked after vinyl shouldn't be noisy. The odd tick and pop sure – it's a stylus running through a physical groove and we don't live in sterile bubbles – but repeated pops, endless low level surface noise or warped records are not features to spend cold hard cash upon. At the heart of their faintly controversial social media post was the suggestion that people unwilling to accept faults might want to try another format. A bold suggestion for a site that shifts an awful lot of vinyl, you might say.
This column doesn't agree with everything they said, but it did highlight several things we have argued for some time. Firstly, they flag the common experience of solid colour pressings seeming prone to more issues, most likely because of the stop-start nature of the process when having to change over the different materials. Secondly, they state the quality control is not what it used to be at the pressing plants that are now running flat out. Again, this certainly matches our findings and was one of the driving reasons for starting this column. At roughly £20 a pop for a single LP these days, few us can afford to stump up that cash for a product that doesn't sound very good.
There was some resistance to a suggestion that customers need "a more accurate, realistic expectation of the format," with some inferring this meant they should settle for noisy vinyl. For what it's worth, that's not our reading of it and a follow up question established that one of their main concerns is people wanting to try multiple copies of the same pressing in the hope of getting a quiet one. Unless there is physical damage to the disc caused by poor handling in the factory or detritus bouncing around in the sleeve in transit, the noise you're hearing is likely to be on every copy of the run and you're far better off cutting your losses.
Put simply, if you're fed up with issues around the drop in standards with some vinyl pressing, don't accept it. Avoid certain imprints, research where discs were pressed using the matrix info on Discogs and return faulty records. It's the only way to emphasise the issue to the labels and the pressing plants.
Snap, Crackle and Pop
Back in May, as the tide of Lockdown streams reached its height, NPR in the US hosted a premiere of 'Unmaking Unfollow The Rules' a documentary around the recording of Rufus Wainwright's ninth studio album. In it, one of the most distinctive voices of a generation endearingly enthuses about how the vinyl release of this record is particularly important to him, holding a finished copy aloft.
He states that "what's nice about this album, on a pop level, is it's my first real album with vinyl in the forefront. We had to move it to July because of the virus and because we really wanted there to be a physical product that people could touch and have this tactile experience with." 
All of which makes the resulting item all the more frustrating. Printed, shiny and oh-so-cursed-with-static inner sleeves house the two discs. But, even after some thorough cleaning, there's no escaping the surface noise.
Clash tried several copies but, to further prove Boomkat's point, each time it was side B that sounded like the proverbial spitting fire. It's a wonderful album which is clearly imbued with the DNA of both of the 'Want' records from the Noughties, but it has been woefully served by this GZ pressing, which isn't cheap either. Don't ignore the music, but you might be better off streaming or picking up the CD. Such a shame.
- - -
Freshly Pressed
Despite almost everything else, 2020 has certainly been delivering on the new music front and a number of exceptional records have been given excellent vinyl outings. Eleven years on from his last solo album and three years on from the often overlooked but intriguing curio 'Room 29' with Chilly Gonzales, Jarvis Cocker has used his space bar to rebrand as Jarv Is.
Initially intended to only be a live project with a select band of accomplices, he decided to base an album upon a number of live recordings of their various songs, working up additional studio parts and adding other tracks to the mix. 'Beyond The Pale' is the slow-burning delight that emerged and it was released on an array of formats and variants.
There's glow in the dark, yellow, clear and indie store orange vinyl, as well as the black. The cut, from Optimal in Germany, sounds great and Clash's standard edition plays pretty much silently. Confusingly, the black retails at around £8 cheaper than the coloured variants, despite the shade of the vinyl seemingly being the only difference.
At around £15, the standard pressing is an absolute bargain.
- - -
- - -
Having surprised everyone with a digital release of 'Song For Our Daughter' in early April, and with deluxe versions teased for the not too distant future, Laura Marling got around to issuing standard CD and vinyl editions in July.
A coloured variant is pretty much sold out now but the black pressing is all you need. Again, done through Optimal and very reasonably priced, it is a spacious, quiet cut that serves this beautiful record perfectly. Marling's vocal is defined and out in the room, while a sense of studio space is preserved.
It remains to be seen what will make the deluxe version quite so deluxe because this vinyl cut is unlikely to be improved upon.
- - -
- - -
A week after Marling went digital first, physical later, Fiona Apple opted for the same strategy with her very fine fifth album, 'Fetch The Bolt Cutters'. It received a deservedly rapturous response upon arrival and it wasn't just the lyrical content that caught the ear in the claustrophobic times. The almost Tom Waits-ian use of percussion and sheer noise is captivating and, from day one, was calling out for a vinyl release to give it a more tangible presence.
While a little loud and not without a couple of minor spots of distortion, this double disc MPO pressing delivers the goods. A gatefold sleeve would have been appreciated, but the accompanying lyric booklet is an essential part of the experience and is a neat touch.
It wasn't just early streams that kept us entertained during lockdown. The always-brilliant Nadine Shah prepared for the release of her fourth studio album, 'Kitchen Sink', with a series of terrific Instagram Live conversations entitled 'Payback' where she interviewed the interviewers.
In addition, she found herself in possession of 20,000 copies of this record instead of the 200 she was expecting and embarked upon a signing mission to end them all. The record itself is one of the year's finest, both lyrically in its collection of compelling short stories and musically with its rhythmically-driven, often sparse but meticulously constructed backdrops. Available on black or orange vinyl, the latter reflecting the sleeve design, it's a pretty pleasing listen, with only a hint of the ripping sound produced by non-fill (where the groove isn't quite fully formed) on the odd track of Clash's copy.
- - -
- - -
- - -
Going Round Again
Few catalogue reissue programmes have been more feverishly anticipated than that of PJ Harvey.
Prices on originals of many of her albums have crept up and up over the years, with several comfortably in triple figures, as no new editions ever emerged. When news finally came at the start of summer that a comprehensive series was imminent, swathes of pre-orders poured in and those who had been waiting for an age crossed their fingers that these would be done to a very high standard.
The first pair, 'Dry' and 'Dry – Demos' have just emerged and all is well. Curiously, the main album has been done by MPO in France, while the demos disc has gone through Optimal. Both are wonderfully mastered, the former with some light noise and the latter utterly silent throughout.
Here's hoping for similar quality for subsequent titles.
- - -
- - -
There are those who love Spoon and those who haven't heard them. Their discography contains a pretty imperious run from 1998's 'A Series Of Sneaks' through to 'Transference' in 2010. What has followed is still well worth a listen, but those six albums are near perfect collections of melodic indie poise. The recently launched 'Slay On Cue' reissue campaign will take in most of that catalogue over the coming months and the first two titles provide an opportunity for completists to nab copies of their out of print early work.
1996 debut 'Telephono' and 1997 EP 'Soft Effects' have just emerged, with the remarkable run that followed due to re-emerge over the next couple of months. This first pair is no place to start, both rather loose and ragged in comparison to what was to come, but is a fascinating listen for the initiated.
'Telephono', in particular, has the energy if not the finesse of those later albums. European editions are pressed at Optimal and, with a commanding, dynamic soundstage, these are relative bargains which bode well for classics such as 'Gimme Fiction' and 'Transference' that you should pop on your wantlist.
Ten years on from the start of the Paul McCartney Archive Collection, the latest title getting a dusting off, a remaster and a variety of eye-wateringly priced versions is 1997's 'Flaming Pie'. Alongside the different CD-based permutations, there are also two vinyl editions. This often rather lovely record has been in high demand on this column's favoured format for some time now, having originally been pressed at a time when interest in such things was rather low.
In line with the approach to the imminent RSD Drop 1 deluxe edition of his solo debut, 'McCartney', Miles Showell at Abbey Road has undertaken a half-speed master for both the standard double LP and the deluxe triple set, which includes a disc of home recordings. Even the regular edition is far from cheap, coming in around £35, but the sound is quite something. While it was audibly much less compressed than its CD counterpart, the original squashed the whole album onto one disc and didn't have quite the dynamics and precision of this new cut.
As ever with McCartney, you'll need deep pockets but you're in for a really pleasing product.
- - -
- - -
The Love Record Stores event in June encouraged some online panic buying just as the high street was taking its first, tentative steps back to in-person trading. The majority of the titles on offer were re-presses of already beloved titles on new colours. Naturally, this column wasn't overly concerned by this but we're well aware of how much people enjoy a fluorescent variant.
On that list was a repress of one of the finest pop records of the previous decade, an album about being a music obsessive by those eternal delights, Saint Etienne. The original 2012 pressing of 'Words and Music' was distinctly average, so its return was to be celebrated. A week or so after the news broke, additional information was provided stating that it would now be a multi-coloured splatter job, reflecting the tones of the superlative sleeve art.
Ever the intrepid vinyl hound, yours truly checked in with the band to find out if a black edition might follow and, sure enough, plans were afoot. The intriguing detail here is the decision to press the splatter through our previously mentioned friends at GZ and the black via Optimal. You know how this not especially filmic story turns out, don't you dear reader? Well, it seemed only right to try both and the splatter had a generous serving of pops across several tracks and some embedded grit in the groove that caused playback to get stuck.
Having repurposed that pressing as the pretty frisbee it so closely resembles, the black version went on and sounded imperious. To these ears, despite the sibilant monologue of opening track 'Over The Border', it trumps the original and played silently throughout. Grab it while you can as there aren't many knocking about.
- - -
- - -
The good folk at Music On Vinyl care a great deal about the presentation of their releases. Sturdy sleeves, fancy outer bags and, more often than not, poly-lined inner sleeves for excellent pressings have ensured a reputation for quality. Primarily a reissue label that licenses across a wide range of genres and eras, they have keenly restored to the racks all sorts of titles over the years.
Some of their most sought after discs are a series of Bowie reissues covering his Nineties and early Noughties output, which have had collectors excited for several years now. To that list has just been added a silver vinyl edition of 'Tin Machine II', an album which simply can't be as bad as the band's reputation, given that they have been almost relentlessly slagged off as a bloated misstep.
Such criticism is unfair. It's no 'Low' or 'Heathen', but it's not 'Tonight' or even the first Tin Machine album. Listening afresh, it's possible to spot early signs of where Bowie would soon head with '1. Outside' and even 'Earthling'. There's the odd bit of shite too, but it's impressively cut shite. Instruments are well-defined and the sound stretches well beyond the speakers, although no remastering has taken place. 
An excellent pressing through Record Industry in the Netherlands and a spot-varnished sleeve make for a rather alluring package.
- - -
- - -
Two very different but similarly excellent jazz compilations have recently hit the shelves of your local record shop and both have been well treated in their vinyl incarnations. Martin Freeman and Eddie Piller's occasional series of mildly competitive jazz and soul primers for the latter's label, Acid Jazz, have always delivered.
Stemming from a radio show the pair once hosted, the CD versions afford each participant a disc each to wow the listener while the double vinyl format cherry picks the finest moments and sequences them together across four sides. As a result, the vinyl sets are always relentlessly beguiling, with this latest – 'Jazz On The Corner 2' - showcasing belters from Duke Pearson and George Benson alongside modern offerings from Nicola Conte and Emma-Jean Thackray. The sound is clear and involving and the pressing, via GZ in the Czech Republic, is excellent.
For under £20, it's a triumph and Thackray links it to another great value compilation. She is just one of a whole array of artists from the hugely exciting UK jazz scene that has exploded in recent years to feature on the latest in a long line of exceptional Soul Jazz compilations.
'Kaleidoscope – New Spirits Known and Unknown' is a triple LP set – with a bonus 7" if you purchase via your inimitable local indie folk – that gives a fairly comprehensive guided tour of the scene, aided by substantial and enlightening sleeve notes from an acknowledged authority, Andy Thomas. For every already loved name like Makaya McCraven, Matthew Halsall and Ill Considered, there's something thrillingly new to prompt some further spending. Gorgeous artwork too.
- - -
- - -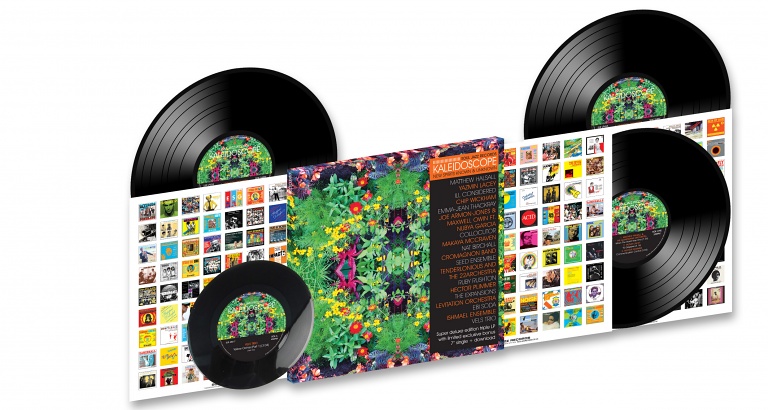 One of the great reads of early lockdown was Pete Paphides' stirring memoir of a youth upholstered with all the vinyl he could get his hands upon, 'Broken Greek', and it sent many scurrying for various late-Seventies and early-Eighties releases that form integral parts of the story. Amongst the highlights for your humble columnist was 'Spirits Having Flown', the 1979 Bee Gees release that houses 'Tragedy' and has a sleeve that would be rejected by the companies that used to make budget compilations only sold in motorway service stations.
Honestly, look at it. What's that red bit for?
Anyway, aesthetic grievances aside, it is one of a fresh batch of reissues from their inimitable catalogue. As Barry Gibb demonstrated to much-deserved warmth at Glastonbury a few years ago, there are some pretty formidable records in his history and Universal's decision to return 'Main Course', 'Children Of The World' and 'Spirits Have Flown' to the racks is a welcome one.
All three are Optimal cuts with dynamic range intact and a nimble sense of rhythm. Tracks like 'Love You Inside Out', 'Search, Find' and 'Jive Talkin' highlight the fine work in preparing these fine albums for a vinyl return. Barely a tick and pop across all three: a sonic treat.
- - -
Demon Records have established themselves as a friend to the Britpop nostalgists out there, digging around in the vaults for Nineties releases that either had exceptionally limited original runs or never even made it to the beloved format. Menswear, Cast, Suede, Sugar and The Bluetones have all been tackled by the label and a rather splendid looking Gene box set will feature in next month's column.
Most recently, both albums from the briefly lauded Marion and the rather more fondly remembered Longpigs debut, 'The Sun If Often Out', have been released on coloured vinyl pressings.
Despite the chaos and ignominy that followed, putting paid to any further releases or prolonged touring, Marion delivered two of the more serviceable albums of the second wave of that particular British scene. Debut 'This World and Body' wears its Eighties indie influences pretty brazenly, with plenty of endearing jangle on tracks like 'Sleep' and 'Wait', and now moves from a red outing in 2016 to a fresh gold run with a signed print.
More notable is 1998's 'The Program', a less shrill and more brooding set that featured Johnny Marr on production as well as providing occasional musical assistance. Jaime Harding's distinctive, emotive vocals possess a little more nuance this time and the songwriting delivers a more diverse palette than its predecessor.
It sank without trace upon its original release, coming out first in Japan and then eventually receiving a CD release in the UK some months later which failed to chart. Demon's rather charming translucent green release marks its first ever appearance on vinyl and it's a GZ pressing at the quieter end for surface noise. It's not a sonic marvel but it has a solid soundstage and doesn't feel too digital.
- - -
The same is true of that much-anticipated Longpigs reissue. With Richard Hawley on guitar and Crispin Hunt's distinctive wail, the Sheffield quartet are fondly remembered for belting singles 'On and On', 'Jesus Christ' and, most notably, 'Lost Myself'. Their parent album was no slouch either and they slowly found success after being picked up by Mother Records, U2's own label.
As was the case for so many bands in the Nineties, they struggled to sustain the momentum for their second record, 'Mobile Home', and it's really only the debut that you need. Pressed on blue vinyl to match its distinctive sleeve, it sounds like the original master has been used, possibly with a little tinkering for vinyl.
The pressing, once again, is a relatively quiet GZ product and serves the music well enough. If you were expecting a fully 3D soundstage and a return to the mastertapes, you might want to move along quietly, but if you're after a copy of a beloved old friend on your preferred format that sounds pretty much how you remember it, you're in luck.
It is always surprising to note that certain significant artists have albums out of print or never even pressed on vinyl. When you consider the sheer number of glow in the dark or picture disc fripperies being churned out on a monthly basis, it seems strange that the labels haven't hatched a plan to fill those more compelling gaps.
One such omission has recently been addressed with a gatefold pressing of Joni Mitchell's most recent album, 2007's 'Shine'. An understated but very welcome return, it was a beautifully recorded set with some magnificent vocal performances only occasionally unsettled by bursts from a curious drum machine. The vinyl master, by Bernie Grundman, is superlative and the pressing sounds excellent, some minor non-fill aside. The hype sticker bizarrely says it was pressed at RTI but the European cut is through Optimal.
Following on from the 2018 box set collecting the studio albums of The Rolling Stones from 1971-2016, the individual titles have now been broken out for more discriminating purchasers. Half-speed mastered by Miles Showell and pressed through MPO, these are otherwise fairly no-frills affairs with cardboard inner sleeves and no postcards, zip sleeves or any of the fripperies of original editions.
Clash sampled several titles – 'Some Girls' and 'Undercover' – and both were relatively quiet cuts with very clear presentation. The former is pretty forensic in its sound, occasionally feeling a touch bright. The latter isn't especially captivating, but other than stapling a fifty quid note to it or accidentally pressing another album in the grooves, I'm not sure how that could be done with 'Undercover' anyway.
Worth noting that the source for the latest half-speed of 'Exile On Main Street' is an upgrade on the one used for a similar pressing in 2016, should you be in the market for a copy.
- - -
- - -
Front Of The Racks:
One of the most dependable figures for vinyl releases is Paul Weller. While not always cheap, his catalogue is largely one presented quite wonderfully on wax. Certain titles are deservedly in demand and represses, infrequent though they are, also become collectable. With that market in mind, there are a number of versions of his latest outing, 'On Sunset'. As well as standard black, you can get a peach variant, a bafflingly unappealing picture disc and an indie store exclusive purple pressing. It is the last of that list towards which this column's ears were pointed.
It is a sharp and soulful set of songs, well-suited to the summer months and with rhythm at its heart. With the ten songs spread over four sides, the wider grooves have space to deliver the necessary bottom end and the whole soundstage is hypnotic.
As we point out each month, vinyl pressing is variable to say the least but anyone with a turntable has a few titles in the racks that they pull out whenever they want to try and convince someone about the magic of the format. This, via MPO, deserves to be one such record, making for a genuinely joyous listening experience from start to finish.
Whether peach, purple or plain old black (but not the picture disc – you're not a monster), this is vinyl done the right way.
- - -
- - -
Words: Gareth James
(For more vinyl reviews and turntable shots, follow @JustPlayed on Twitter)
Join us on the ad-free creative social network Vero, as we get under the skin of global cultural happenings. Follow Clash Magazine as we skip merrily between clubs, concerts, interviews and photo shoots. Get backstage sneak peeks, exclusive content and access to Clash Live events and a true view into our world as the fun and games unfold.