Just Played: A Column About Vinyl Records #35
An in-depth look at the vinyl marketplace...
As ever, the December round up arrives a little earlier in order to assist those looking for some last-minute gift ideas for the crate-diggers in their lives. Or, of course, you might just want a couple of corkers to warm the winter evenings. Thank you for reading and engaging during 2022. Hopefully these monthly overviews have helped you to navigate the bulging racks and ensure some quality turntable time. Read on to get a steer on the most recent additions to retailers' shelves.
Freshly Pressed:
Anyone who has ever had the pleasure of witnessing Richard Hawley in concert will know that he is a captivating and genial stage presence. He is able to draw on a stellar catalogue and fully aware of how to build a setlist, but has previously only released several stripped back cave-based recordings from The Devil's Arse in Derbyshire. 'Live At Halifax Piece Hall 2021' is the first to feature a full band and a string quartet. As well as DVD, Blu-Ray and 2CD options, a triple vinyl set with orange discs is out now from the folk at Live Here Now, who have been delivering near-instant copies of gigs for many a year.
It's an excellent set, mixing glorious takes on 'Tonight The Streets Are Ours' and 'Coles Corner' with highlights from his 2019 album 'Further'. That record, along with 2012's 'Standing At The Sky's Edge', leant into his rockier urges and tracks from both are especially visceral in this format. Cut by Noel Summerville, this near-silent 3LP Vinyl Factory pressing sounds pretty good. The soundstage is a little boxed in, occupying that common digital rectangle that stretches from one speaker to the other. As is often the case with such recordings, the mid-range is a little boomy compared to other parts and the drums seem a little thin, however Hawley's unique vocals are very well captured and the whole thing is a pleasure. 'Don't Stare At The Sun', with its swirling majesty, is one highlight amongst many.
—
—
For over twenty years, Burning Shed has been a dependable name in independent online music retail. Willing to cover more esoteric releases, it has built quite the reputation amongst serious record collectors. The folk behind the label have now decided to release vinyl as well as selling it and an early title is the latest UXB record, 'Anthropocene'. The electronic music project of co-owner Pete Morgan, this album features Giancarlo Erra's analogue synth on several tracks and he co-wrote the seismic opening piece. I've talked before about the importance of balancing the mid-range and bottom end when committing this type of music to vinyl and that has certainly been done with care here. Closer 'The Tipping Point' maintains that precision right to the centre of the disc. Press On Vinyl in Middlesbrough has done a very fine of ensuring a near-silent blue pressing too. Let's hope this is the first of many.
—
—
Acid Jazz's series of releases from Benin label Albarika Store's archives continues with 'Afro Funk', a compilation of work by T.P. Orchestre Poly-Rythmo. Cherry-picking delights from several decades, the record is rhythmic bliss from start to finish. The GZ pressing keeps control of the sizeable bottom end and delivers pretty clear highs, which isn't always the case with Afrobeat music from the time. Playback is near-silent, which is lucky given the rather no-frills approach to the packaging. With no sleevenote or context and a plain black inner sleeve, the music is left to do all of the talking. Thankfully, it's more than up to the task, with 'Gbeti Ma Djro' and 'Mi Si Bat To' particular highlights.
—
—
The same label also offers up some nostalgic delights from the early days of the scene that went hand in hand with its name on fresh collection 'Acid Jazz (Not Jazz)'. Dean Rudland and regular name in this column Eddie Piller have selected eight tracks from the late Eighties and early Nineties which capture the contemporary use of beats, samples and breaks that were integral to DJ sets that also sifted the archives. And it's a blast. Early Mo Wax release 'Come On' by Marden Hill shares groove space with The Ballistic Brothers Vs The Eccentric Afros' superb 'Blacker' and 'Jazz Jupiter (Da Scat Mix)' by A-Zel features additional work by Roger Sanchez. The soundstage is big, open and precise, giving exactly the sort of bass hit this joyous music needs and the Optimal pressing is silent throughout.
—
—
Conceived in a time of lockdowns, 'A Short To Distance To Fall' is a Flevans record completely unlike his previous work. Awash with textures, samples and beats that encapsulate his many and varied influences, the record is an emphatic and infectious listen that isn't build for the stage. It does commit the cardinal sin of including loud vinyl crackle on a couple of tracks, but the soundstage is robust and vivid. As a result, the powerful rhythmic heft of these meticulous constructions is compelling without smearing the many other layers. 'It Takes The Whole Day' could be The Avalanches, while the breezy pop of 'For A While' could have slipped straight in from the early Noughties. The Optimal pressing is largely quiet, intended surface noise aside, and well worth a punt.
—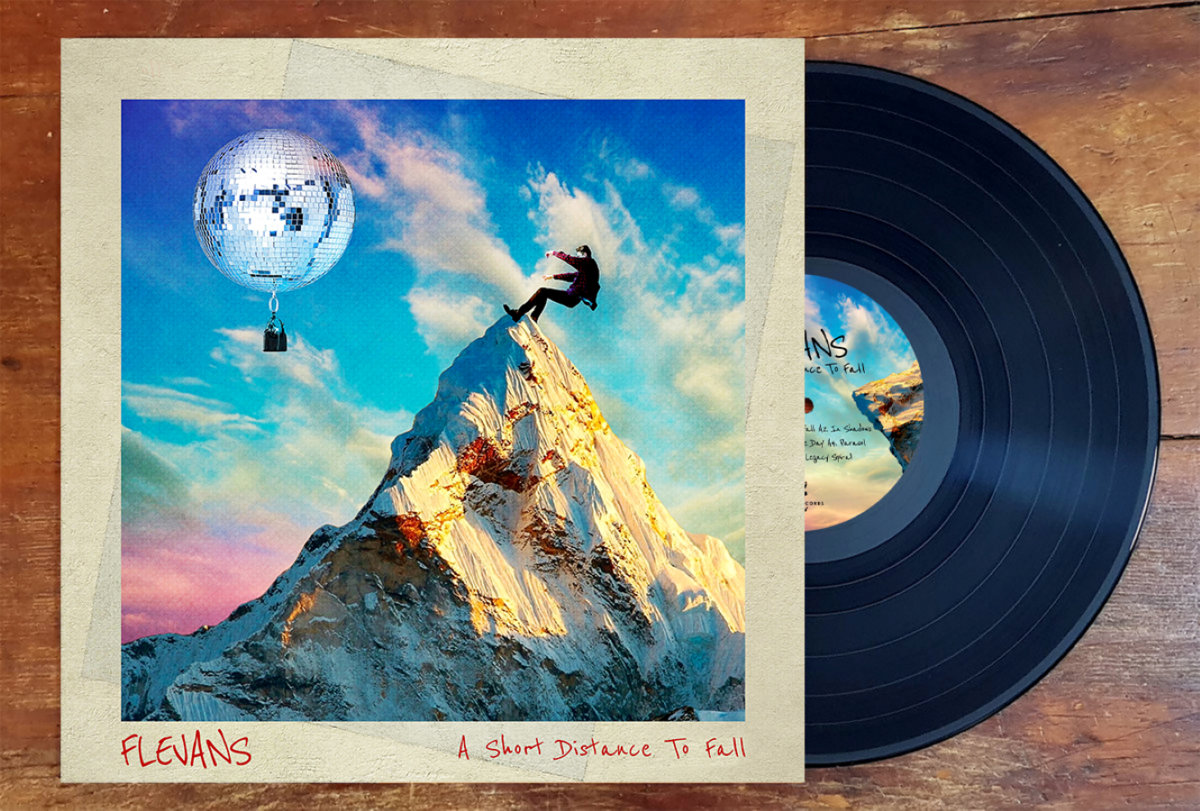 —
This column has featured the delightful work of Precious Recordings Of London on a number of occasions in the past and things are evolving. Bending maths so that 2×7 now equals 10, they've taken the decision to switch from the double 7" format to a single 10" for each BBC session release. The beautiful postcards, lossless downloads and illuminating sleevenotes all remain, you just have two fewer flips to do than previously. And, hard though it is to prove given the differing sources every time, it strikes your correspondent that they might sound better at this size too. To mark the new design, they're offering one from genial Nineties indie types Boyracer and four different sessions from The Soup Dragons.
As is so often the case with this riveting series, one of the great joys is reading a band member's account of the euphoria induced by a call from the Peel team to come and record for his show. The frontman of Scottish alt-rockers The Soup Dragons, Sean Dickson, provides the notes for their first appearance in February 1986, and includes an example of the personalised hospitality offered by the legendary broadcaster that I won't spoil here. Given the quartet of releases for this one band, each member gets a chance to reminisce and it makes for a very satisfying package overall. As well as a further Peel session, there are two for the much-missed Janice Long also. Dickson has also mastered these releases and the soundstage is fantastically lively – just feel the drums at the start of 'Learning To Fall' – and playback pretty quiet for these GZ pressed discs. Worth briefly mentioning the great drum sound on Boyracer release too, propelling some righteously keening jangle. Support this superb series or lose it.
—
—
Following its Glastonbury-timed CD release in the summer, Diana Ross' fairly comprehensive compilation 'The Greatest' has finally arrived on two clear discs pressed at Dublin Vinyl. Kicking off with a side of The Supremes' finest, including 'Stop! In The Name Of Love' and 'Where Did Our Love Go', and progressing towards 'Love Hangover', 'Upside Down' and 'I'm Coming Out', the quality is undeniable. Even side four features 'Endless Love' with Lionel Richie and The Bee Gees-penned 'Chain Reaction'. In short, it's excellent. Mastering info is limited but things sound decent. It's not in audiophile territory but the bottom end on the moments of disco is strident without being overbearing and the whole album works best with a bit of volume.
—
—
The Undertones' guitarist, Damian O'Neill has delivered a second solo album that is some way removed from the band with which he is most commonly associated. A largely instrumental set that hops genres and continents, 'an crann' is very well mastered in order to facilitate the many shifts in tone and intensity. The gentle chimes of 'Tune For The Derry Ones' serves as a palette cleanser between the pair of shifting landscapes offered by 'Main Head Imminent' and 'A Quare Visitation (Belfast '65)'. The latter pairs flamboyant percussion with a wistful melody to striking effect. A light blue pressing via GZ is a little noisy at times, but the music captures the attention thanks to a superb vinyl cut by Noel Summerville. An unpredictable treat.
—
—
A November release that didn't make it in time for that column was Plaid's latest, 'Feorm Falorx', which is certainly a warmer record than its darkly angular predecessor 'Polymer'. They have become a band in danger of being taken for granted, having been so consistent for over thirty years, but there's no let up in quality. Side 2 opener 'Nightcrawler' neatly encapsulates their ability to seduce with waves of warm synth and then crank up the pace from within, only registering with the listener once its hurtling towards its conclusion. Always a band for whom vinyl serves as the perfect presentation of their work, this has been masterfully cut by Beau Thomas and afforded a near-silent Optimal pressing. The artwork is striking also, created using AI technology and spread across both the cover and a printed plastic sleeve.
All Kinds Of Blue:
The first thing you notice when dropping the needle on 'Bring It Home To Me' by Blue Mitchell, one of December's Tone Poet titles, is the breadth of the soundstage. While early stereo can feel very extreme, this simply serves to create a performance space before you. Harold Mabern Jr's euphorically nimble piano playing is positioned to the right of centre stage but tucked inside the percussive drive. The title track is immediately captivating and 'Port Rico Rock' swings majestically. While not the most remarkable collection of pieces, this is a nevertheless delightful listen.
Several other label archives are incorporated into the Tone Poet series, including Pacific Jazz, from whom this month's other offering originates. 'Picture Of Heath' by Chet Baker and Art Pepper was their third collaborative effort and it originally emerged under the name 'Playboys' with some awful and thankfully long-abandoned artwork. Assisted by West Coast jazz luminaries such as Phil Urso on tenor sax and Carl Perkins on piano, the pair deliver a spritely collection of bop that barely lets up. The interplay between the two greats is captivating and it's one of the finest soundstages served up by this tremendous collection in 2022.
—
—
The Classics continue with 'The Eminent Jay Jay Johnson – Volume 1'. The tremendous artwork houses recordings from the first half of the 1950s featuring several band formations. Charles Mingus and Percy Heath share bass responsibilities, while John Lewis and Wynton Kelly offer differing approaches to the keys. The recording is a little hot at times, meaning you'll need your turntable set up to be finely tuned in order to avoid a little distortion. It's another quiet Optimal pressing which presents the mono sound of Kevin Gray's all-analogue cut with the ideal mix of punch and clarity.
While the recording is nearly fifty years old, a red-hot Donald Byrd performance from 1973 has only now received an official release as 'Live: Cookin' with Blue Note at Montreux'. Titled and designed to match a series of similar releases from other artists on the label that stemmed from that event, it has been mastered and cut by Gray to match the standards of the reissue programmes. Unusually, it has been pressed at Pallas, but the sleeve and poly-lined inner have all the hallmarks of the Classic Series. The disc is near silent and the dynamics are a treat. Byrd's performance is beguilingly fluid, never more so than during an innovative take on Stevie Wonder's 'You've Got It Bad Girl'.
Going Round Again:
Shall we entertain a very niche hypothetical? Imagine you're a massive fan of flash in the pan indie-pop act The Hoosiers. You long for the glory days of £7 chart CDs on the entertainment aisle of Sainsbury's and the last days of the original Virgin Radio before it became Absolute. 'Goodbye Mr A' was your 'Ashes To Ashes', 'Running Up That Hill' or 'Supersonic'. You had a weekend away at App-Fest in Tewksbury this summer in order to see them alongside Chesney Hawkes. But, what you need to make your life complete is some vinyl reissues with bonus bits and unreleased demos. Well, let this be hypothetical no longer because, for you – and everyone – it is quite literally Christmas.
Their totemic debut, 'The Trick To Life', gets a double LP outing so as to append nine extra tracks. Pressed at GZ, the discs are quiet and reasonably flat for the main. Mastering is solid but unspectacular, occupying that rectangular space mentioned above that is so common with digital sources transferred to the format. The bottom end is defined, however, suggesting a degree of care in the mastering. And what about the music? Well, if it's been a while since you heard 'Worried About Ray' or 'Goodbye Mr A' then this is very definitely a chance to listen to them again. They are pleasant, as is lesser single 'Cops And Robbers', but the album feels unshakeably lightweight. With the commitment to my role that you've come to expect, I took the time to evaluate whether the demos really needed to come to vinyl. They didn't. Follow up 'The Illusion Of Safety' has also been done, making its debut as a 12" disc, and both are nicely executed for those so inclined.
—
—
Following the excellent reissues of 'A Funk Odyssey' and 'Dynamite' covered in last month's column, Jamiroquai's 2006 singles collection 'High Times' receives its first vinyl pressing. A 2LP set, once again cut by Barry Grint and pressed at Pallas, it opts for a chronological presentation of most of the hits before concluding with a pair of tracks that were new for the compilation. While the absence of 'Stillness In Time' and 'Half The Man' is still keenly felt, this is an impressively consistent presentation of sharp production and supreme melody.
'Space Cowboy', 'Cosmic Girl' and 'Deeper Underground' offer three different aspects of the band but all sound phenomenal. Apart from some very light sibilance on a couple of tracks, this edition is magnificent. The nuance in the bottom end is especially compelling, ensuring that tracks you only know from heavy rotation on the radio reveal hidden depths. Fans of novelty slipmats and funny colours – hello, Christmas gift market – have the option of paying almost twice the price of the black edition for the green vinyl deluxe set, but the sonics are what matter here.
—
—
The particular genre of Brazilian Psych Rock may not be one with which you're especially au fait, but Modulo 1000's sole album, 'Não Fale Com Paredes', certainly makes for a bracing introduction. Mr Bongo have replicated the original tri-fold sleeve and the accompanying artwork to dazzling effect and the cut sounds about as good as the source is going to get. More Sabbath than samba, this heavy, challenging listen was met with confusion and minimal interest when released in 1972. It has since become exceptionally sought after, with those first editions garnering four figures when in the best condition. Swaggering organ, strung out drums and heavy riffing are the order of the day here and the Optimal pressing is near silent. A curio, but a certain corner of the record-collecting world will be delighted.
—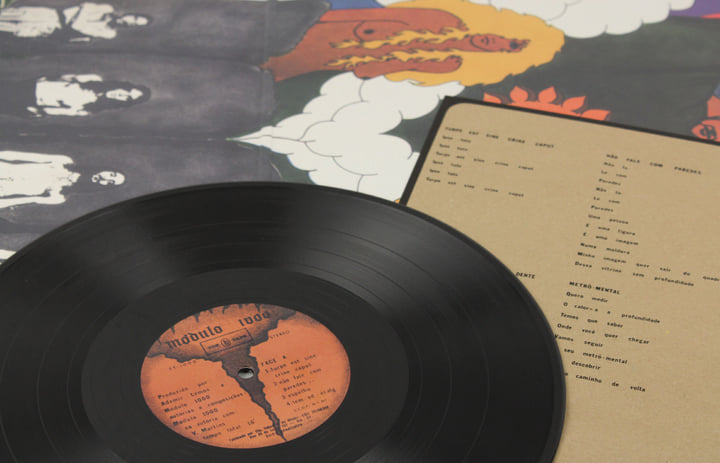 —
Suzanne Vega's 'Close Up' project ran over three years and four albums, starting in 2010. The aim was to re-record selections from her catalogue in a stripped back, acoustic format so that the lyrics and melodies were foregrounded. The self-released titles were rounded up for a box set in 2014 but the whole thing only made it to wax when Cooking Vinyl delivered a box of coloured discs in March of this year. Now, the opportunity arrives for those who wish to buy the titles individually as standard black editions. Each volume features an introductory note from Vega and the full lyrics across a printed card inner.
The sonics are solid, presenting these sparse recordings openly and giving the vocals a sizeble presence. There isn't quite that sense of hearing the air in the room but these are still involving and 'Caramel' on the first disc perfectly demonstrates the more mellifluous aspects of Vega's voice. Meanwhile, the ornate guitar parts on 'Tired Of Sleeping', from Volume 4, augmented by arranger Gerry Leonard, chime magically. The crucial thing to note is that the whole project is an excellent listen and this alternative history of Vega's artistry is more than just a re-tread. The GZ pressings are fairly quiet after a good clean, but there was enough surface noise across the eight sides to be worthy of mention. As ever, some copies will be quieter than others but, when the music is this good, the effort is probably worth it.
—
—
One wonders why festive releases are held back quite so late sometimes. For the first time, Elton John's vintage track 'Step Into Christmas' is getting a 12" outing on white, Optimal-pressed, vinyl. As well as original b-side 'Ho, Ho, Ho (Who'd Be A Turkey At Christmas)', the larger format allows for the addition of 'All Quiet On The Western Front' from 1982's 'Jump Up!' album and 'Calling It Christmas' , which originally appeared as bonus track on the deluxe edition of co-vocalist Joss Stone's 2004 set 'Mind, Body & Soul'. As a result, it's not the most cohesive quartet but playback is quiet and the mastering solid rather than spectacular. The best part of £20 to you, since you asked.
—
—
Having mostly featured in this column with their crowd-pleasing Nineties indie dust-offs, Demon Records have ventured into the half-speed mastering game. Working with AIR studios, they've deployed Phil Kinrade to undertake the mastering using fresh, high-resolution transfers of the original stereo master tapes. The first two in the racks are Labi Siffre's 1972 release 'Crying Laughing Loving Lying', cut by Barry Grint, and The Yardbirds' self-titled 1966 album, cut by Cicely Balston. Each has the obligatory obi-strip and a rather splendid insert with photos of the tape boxes used. The Siffre record is increasingly sought after by serious collectors and, given its a cappella opening and several sparse tracks, the quality of the pressing is all-important here. While your correspondent doesn't have a minty original for comparison, this sounds very good. I picked up a tiny amount of inner grove distortion when things got rather loud at the end of each side, but things were otherwise warm and lively. Both are GZ pressings and a poly-lined inner shortage meant this one missed out. However, playback was near silent after a quick clean.
—
—
While purists might argue for the superiority of the mono mix, it's the stereo version of The Yardbirds' best-known release that gets the half-speed treatment. Inevitably, the mid-Sixties approach to mixing for two speakers means some curious panning decisions and a not always logical soundstage but the actual sonics are fantastic. The rhythm section, in particular, is presented with a nimble energy that is surprisingly clean without being at all sterile. 'Rack My Mind' is a fine example, swinging and blustering without also feeling like it's being broadcast on medium wave. People become very accustomed to how records sound, so it won't be for everyone, but it has been done to an exceptionally high standard. Given the intention behind pressings made with this method, Demon is off to a flyer, and a lengthy sleevenote and poly-lined inner augment a virtually silent disc. This charming pair were very nearly our pick of the month.
—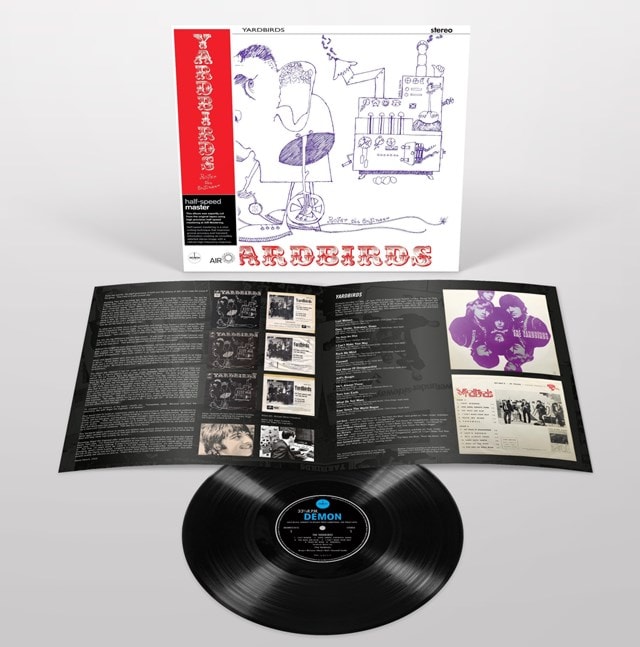 —
Arriving a little too late for the November column was the 4LP set of Guns N' Roses' 'Use Your Illusion I & 2'. A 12 disc super deluxe edition is also available, but the price of around £400 has put plenty of people off. Even this double-double set was around the £100 mark, with coloured discs, a (very thin) foil-printed slipcase and a zoetrope slipmat. At time of writing, it appears to have sold out but the two albums contained therein are available separately. The novelties will appeal to some, but the crucial question is whether or not these constitute an upgrade for a pair of widely available records.
Cut by Joe Nino-Hernes at Sterling and pressed at Optimal, this version easily surpasses the GZ-pressed Back To Black editions that have clogged up HMV sale racks for years now. The soundstage is more balanced, firming up the mid-range and taming the slightly shrill top end. Vocals sound excellent and the audio presentation is wide and involving. The new strings on 'November Rain' are well done if immediately confusing, given how accustomed we all are to their synthetic predecessors. A book, ephemera and lots more music are available for those with deep pockets, but the two main albums are sounding about as good as your correspondent has experienced. Would have appreciated poly-lined inners, mind you.
—
—
Reissue specialists New Land featured in this column last year thanks to their superlative edition of Gerry Mulligan's 'Night Lights' and their New Land + arm has begun offering deluxe 7" box sets. The latest is 'Expressions Tell Everything', which collects Love's run of singles from 1966 to 1969. Six originals are augmented by a previously promo-only title, 'Que Vida' / 'Hey Joe', and a freshly minted outing for 'Always See Your Face' and 'August'. Granted access to the original tapes, legendary engineer Bill Inglot was tasked with the remastering work. The tracks sound forthright and vibrant, as one expects from the format, and the GZ-pressed discs are fairly quiet across the whole set.
Some neatly done spot-varnishing on the box is immediately inviting and the 64 page book is beautiful. Andrew Sandoval provides a pacey essay while co-founder and lead guitarist Johnny Echols offers some reminiscences. While not the most extensive trawl through their catalogue nor the ideal way to listen, this is close to being a model for how to do these things. Each 7" has a sturdy outer sleeve along with a paper inner, the artwork is mostly crisp and the array of photography in the book is impressive. Fans of the band will likely be delighted, although a price point of around £100 feels a little steep all things considered. Worth keeping an eye on in the new year sales, however.
—
—
It feels faintly surreal to be in the presence of 25th anniversary editions of Robbie Williams' debut 'Life Thru A Lens'. Anyone who was fully absorbed in the pop world at the point when he attempted to launch his solo career will recall the somewhat lumbering early months of this album's campaign, reaching its nadir with third single 'South Of The Border'. However calculated the hold was on 'Angels' for Christmas 1997, it certainly didn't feel like this would be a record that would ever be getting the full-blown nostalgia treatment a quarter of century later.
Of course, that one song changed it all and here we are with a picture disc edition, clear vinyl pressing, 4CD box set and the whole record and two bonus tracks spread across seven 7" singles. Each is a separately available release and only the CD package contains any significant extra material. The majority of the matrix info on the clear LP is the same as on the black edition from last year, suggesting it's the same, fairly pleasant Abbey Road cut. Pressed once again at GZ, it played reasonably quietly after a clean and it is housed in alternative artwork derived from the same substantial shoot that yielded the original cover.
This art is explored still further for the individual sleeves of the seven pieces in the 7" box set edition. I've yet to meet anyone for whom this is their preferred way of listening to an album, but they can make desirable collectors' items and gifts. The album proceeds in chronological order across the first six 45rpm discs, with side K containing the former hidden spoken-word track 'Hello Sir'. The seventh seven appends the George Michael cover that was Williams' first solo single, 'Freedom', and 'Average B-Side' which does what it says on the tin. Other than a jukebox pressing, it's the first time that the single mix has made it to vinyl and it sounds decent. While it's a little congested at the top, the percussion and bass are really well drawn. However, other key tracks like 'Let Me Entertain You' are noticeably more shrill and compressed sounding than on the clear LP. That said, does anyone really buy these phenomenally impractical presentations of an album to actually listen to them?
At The Front Of The Racks:
At the turn of the millennium a third of The Pastels set up an offshoot label of the Domino Records stable entitled Geographic. Quietly delivering quality over the two decades that followed, the imprint's catalogue is well worth exploring. To help you on your way, a representative trio has been reissued this month and your columnist can't separate them as December's pick of the month. One is the band's own release, 2003's 'The Last Great Wilderness', and it sounds sublime on this near-silent Optimal pressing. A woozy soundtrack to the debut movie by David Mackenzie, its soundstage delivers full-bodied, precise imaging of an array of mostly acoustic instruments. Tortoise's John McEntire is on production and the whole thing is a delight.
—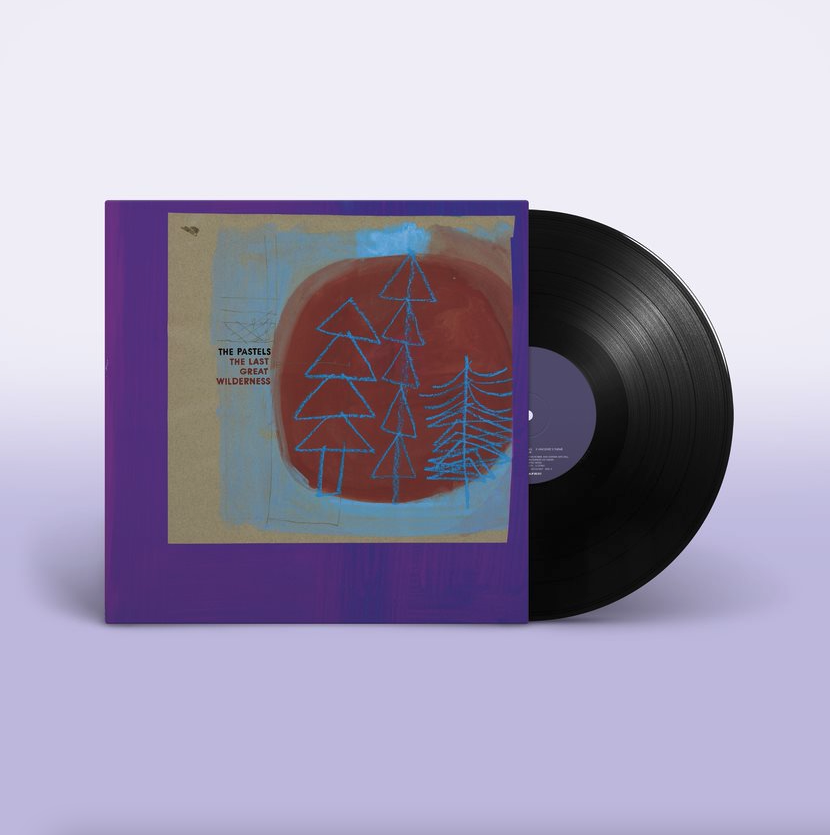 —
Similarly excellent manufacturing standards are deployed on the other pair of reissues. The piano sound on a new clear vinyl edition of Maher Shalal Hash Baz's 'Blues Du Jour' may well be as good as I've ever heard that instrument on this format. Each key depression and decaying note is right there in the room and it is a heady feeling indeed. The music itself, 37 brief, mostly instrumental pieces that function as snapshots of everyday life in the west of Scotland, is deeply comforting.
The final title is the 2012 album 'Electric Cables' by Lightships, a project driven by then-Teenage Fanclub member and previous Pastel Gerard Love. The stratospheric sparkle that was one of his trademark contributions to the Fannies is fully expanded on this record, bursting like New Year fireworks. Love's lulling voice is in fine form and the production is glorious. A shoot out with an original suggested that this new cut is preferable and the vibrant extremities of the soundstage on 'Every Blossom' truly come to life. Vinyl done right can put art and ideas in the middle of your living room. This trio of reissues manages that with style.
—
—
All of the titles reviewed above were cleaned before playback using the ultrasonic record cleaning machine, Degritter. A full review of its capabilities can be found in a previous column and you can find local dealers at www.degritter.com
Words: Gareth James (For more vinyl reviews and turntable shots, follow @JustPlayed on Twitter)