Although we're now in the reissue-heavy summer season, you'll see below that there are still some new release gems to seek out. That said, some fairly significant vintage titles are making their way back to the shelves right now and it's hard to imagine anyone reaching the end of our latest roundup without having a couple of things to add to their vinyl want-list. Sorry about that.
Anyway, read on.
Freshly Pressed:
My five-year-old daughter is an occasional guest reviewer for this column and she urged me to get hold of the Minions – The Rise Of Gru soundtrack straight after a trip to the cinema to watch it. Despite whispering "I thought you said this was a short film" to me on the hour mark, she had greatly enjoyed the latest instalment of the franchise. Desperately trying to amuse herself in Funko Pop, t-shirt and sweet shop HMV, which also sells a selection of records, she noticed this particular title on the shelf. Although available as picture discs and on yellow and blue splatter vinyl, your columnist opted for the standard black in a move which wasn't appreciated by my young accomplice. She seemed disinterested as I attempted to explain the audio shortcomings of said picture discs.
—
—
So, what of this Jack Antonoff-assembled, Seventies-indebted soundtrack? The melding of contemporary big hitters and brief bursts of era-appropriate heritage references works surprisingly well, with Diana Ross and Tame Impala making an unusual pairing for 'Turn Up The Sunshine'. Unaware of Nancy Sinatra's work, the little one was quite taken with Caroline Polachek's version of 'Bang Bang (My Baby Shot Me Down)' but was most delighted with the Minions' ebullient cover of Simon and Garfunkel's 'Cecilia'. Sacrilege? Not quite, and still better than Suggs doing it. A double disc GZ pressing with only a couple of short passages of surface noise, this is a brash and only occasionally misfiring burst of musical primary colours. The artwork is excellent too, I'm reliably informed.
The exquisite taste of Nick at Precious Recordings continues to shine via the label's on-going series of BBC Radio session releases. For the uninitiated, each 2×7" set presents a specific live recording along with fresh sleevenotes, associated art prints and colour co-ordinated gatefold sleeves which relate to the DJ for whom the songs were performed. The latest trio of GZ-pressed selections are a 1982 David Jensen session by Hurrah!, a 1999 Hefner set for Lamacq and Marine Research from the same year for Peel.
Knowing nothing about Hurrah!, I was delighted to encounter some springy jangle with nimble bass and a nod to the Postcard sound. It's hard to pick a highlight as the whole thing flies by in joyous fashion, although 'Lonely Room' is a more nuanced concluding piece. A fine introduction if they're new to you too. Marine Research are about as perfect an encapsulation of late-Nineties indie as one could imagine, recording only one album under that name having rebranded from Heavenly after the suicide of drummer Mathew Fletcher. The whole set is a treat, but the Nancy & Lee inspired duet with Peel favourite David Gedge, 'Bad Dreams', is particularly splendid.
Finally, the third edition dedicated to Hefner captures our heroes a few months on from their previous instalment and things are a little more languid but warmly melodic. 'The Hymn For Things We Didn't Do' is a highlight and it achieved that rare feat of making me put it straight back on again after it finished playing. A fine recording which highlights the link between the band and BBC producer Miti Adhikari, who had worked on their second album with them just prior to this session having established a bond when they'd last been in to Maida Vale. Such moments of history are captured both on the vinyl discs and in Darren Hayman's evocative sleevenotes. While it will come as no surprise to you that I, once again, highly recommend these Precious Recordings titles, they've been going long enough now to be a safe bet whether you know the act concerned or not.
The long-running Back To Mine compilation series, where musicians curate a selection of their favourites in as cohesive a fashion as suits them, has offered up some delights of late with Nightmares On Wax and Fatboy Slim delivering the goods. Their latest instalment has been assembled by Horse Meat Disco and, as ever, comes as a mixed and unmixed 2CD set and a vinyl edition with the unmixed tracks spread over four sides. Pressed at The Vinyl Factory, Just Played's copy only had one patch of mild clicks during an otherwise quiet listen. Lisa King's 'You Got Magic', the Severino & Nico De Ceglia remix of Roisin Murphy's 'Ancora Ancora Ancora' and Fajardo 76's 'C'mon Baby Do The Latin Hustle' are amongst the highlights. The varying sources result in a slightly uneven presentation, but these releases are always about the discovery and Horse Meat Disco don't put a foot wrong.
Giant Palm by Naima Bock
If you haven't yet heard of Naima Bock, an artist born in Glastonbury to a Greek mother and Brazillian father, then a fine experiene awaits. Fans of early Cate Le Bon, Jessica Pratt and Shirley Collins will likely warm to her debut album 'Giant Palm'. Formerly of Goat Girl, Bock is now collaborating with arranger Joel Burton and the eloquent, distinctive strings that pepper this record are central to her unique sound. A near-silent Optimal pressing, the cut serves her phenomenal voice perfectly and arrays the orchestrated soundscapes with great reach out from and above the speakers. Both as a way into the record and as a demonstration of this very fine mastering, try the vocal layers of 'Every Morning' and beguiling build of 'Campervan'.
A pleasant surprise within this month's postbag was the arrival of the first 12" single releases on the Discolidays label. Nicolas Laugier, better known as remixer extraordinaire The Reflex, has set up his own, fully licensed label in order to put out his versions of nuggets of disco gold. In association with French label Because, and pressed at MPO, these excellent sounding discs are packaged in glorious, branded outer sleeves and make fine use of the wide grooves. At the end of March, the endeavour debuted with a re-vision of Q's 'The Voice Of Q' and Ruth Silky Waters 'Everybody Loves a Good Funk'.
The more recent follow up, in the racks of astute retailers right now, presents a pair of tracks by French disco legend Cerrone. 'Look For Love' and 'Hooked On You' suit Laugier's touch, extending the percussion and guitar licks in deliciously decadent fashion. While they'll definitely sound great played out, these cuts keep their sense of nuance and ensure the instruments are full-bodied across the soundstage. The whole aesthetic here is hugely appealing for record collectors and this column is very keen to see where Discolidays goes next.
All Kinds Of Blue:
Blue Note's inimitable Tone Poet series is currently on hiatus, presumably to ensure the John Coltrane 'Blue Train' set can be manufactured for the autumn. However, Freddie Hubbard's 'Breaking Point!', pressed at RTI as ever, landed just as the June roundup was being finalised and so it sneaks in now. As with all of the titles in this section, they have been cut all-analogue by Kevin Gray. As well as a magnificent cover, the album explores a magical tension between free improvisation and more conventional, melodic swing. Listen to the shifts in the title track and you'll get a sense of Hubbard's ambition. Although James Spaulding on sax and flute and Joe Chambers on drums often pick up plaudits as band players on this one, spare some time for Ronnie Mathews' integral piano which locks the whole thing together. It's an absolute joy, enhanced by the stunning session photography inside the gatefold.
The Classic Series continues apace, thankfully, and will see us through the summer months. As if acknowledging this, there were three releases for July. All are Optimal pressed and have poly-lined inners. I was particularly smitten with Don Wilkerson's 'Preach Brother!' Grant Green and Sonny Clark support a tenor sax player who had recently worked with Ray Charles and knows how to get the energy up. It's pure, it's instant and it's buoyant. Lovely.
Pianist Sonny Clark has his own title in the July batch with 'Dial "S" For Sonny' dusted off too. His first as a band leader, it's a pretty route one bop record that nevertheless delivers the thrills and lets you experience Clark's hands on the keys. Curtis Fuller's trombone sounds especially great on this quiet cut, seeming to bring a little bit of the studio air with him.
The final title for this month is George Braith's 'Extension', which struts out the blocks with Billy Gardner's emphatic organ. As the sleevenotes reveal, Gardner was a pianist who Braith convinced to switch instrument and this perhaps accounts for his distinctive style. Philosophically similar to Hubbard's record above, 'Extension' lives up to its name by using the confines of a relatively straightforward quartet to push and pull at the boundaries. The title track best highlights this dual purpose. With barely a click across all three titles, the Classic series is now fully in the groove.
The 'bloody hell, George Michael's 'Older' is finally on vinyl again' section:
Well now. Record collectors are well aware that one of the most in demand second hand vinyl releases of all time is the original 1996 cut of what is, arguably, George Michael's finest album, 'Older'. Despite its near-hour long running time, the whole thing was squashed onto one disc and pressed in the kind of quantities that certainly didn't anticipate a revival for the format. In recent years, prices have leapt from the already crazy £400 to twice that. On the rare occasion copies have shown up on Discogs, the condition is normally imperfect. While one or two folk have lucked out in charity shops or car boots (more on such business here), most resigned themselves to making do with the actually rather decent sounding original CD.
Those handling George's estate haven't exactly rushed to get highly desired reissues into the racks, with much of his catalogue unavailable on our preferred format. However, after protracted behind the scenes planning it was then the global manufacturing delays that further postponed the arrival of 2022's most anticipated vinyl package. A super deluxe box pulls together all of the bonus material from the period, including supplementary disc 'Upper' as well as assorted b-sides and remixes from the era of multi-formatted singles across five CDs. There's very little that will be new to obsessive fans, but the comprehensive nature and swanky book give due status to such a spellbinding album. The bumper package spreads the main record over two 12" discs and adds the aforementioned 'Upper' as a third.
For listeners simply wanting 'Older' as George intended, a gatefold double vinyl edition is also available, with several coloured variants for completists. Just Played has spent a few weeks with the standard black pressing, comparing it to the 1996 CD and listening on vinyl for the firs time to a set of songs that your writer has adored since they first emerged. So, can we breathe easy? Well, it's an Optimal pressing and the audio has been remastered by John Webber and David Austin at Air. The artwork is crisply rendered and the discs are housed in printed inner sleeves which aren't too clingy.
The first thing to say is that this isn't a revelatory sonic upgrade. It is very recognisably the record that so many of us adore and it is very well cut. George's voice is full and present, unleashed from the speakers, and percussive sounds breathe. Where I found a perceptible, if nevertheless slight, difference was with certain acoustic instrumentation. Listen to the slow-moving strings on 'Jesus To A Child' and they seem to glide through the air more naturally than when listening to the CD, the decay of each part tangible. Take the saxophone on 'Fastlove' or the trumpet in 'Spinning The Wheel' and the sense of breaths being pushed through an instrument to conjure a sound is just that little bit more palpable.
Just Played identified moments of light sibilance that are marginally more pronounced on this vinyl cut than on the original CD and there were a few clicks here and there that didn't ease after a good clean, but these are the only complaints. Some aspects will vary according to personal taste and system preferences. For example, the bottom end is more muscular but also a little less sculpted on the vinyl cut of 'The Strangest Thing'. In short, it has been done very well and it seems pretty clear that George's estate knew that they had to get this right, given the seismic levels of anticipation around it. While the differences are subtle, it's certainly a reissue to play rather than simply taking comfort from finally having a copy in the racks.
—
Going Round Again:
This column has spoken previously about how much the world needs more modern pop records presented properly on vinyl and it was with immense delight that Just Played greeted last year's announcement that Nicola Roberts' solo masterpiece 'Cinderella's Eyes' would be making its debut on the format. As is the way with production issues right now, it has only just made its way out to fans, but what a triumph it is. Having reviewed Plastic Pop's wonderful work on the Sophie Ellis-Bextor catalogue previously, we knew what to expect.
—
—
Two editions exist, a standard coke bottle green pressing of the main album in a spot-varnished gatefold or a double clear vinyl set with a freshly painted version of the artwork plus a bonus disc of contemporary b-sides and unreleased material. This latter endeavour trades as 'Behind Cinderella's Eyes' and was released on CD too. While the expanded edition is currently out of stock, the main album is still available to order and you won't want to hang about.
From the wonky onslaught of opening track 'Beat Of My Drum' onwards, this is a record that gives approximately zero fucks about what anyone expects from a solo Girls Aloud offering. While Diplo and Metronomy are amongst a number of producers involved with aspects of the album, Roberts is an artist with a clear vision and a thrillingly distinctive style. 'Lucky Day' is a euphoric triumph, while 'Porcelain Heart' fizzes with spiky emotional currency. While there is a cover of 'Everybody's Got To Learn Sometime', even that possesses a bewitching atmosphere that situates it directly in the triumphant landscape of this singular record.
It has been well cut for vinyl, ensuring the electronic backbone has character and shape. Roberts' voice is clear and three-dimensional with only a slight hint of sibilance as each side draws to a close. And, come the most insistent passages of the most upbeat tracks, the bottom end is still hefty but suitably refined. Having waited over a decade, I'm delighted with what Plastic Pop have achieved here. If this is new to you, I envy you the thrills that lie ahead during that first listen.
—
—
The recent run of Roxy Music half-speed mastered reissues concludes with 'Avalon' and 'Flesh + Blood' ahead of a first vinyl outing for their Best Of in September. As with previous titles, the artwork is well rendered and presented on substantial card stock. The inner sleeves are replicated but the discs come in separate poly-lined sleeves. Pressed at Optimal and cut, as ever, by Miles Showell at Abbey Road, they sound fantastic. 'Avalon' is especially striking, with an open, airy soundstage that produces a rhythmic drive far beyond most Eighties recordings and mixes. Listen to 'The Space Between' and both Any Mackay's saxophone and Jimmy Maelen's percussion are equally well served by this tremendous and near-silent pressing. These mark a strong conclusion to an excellent series.
—
—
The Elton John catalogue has been afforded some excellent vinyl reissues in recent years, with his imperial phase especially well represented and outlying delights like 'Songs From The West Coast' getting a look in. The curious pairing of 1992's 'The One' and 2004's 'Peachtree Road' is the latest offering. The former was Elton's first after getting clean and followed the deck-clearing 1990 compilation 'The Very Best Of', which sold healthily in the slipstream of the Steve Wright-endorsed 'Sacrifice' reissue. It marked a more mature sound and has strong production, but it's striking how unfamiliar it sounds at this distance. Where are the memorable hits? The glossy gatefold features distinctive artwork but the songs are solid if not spectacular. On the plus side, the album gets four sides this time around after the original only had two.
'Peachtree Road', on the other hand, is well worthy of re-examination. Your correspondent reviewed it favourably upon release and this unusually self-produced effort finds Elton in a country-meets-soul kind of mood. A slow-burner that plays to his strengths, it's a set of songs that fits John's 2004 voice perfectly, whether with the upbeat 'Answer In The Sky' or the more introspective 'Freaks In Love'.
Presenting the expanded version of the album, as the original vinyl release did, this edition – just like 'The One' – is an Optimal pressing with only the slightest hint of surface noise. The cuts are both pleasing, with a finely tuned mid-range. 'Peachtree Road' has the added advantage of containing a bizarre bonus track, 'Merry Christmas Maggie Thatcher', where he looked forward to the titular figure's death with Gary Barlow and Rick Astley on backing vocals.
—
—
Regular readers may recall the beautifully presented RSD vinyl edition of a wonderful Jackie Leven tribute album, 'The Wanderer'. Continuing with the marbled, smoky vinyl effect, Cooking Vinyl have now gone right back to his debut album, 'The Mystery Of Love Is Greater Than The Mystery Of Death'. Some may be a little frustrated to find that the bonus tracks featured on the original 1994 do not feature, with the label opting for improved fidelity over historical reproduction. Wisely, as the soundstage is excellent and only a few ticks and pops interfere on this Spinroad pressing from Sweden.
An underappreciated artist, Leven more than knew his way around an acoustic guitar and had a voice like an autumnal sunset. This first album highlights his dexterity, at times evoking latter-day Lanegan and the careworn drawl that Billy Bragg settled into for his second phase. 'Shadow In My Eye' has a fabulous quiet/loud transition and 'Looking For Love' is a naggingly insistent piece which suddenly goes early-Nineties Bowie at its conclusion. There is the odd misstep -as initially endearing as it seems, the cover of 'I Say A Little Prayer' feels rather Simply Red in its arrangement. Despite this, the album as a whole stands up and is well worth a fresh outing, either for those looking for a nostalgia hit or a new encounter. An Ian Rankin sleeve note helps to put it all in context.
—
—
Celebrating the 25th anniversary of The Chemical Brothers' 'Dig Your Own Hole' with a limited 3LP edition limited to 1997 copies is faintly cloying, perhaps all the more so when you realise it's being done D2C (direct to consumer – through the artist and label webstores only) and cutting out the record shops. Given there was a decent 2016 reissue that hasn't been hard to find, this needs to go some to tempt fans with its £45 price tag. A silver foil rendering of the artwork, a print of the 'Setting Son' sleeve and the five bonus tracks occupying the third disc are offered as incentives.
This Pallas-pressed, Miles Showell cut sounds good if not revelatory. The original was a little hot in places and there seems to be a little more care taken over balancing the soundstage here. Take 'Setting Son', which has perceptible lines of sound on the original. The shrill, clattering 'Tomorrow Never Knows' style drums are out on the front row, with the siren-like bursts of the main hook situated in the next one back. The percussive engine is then fairly recessed and, at times, in battle with Noel Gallagher's vocal.
For this new cut, the extremes aren't there, meaning it doesn't feel quite as visceral. However, gear changes are still stirring and the various beats are less splintered in their impact. These aren't radical changes, but those who love the record will be able to spot them. The extra pieces aren't simply filler, 'It Doesn't Matter (28/9/96)' proving especially notable for its enthusiastic use of the stereo soundscape with particular effects. An almost twelve-minute onslaught, it sounds excellent and the supplementary material might actually just edge the originals on sonics.
—
—
Universal's 'Urban Legends' branding appears to be loosely applied to a number of hip-hop and soul releases of the past thirty years and Nelly's 'Nellyville' is the latest title to join the series. The matte paper inner bags simply replicate the campaign logo, with all recording information confined to the back of the wide single sleeve. The cut is pretty decent, keeping control of the bottom end and not crushing the drums, but things do get a little sibilant towards the centre of each side. While some of the lyrics and song titles – 'Pimp Juice' chief amongst them – are dated for all the wrong reasons, the record is a remarkably accurate time capsule for daytime radio in 2002. The GZ pressing could be quieter, but the surface noise is relatively unobtrusive.
—
—
Music On Vinyl delivered one of RSD13's most enduring delights with the 'Introducing Shuggie Otis' compilation. A soulful multi-instrumentalist possessing a Hendrix-like touch with the electric guitar, Otis' early music was prone to a degree of genre-hopping and this made him an ideal subject for such cherry-picking. However, those quickly enchanted found the studio albums that had provided the source material were only available as budget pressings with unclear sources.
—
—
Thankfully, a couple of years later MoV opted to give those records a good dusting off. His 1970 debut, 'Here Comes Shuggie Otis' had a standard black reissue in 2015 and it has just hit the racks again in an orange and gold marbled variant that is limited to 1500 copies. Pressed at Record Industry, as with everything on this label, it comes in a substantial gloss sleeve with excellent artwork reproduction. A poly-lined inner is a welcome addition and playback is largely quiet, save for a little low level rustle indicative of a press not at the perfect temperature. The sonics are as excellent as on that 2013 primer, the percussion clearly defined, bass parts nimbly rendered and mid range bursting out of the speakers. A quick burst of 'Hurricane' will give you a sense of what to expect.
In a fine example of how Music On Vinyl genre-hop with abandon and dig around in the less obvious areas, they have embarked upon a programme of releasing Chapterhouse's early-Nineties EPs for Dedicated. 'Freefall' is first out the factory, presented as a four-track, 45rpm, red and white marbled 12". The poly-lined inner and sturdy card stock are once again present and the Record Industry pressed disc plays back immaculately. Revered opener 'Falling Down' is the highlight, but fans wanting a fresh edition should be pleased. The sonics are as good as they're going to be given the source and mixing habits of the time. Associated with the shoegaze movement, shrill guitars are prominent in the soundstage and vocals are recessed. Limited to 1000 copies, but that might be a little optimistic.
—
—
A quick mention for a frankly overpriced but rather eye-catching 40th anniversary 10" pink vinyl reissue of Soft Cell's 'Tainted Love'. Pressed at Takt, playback is free of surface noise and the soundstage is decent if not spectacular. One side features their cover of 'Where Did Our Love Go' and the vintage 7" mix of the Gloria Jones cover. For this special edition, Dave Ball has used the original studio tracks to assemble an extended version that comes in at twice the length and makes merry with some of your favourite noises and bleeps from this classic single. Essential? No. Fun? Yes. Worth waiting until it's half price? Definitely.
—
—
Early Noughties indie is almost impossible to track down on vinyl these days, assuming it was ever released on that format in the first place. 'The Remote Part', Idlewild's 2001 arguable highpoint will set you back the best part of £100 if you fancy an original. Thankfully, a very reasonably priced reissue, replete with gatefold sleeve, has just arrived from Parlophone. A quiet Optimal pressing presents the music faithfully. Considering it's not the most open mix, the soundstage is decent and manages to preserve the distinct layers of electric and acoustic guitar. Roddy Woomble's vocals may not soar in this mastering but they are still carved out clearly in the middle of proceedings. 'American English' is a particular pleasure in this format.
Rewind by Stimela
The always interesting Mr Bongo label has served up a tremendous pairing this month. Firstly, a disco 12 from 1986, 'Rewind' by Stimela, an Afro-Fusion band from South Africa. It's mostly known for opener 'I Hate Telling A Lie' but this band was tight. While I can't draw a direct comparison, the artwork reproduction looks impressive and the same is true for the fantastic Main Source album, 'Breaking Atoms'.
An early Nineties hip-hop triumph, produced in New York and clocking in at just over 45 minutes, this is a sharp set deserving of a little more love. The jazzy samples and mid-paced beats make this a perfectly timed reissue, as it couldn't sound more summery if it tried. Trivia fans may know that this features the first recording of Nas and originals have been in short supply. So, a near silent Optimal pressing with a nuanced soundstage – as with Stimela – is exactly what is needed. It's almost worth the cost of entry for the vintage record label alone. Very highly recommended.
—
—
When the initial RSD list for 2022 emerged, the reissues of Beth Orton's quite magnificent first two albums, 'Trailer Park' and 'Central Reservation', were quickly installed as must-haves for many. Then they got pushed to the second drop in June and the anticipation grew. Writing this column, I'm only too well aware of the anxiety people have over long-awaited pressings of desirable items. When it's taken several decades to get done, it won't be done again in a hurry so you need it to be good. Talk of American Diner blue and pillar box red coloured discs was a little concerning. But such fears were, it transpired, unnecessary. As both titles are still available by browsing indie stores' website and standard black editions will follow, Just Played thought it best to ensure you are informed about these MPO-pressed editions.
In short, they're excellent. Not having an original of 1996's 'Trailer Park', the only point of vinyl comparison was the unremarkable Plain Recordings edition from 2010. With the album now spread over four sides, it's the best your correspondent has ever heard it. The credits reference a 2008 Miles Showell remaster but things are otherwise unclear. Regardless, the most noteworthy aspect of both titles is the approach to dynamics. This music sounds incredible and the bass parts are especially hypnotic. I don't find myself zooming in on that instrument especially often when listening to music and I think it's largely down to how it is frequently served poorly in modern mixes. As a result, when it does catch my attention it's normally a sign of an impressive vinyl master. Listen to the title track of 1999's 'Central Reservation' or 'Touch Me With Your Love' from the debut and you'll know these are keepers. The sleeves should be gatefolds and the inners are a little flimsy, but it's the discs that matter most and they are tremendous.
—
—
The sporadic, expensive Paul Weller reissue programme has arrived at 2008's somewhat underrated '22 Dreams'. Although it received rave reviews at the time, marking the acceleration of his renaissance that had been instigated with 2005's 'As Is Now', it's talked about far less now than it arguably deserves. At almost seventy minutes in length, it's quite the ride. Built around soundscapes and often veering away from presenting Weller's distinctive burr front and centre, it lurches all over the place and at one point appears to invent the folkorik sound.
Several double-A-sided singles were used to launch the record, immediately highlighting the different palettes on offer. It has aged well and a reissue has been much desired for some time. This edition replicates the original near-perfectly. The cover art is ever so slightly brighter, but the black paper inners, fold our credits poster and accompanying booklet by Simon Armitage are all as was. Indeed, they've even manufactured it at Record Industry once again. As a result, the pressing is near silent throughout and sounds very similar. The slightly congested mix remains, although the mid-range seemed a little less blurred.
—
—
I can recall being rather enchanted with the debut Frank Black and The Catholics record, back in 1998, from its low-budget artwork through to its country and rockabilly urges. It was, and remains, the sound of a band finding their feet and purpose, but it was endearingly lacking in cynicism and essentially a set of two-track demos that turned out well enough to release. Over the five years that followed, they would deliver a total of six studio albums that all adopted this straight-to-tape initiative. Given their emergence at the turn of the millennium, three of the records never made it to vinyl. Until now.
Demon Records are no strangers to putting hard to find or never-released vinyl titles in the hands of excited customers and they've really gone to town on this project, 'The Complete Studio Albums'. A beautiful and vivid sturdy outer slipcase holds clear vinyl cuts of all six titles, 2002's 'Black Letter Days' necessitating the double-disc treatment. The attention to detail is charming, with spot varnished sleeves catching the eye the second they're slid out of the case. While this column has occasionally had issues with the slightly boxed in sound of some of Demon's Nineties dust-offs, these albums are largely excellent. Phil Kinrade from Alchemy Mastering at Air has remastered the whole lot from those original tapes and I guess this serves to remind us all how much what you get out relies on what you put in.
These GZ pressings are not without low level clicks and the odd bit of non-fill, certainly based on the set Just Played spent some time with, but if you're willing to play a little roulette, you should be able to assemble a pretty decent sounding set. 'Black Letter Days' seems to fluctuate a little, consecutive tracks having a different sonic signature, but Black's voice is still a commanding central presence. 'Show Me Your Tears' may not quite reach the analogue-driven charms of the original 2003 Pallas pressing, but the soundstage is meticulously drawn before the listener.
The more direct thrills come from the earlier titles, however, especially 'Dog In the Sand' and 'Pistolero'. The former has a slightly more polished feel, for which the piano sound is especially well presented, while the latter is an explosive burst of garage rock that doesn't quite reach as far out of the speakers. The accompanying booklet offers insightful pieces on each of the albums and the set offers the definitive word on a lively and prolific period for Frank Black. Recommended.
—
—
At The Front Of The Racks:
Forgive the slight cop out, but there are two releases in this section for July, one a new album and the other a highly anticipated reissue. Rather than agonising, I'd just opt for both – you won't regret it.
—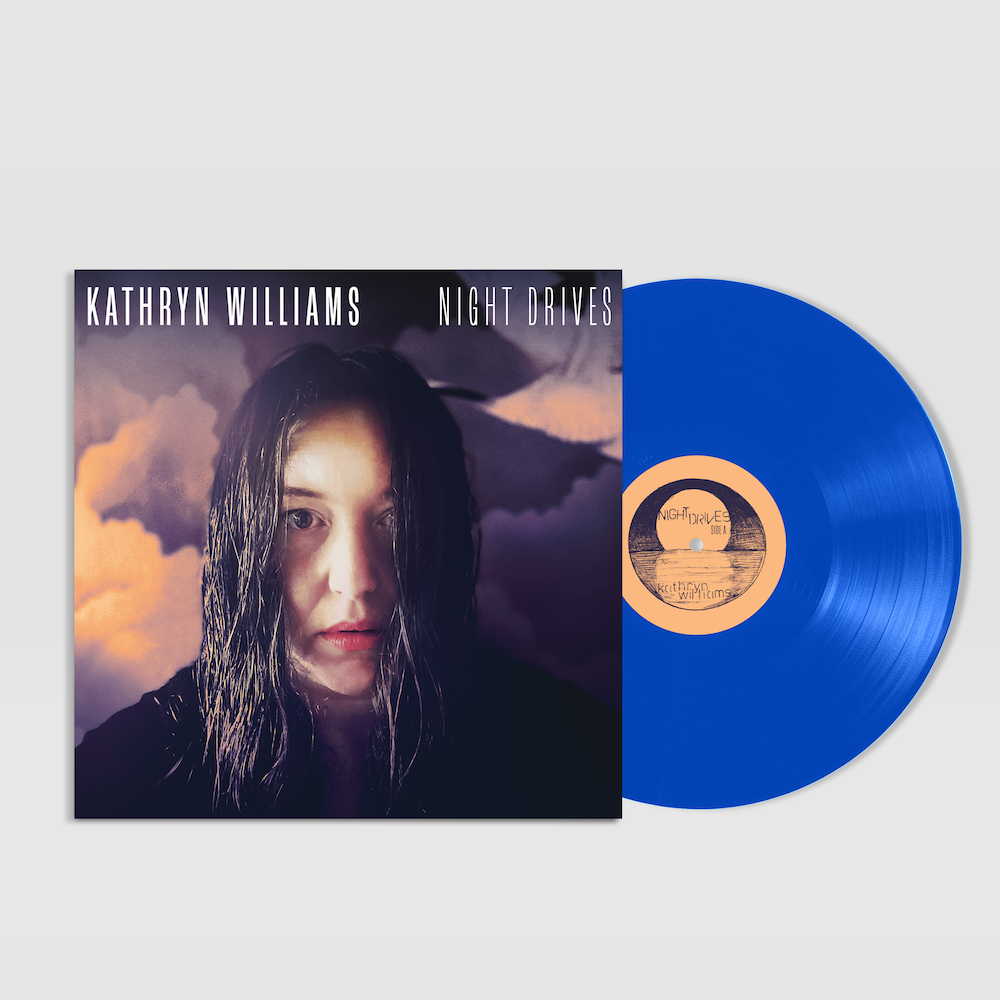 —
Just Played is pretty confident in stating that Kathryn Williams has never made a bad record. Her catalogue is often majestic and frequently comforting, as highlighted by the wonderful box set she oversaw several years ago, 'Anthology'. But 'Night Drives' is her best. And that is saying something. When the strings first come in on 'Answer In The Dark' on this superlative vinyl cut, hairs stand up and a physical sensation is felt. Williams' voice rising above them, in sync rather than battling to outdo their presence, highlights the three-dimensional quality of Miles Showell's masterful work here. On top of an array of tremendous collaborators featured across the record, a key presence is Ed Harcourt with his arrangements and production.
In attempting to pick out highlights to mention, I realised I had written down most of the tracklisting but allow me to draw your attention to a few more moments. The rumbling bass and percussion on 'Radioactive' is palpably felt and when things escalate – I won't spoil it – it feels like you're being lifted out of your seat. On the more delicate 'The Brightest', the layers of Williams' vocals are exquisite. Her main performance has so much space in the room, it has to be heard through speakers rather than in-ear. Finally, 'Put The Needle On The Record' is a textured tour de force and picking out the interplay between bass, piano and the ever more insistent drums is one of my musical highlights of the year so far.
—
—
Needle Mythology has had a particular reissue inching towards release for several years now and it is finally upon us. The Finn Brothers' first album together, 1995's 'Finn', hasn't had much of a spotlight on it in the past and its somewhat obscure cover has made it one of those curios that you happen upon when flicking through CD racks. Having never previously been on vinyl, it was an ideal target for the label and they took the opportunity to do something truly special with it.
As a result, the gatefold package features a new and giddily effusive sleevenote from Radiohead's Ed O'Brien, related photography and insights from the time and a bonus disc which fashions an album of sorts out of a set of the brothers' demos from what was to be their first album together, but became the bones of Crowded House's 'Woodface'. While this latter treat is, 'Four Steeping In ¾ Time' aside, material previously released on the deluxe edition of that famous title, something about hearing those songs in this order, assembled to flow like an album elevates them further. Take the alternative guitar embellishments on 'Weather With You' – a song so incredibly familiar, suddenly presented from a different angle.
The 'Finn' record is, of course, the main attraction here and it is a slow-burning delight. As O'Brien puts it, 'Only Talking Sense' opens with an "intangible sense of some unspecific looming terror." He neatly hits upon the darker tones on this album, which sets it apart from the more upbeat perceptions around Crowded House. That said, the melodic nous is here in abundance and 'Eyes Of The World' is a perfect demonstration of that, somehow sounding like a tribute to about fifteen different Beatles album tracks and yet distinctively Finn. The keening 'Where Is My Soul' is probably the most logical jumping on point for those familiar with the Finn day job but keen to explore.
Miles Showell is once again involved for the cut and The Vinyl Factory have pressed these near silent discs. The soundstage is (only) natural and inviting, presenting those two beguiling and intertwined voices with clarity and a sense of the studio space all around them. Add in the fantastic photos of their father's song ratings and the neat dedications to their parents in the deadwax and this is as thoughtful a package as anyone could have ever desired for this charming record.
—
—
All of the titles reviewed above were cleaned before playback using the ultrasonic record cleaning machine, Degritter. A full review of its capabilities can be found in a previous column and you can find local dealers at www.degritter.com
Words: Gareth James (For more vinyl reviews and turntable shots, follow @JustPlayed on Twitter)