Lockdown was perhaps the strangest time any of us have been through. Even from this vantage point, it's hard to put yourself in the mindset of 2020 or 2021 – kept indoors aside from a one hour period of exercise, locked away from friends and family, devoid of hobbies or inspiration. For music, it represented a period of shutdown, and existential dread – without touring, how could musicians survive?
There were a few bright sparks of invention, however. Charlatans singer Tim Burgess has long utilised social media in a friendly, open manner – it's what led to his Tim Peaks coffee range and festival events, after all. Deciding to use Twitter to walk fans through the band's debut album 'Some Friendly', the idea of a Twitter-based listening party took hold. More were planned, and then still more – before anyone knew where they were, a social media phenomenon had taken hold.
It's hard to pin down why such a simple concept took on such importance in so many lives. For fans, it was a way of interacting with musicians on a one-to-one level, while also discovering fresh music, both new and old. For musicians, it was a rare chance to actually speak directly to fans, and a vital platform to get their creativity out there in the waiting world.
Tim's Listening Parties were an all-too-rare chance over lockdown to simply bathe in the love of music. Fans would tune in across the world, listening in real time as the record unfurled. It was a moment of connection, for sure, but it also tapped into the rare magic of the album as a format – two sides of vinyl, around 50 minutes of music… a chance to breathe in what was, ultimately, a uniquely oppressive environment.
Since then, the Listening Parties has grown in stature. Multiple listening events started trending across Twitter, spawning a full book, radio shows, podcasts, and – when the world relaxed a little – some IRL events. From a simple tweet inviting fans to join in, it had become a bona fide phenomenon in its own right.
—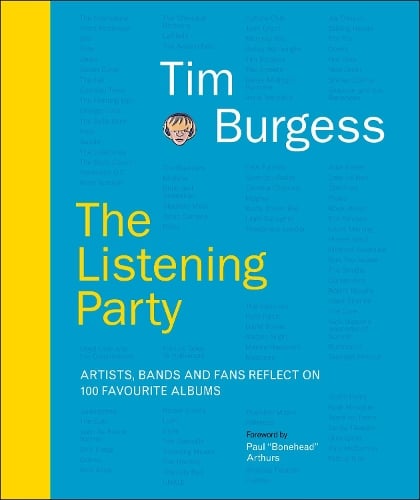 —
Clash spoke to Tim Burgess last year, and the Charlatans frontman seemed tickled pink by the response: "It's mad, I was on a plane yesterday, and I got pulled over by security. He said, 'thanks for the listening party – you can go!'"
All good things come to an end, however. In a note overnight, Tim Burgess confirmed that the Twitter-based listening parties will end. Previous instalments will remain archived, while the podcasts and live events will go on – a good idea, it seems, is hard to shake off. The announcement has sparked a wave of mourning online – the platform itself has changed, and perhaps this has made implementing the Listening Parties a little harder. Equally, the team may wish to leave people wanting more – the sign of a good gig, after all.
With live shows returning, festivals in full swing, and record shops back open, Tim's Listening Parties have perhaps fulfilled their purpose in this current form. One thing's for sure, though, during those dark lockdown days it became a rare focal moment for music lovers, a golden beam of communication during an era of introspection. For now, we'll definitely miss it.
From Some Friendly to Wham! The Singles.
1,366 albums that we heard together, over 1,213 days from March 23rd 2020. The Twitter @LlSTENlNG_PARTY was a beautiful thing. Thanks to everyone who joined us x x pic.twitter.com/RrZpClawf5

— Tim Burgess (@Tim_Burgess) August 31, 2023
—