Japanese Breakfast has been forced to re-schedule her upcoming UK tour.
The songwriter's 2021 album 'Jubilee' won outstanding critical acclaimed, and charted high up in our Year End poll.
At the time, Clash writer Sam Walker-Smart opined: "She's landed three knockouts and is only getting stronger…"
Set to play a full European tour, COVID related issues have now forced Japanese Breakfast to alter her plans.
In a statement, she's moved her UK dates to October, but sadly shows in Cologne, Hamburg, Antwerp, Paris, Madrid, Barcelona and Copenhagen have all been pulled.
"Due to lingering uncertainty surrounding COVID-19 travel protocols, we have decided to reschedule our UK and European dates from March to October 2022," she says in a statement.
Of the cancelled dates, the songwriter adds: "I am truly devastated we can not make it work at this time but I promise we will be back as soon as possible."
Catch Japanese Breakfast at the following shows:
October
20 Bristol Marble Factory
21 Leeds Brudenell
22 Glasgow Old Fruitmarket
24 Manchester Albert Hall
25 London O2 Forum Kentish Town
– – –
Exploring the behavioral patterns of villains can be tricky as they exist in a peripheral space of ambiguity. These characters are perceived as driven by malignancy, but also, they dance with subjectivity making them complex and entracing. K-pop group DRIPPIN — formed by Hyeop, Yunseong, Changuk, Dongyun, Minseo, Junho, and Alex — own this crux in their latest single 'Villain.'
"I can't stop, right / Can't avoid it, why? / Feeling that I can't control / (Baby, why so serious?)," they sing at dusk, while sirens reverberate and the city is consumed by a thunderstorm unleashed during the music video. They are both the protagonists and antagonists, bending the balance of morality with supernatural abilities.
"I believe it's up to the eye of the beholder," lead vocalist Changuk says. His deep tone matches his quiet and contemplative manner, often smiling at the remarks from his members throughout this video call. "To some people, we can appear as villains because, as it can be seen in our teasers [for this comeback], we are being chased and usually, the good guy is the one chasing the bad guy. At the same time, you can think of a villain as someone who has that special power to make you love them no matter what."
Hailing from Woollim Entertainment, the septet officially stepped onto the stage in late 2020 with their first mini-album 'Boyager,' but they weren't tenderfoot trainees. Six of them — except for Korean-German member Alex — had their fair share of exposure in survival shows and pre-debut projects, with their efforts frequently testing emotional and physical limits. It wasn't exactly a flowery path, nonetheless, DRIPPIN came out ahead.
Considering the lineage of boy groups from their label (INFINITE and Golden Child), DRIPPIN's DNA foretold up-and-coming talents. Right from the outset, their identity was soaked by joie-de-vivre better reflected in 'Nostalgia,' 'Young Blood,' and 'Free Pass,' title tracks released during their first year of existence. Energetic and carefree, the group rose to become a promising contender that is reaching mainstream recognition in the industry.
– – –
– – –
However, as far as these things go, there is always a twist meant to enhance the visual and sonic calibre of K-pop ensembles. For DRIPPIN, the first indicator of this conceptual adjustment came with the promotional single 'Vertigo,' a collaboration with global platform Universe. Two months later, this juncture consolidated with the introduction of their third mini-album aptly titled 'Villain' (out now).
"Our concept (until 'Free Pass') was brighter and almost cute," Alex says. "After recording the title track and learning the choreography, I felt like my members can really bring the passion that goes with 'Villain' and in the future, you will see more of this from DRIPPIN."
According to bright-eyed vocalist Minseo, the group steadily adapted with constant practice, conquering some personal doubts in the process. "I thought 'Oh, can we really do this? It is such a big change in our style. How will it turn out? How can I match and bring my A-game [for this concept]?'"
Teamwork, then, comes in handy. Main vocalist Hyeop — conducting himself with contagious enthusiasm despite being almost 11 p.m. in Seoul — shares that while preparing for this comeback "they gave each other feedback" to cultivate the best of results. "Of course throughout the time we have been idols we have become more mature, so just changing into that [concept] was part of maturing [as well]," he says matter-of-factly. "At the same time, we monitored [performances] of a lot of our seniors that have similar stronger concepts and we watched how they came through with that."
Although their image may be more malevolent for the sake of the theme, personality-wise, the group assures "we are the same guys." Take Yunseong for example, DRIPPIN's resolute leader known for his compelling presence, strict while rehearsing (he affirms that "as long as we are DRIPPIN, I will always be like that") yet caring for the synergy between his bandmates. Or striking vocalist Junho, who is naturally shy but once his confidence kicks in ("I am still the one who talks a lot with all the members, of course!"), he is unstoppable both on and off stage.
– – –
– – –
It can be said that DRIPPIN, as villains, lean towards the mischievous — and even irreverent — side of the spectrum. Ask them who would be the most dangerous character in real life and the result is a lighthearted chaos. "Well, if you think about who would be good at acting as a villain, like in a movie or a tv show," main rapper Dongyun starts a quick assessment, "I might say Yunseong can be a good person for the role and I hope we can see something like that in the future, but…" and he pauses for a bit while looking suspiciously at the other members, reading the atmosphere, "at the same time, if you think about an actual villain, that would be Minseo," prompting a burst of laughter from the group, with a charmingly defeated Minseo grinning.
"This is just in a joking way!" Dongyun adds, "[but I picked] Minseo because he plays a lot of jokes and he is very fun, but obviously we are all so sweet to each other, I think there is no one that can be an actual villain."
They also have thoughts about who would be the first member to turn into the bright side, pretty much like a villain finding redemption. When the question is open for discussion, Alex — whose multilingualism gives him a bit of an advantage during the interview — quickly raises his hand before the topic is even translated, only to be gently slapped by a giggling Hyeop. Junho also offers himself as a volunteer, but at that point, the group starts exchanging opinions to make sure they are on the same page.
After brief deliberation, the 'winner' is announced.
"Alex is very nice and… not innocent per se, but he is a very sweet guy and he is also good to everyone," Dongyun declares, while Alex keeps happily pointing at himself and the rest of the members nod in approval.
"Good guy!" quick-witted Hyeop teases in English. But rumor has it, Alex can also be audacious. "He can be savage at times!" Hyeop exclaims again, laughing. "But overall, his personality is very kind so that's why we are picking him."
This energy combines with their malleable vocals to deliver a collection of six tracks that evoke an enigmatic musical story. Love, the anchoring feeling of the album, splits into many moods that go from the shimmering pop beats of 'SHY,' to the somber nu-disco encircling 'Delusion,' to the pulsing moombahton in 'Remember.' Segueing the main attraction 'Villain,' listeners can encounter the apex in 'Switch,' an idyllic production that sees DRIPPIN flirting with emotions of delight and eagerness.
"I like 'Switch'!" Minseo says. "When you listen to it, you'll definitely feel like it is a high-tension, exciting song and we even have choreography that is really cool. If you are feeling kind of down, this song can bring energy and get you back up."
– – –
– – –
Having the ability to convey their developing perspective remains DRIPPIN's most resilient characteristic. For this record, the narrative unfolds aided by the group's adaptability and outlook while they forge ahead. "The album itself and all the songs have a connection between them," Junho observes. "When you hear 'Villain,' it can give you a sense of 'Oh, what kind of person are they?' but then you look at 'Remember' or 'SHY, 'and they are tracks about how we handle our feelings and go through life."
The complete extension of DRIPPIN's musical gamut is yet to be unraveled, but one thing is for sure: it's kaleidoscopic. A few weeks before debuting, Yunseong described DRIPPIN's color as emerald due to its idiosyncratic attributes. When asked about it, one year later, the answer remains the same. "I chose emerald because when I first saw the members, they were so talented," he says. "The colour emerald has a nice feeling to it in an upscale way, and when you think of an emerald, you picture a nice, quality gem. Even now, I feel that emerald really matches DRIPPIN as a whole."
Deepening this frame of mind, Hyeop concludes: "When you hold an emerald up and light shines on it, the crystals reflect back, and each light that you see can also be a part of us and display a different side of our group."
– – –
– – –
Words: Ivana E. Morales
Photo Credit: Woollim Entertainment / MJ Tonz Entertainment
– – –
deathcrash don't want to follow anyone's trail but their own.
The group's fantastic debut album was born from months, if not years, of rehearsals, chewing up ideas and reconstituting them into fresh formations.
Continually seeking out difficult questions, deathcrash released their fantastic debut album 'Return' earlier this year, with its exploratory structures winning critical acclaim.
The band said at the time: "The first parts of 'Return' came from quite a dark and jaded place. To get better can be a path marred by self-sabotage and a desire to hide. It can be easier to have no faith in something new, and rely on the comfort of an old feeling, even if it hurts. There is a reassurance in pain, a familiarity in its narrative. 'Return' asks when things heal, where does the wound go?"
deathcrash shot a monumental live performance clip recently, using the Hush House at Bentwaters Park in Suffolk as a base.
Shot close up, it's a raw, undiluted look at their creative methods, with a stark, bruising performance putting Clash in mind of 'Young Team' era Mogwai or Slint.
A 20 minute journey into sound, it's a cross-section of 'Return' while pointing towards the future.
Tune in now.
– – –
The list is out and conversations about Record Store Day are as passionate as they have been in many a year.
Chief amongst the concerns are the considerable impact on already stretched pressing capacity and early signs of the pricing. Given that RSD titles tend to be a little more expensive at the best of times, the current creeping costs combined with the supply chain issues are at risk of creating a perfect storm.
There's also a June back-up drop for any titles which get delayed, small in number for now but who knows by the time April 23rd rolls around? As ever, you'll be able to get a preview of some of the releases in a special edition of this column just before the big day. However, there are plenty of records already in the racks for us to wrap our ears around right now.
Let's get on with it.
Freshly Pressed
Alongside the Ride revival, Andy Bell has been fairly prolific on the solo front recently, both eponymously and as GLOK. 'Flicker' is his second under his own name, once again on Sonic Cathedral. Clocking in at just over 75 minutes, it's a double album in the truest sense, filling up all four sides of this transparent GZ pressing. The copy we received played with barely a hint of surface noise throughout and it looked rather handsome with its obi-strip and blurrily discombobulating artwork.
Possessed of an often somnambulant momentum, it can sometimes feel like all but the vocals are playing at the wrong speed. Its gloriously languid touch allows these tracks to gently bubble up, with pieces like 'Way Of The World' feeling not unlike one J Spaceman. At times, Sixties pop collides with Eighties shoegaze to deliver a hazy sheen that is rather beguiling. Best consumed in one sitting, as its eighteen tracks gently dissolve time around you.
– – –
– – –
It's always a cause for joy when a new Spoon album lands. Their distinctive drum sound and strident guitar lines are never less than infectious and this remains the case for 'Lucifer On The Sofa'. The artwork isn't amongst their finest, gaining little from the larger format, but the music is what it's all about. Opener 'Held' has a claustrophobic, mid-paced intensity before yielding to the more conventionally frenetic 'The Hardest Cut'. Britt Daniel's vocals remain compellingly raw, as insistent as the rhythms they sit atop.
The vinyl is a Chris Bellman cut and the standard black edition is done through Optimal. There are some variants pressed at Pallas knocking around, but I can't imagine you'd be any the worse for encountering one of those instead. It's an open and vibrant master, with a strong grasp of the mids which can sometimes get a little cluttered on the band's records. Near silent throughout and sonically on the money, it's well worth picking up.
– – –
– – –
There are a select number of names in the world of compilations who are so trustworthy you can buy their efforts in full confidence without hearing a note: Bob Stanley, Jon Savage and Eddie Piller sit at the top of that list. The latter has this month launched his British Mod Sounds Of The 60s project via Demon and it is available in two different configurations. The full one hundred tracks are spread across six black discs in a box set, while thirty-four highlights have been cherry-picked for a double vinyl variation.
It's this abbreviated take that Just Played has sampled, with disc one on red and the second, of course, on blue. Mastered at Alchemy, this diverse array of Sixties corkers is well served by a largely quiet GZ pressing. Geno Washington's 'Michael (The Lover)' and Georgie Fame and The Blue Flames' 'Sweet Thing' make sure the first side gets off to a flier, while Dusty's 'Little By Little' launches side 2. The Kinks, The Creation and the sensational P.P. Arnold are amongst many delights on the second disc. With an accompanying sleevenote from broadcaster Paul 'Smiler' Anderson, the package is a fabulous burst of a key era which mixes beloved delights with less obvious but no less special trinkets from Piller's collection.
– – –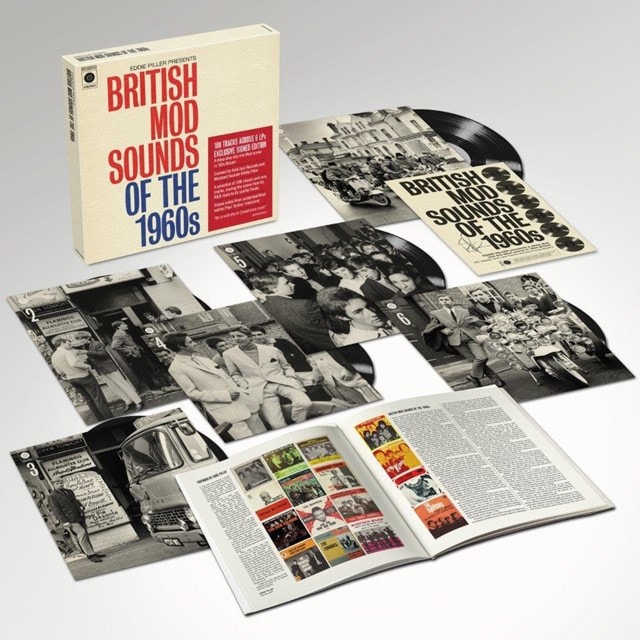 – – –
Having given the original recordings of 'People Move On' a dust off for last year's RSD endeavours, Bernard Butler has gone back to the master tapes of his solo debut and re-recorded all of the vocal parts. While they can occasionally veer into Elvis' peanut butter and banana years, it does make for an interesting alternative take on an overlooked delight from the latter stages of the Nineties.
The closing trio of 'Stay', 'In Vain' and 'I'm Tired' sound especially wonderful, the latter a more substantial re-recording as there was no instrumental mix from the original sessions to deploy. Everything else makes use of vocal-less versions designed for licensing opportunities and several of those miss final tweaks made for the eventual 1998 release. Butler also comments in the sleevenotes that you might find the odd new solo here and there too.
Alternative, monochrome artwork employs Jill Furmanovsky images from the studio recordings, putting front and centre Butler's preferred choice for the cover. There's a comprehensive CD set available from Demon which pulls together both incarnations plus a selection of bonus material, but this vinyl release is the 2021 reboot across four sides of GZ-pressed white vinyl. It's largely free of surface noise and sounds good to these ears. Those fancying the extra bits on larger discs need only wait until RSD.
– – –
– – –
Innumerable records have entered Just Played's collection thanks to Gilles Peterson's radio shows and one from the vast selection is Black Flower's 2016 release 'Artifacts'. It's a remarkable listen, capturing the Belgian jazz outfit in blistering form. Having kept an ear on them ever since, it's pleasing to find them once again at the peak of their powers on new album 'Magma'.
Everything from the striking artwork on in is special here. A slim obi-strip is added to ensure the band's name is actually discernible atop Raimund Wong's fabulous design. Released on Belgian label Sdban Ultra, 'Magma' melds their psychedelic, afrobeat and Ethio jazz strands into something truly compelling. Try side one's slowly groovy, delicately unfurling 'The Light' to get acquainted and don't miss Meskerem Mees' phenomenal vocals on 'Morning In The Jungle'. Despite being pressed at Record Industry, the vinyl copy we received does have some surface noise at times, but the cut does this unique music justice.
– – –
– – –
All Kinds Of Blue
This column has already featured a decent number of reissues from the Blue Note stable over the last couple of years – including last column's top picks – and, given the resumption of a monthly schedule of titles through the remainder of the year, it seemed time to carve out a little section of the column to keep a regular eye on the array of delights being restored to the racks.
Firstly, the Classics series is an evolution of the Blue Note 80s programme, delivering all-analogue cuts – done by Kevin Gray at Cohearant Audio and pressed by Optimal – in standard cardboard sleeves and, more recently, poly-lined inners for around £20 a pop. It's a relatively affordable treasure trove and this month's Post-Bop offerings are an especially impressive pairing. One is trumpeter Lee Morgan's 'Caramba', which is treated to a gatefold having originally been released as a unipak, where a thin card cover opens to reveal the aperture in the middle of the sleeve rather than the outside. While not his best, it's still a belter with its lively and lengthy title track and the nimble shimmer of 'Soulita'.
The second Classic for February is one of the best to date, Joe Henderson's 'Inner Urge'. The tenor saxophonist is in remarkable form across the record, although side one is what it's all about for many. Benefiting not only from Elvin Jones' full-throttle drumming but also McCoy Tyner's lyrical piano, Henderson is still the dominant force. Although the soundstage uses some hard stereo panning, the cut is excellent and creates a real sense of space around the players that serves to situate them in the room. Gorgeous. One word of warning, as we've mentioned before, this series has occasionally fallen victim to Optimal's increasing issues with the non-fill ripping noises. While Just Played's copies were silent on this occasion, some have had a little trouble. Worth exchanging if so, as perfect copies are definitely out there.
The Tone Poet series, which uses the same mastering approach but is pressed at RTI in America and housed in sturdy and glossy Stoughton tip-on sleeves, has been a little quiet of late while the label used its manufacturing capacity to produce a set of which I'll say a little more shortly. However, the monthly double hits are back up and running with Joe Pass' 'For Django' and Stanley Turrentine's 'Rough 'N Tumble'. The latter has been delayed in the UK, but the former has spent some time on my turntable of late.
In the absence of any accompanying studio photography, the sleeve isn't a gatefold, but the colour of the artwork is strikingly vivid. Inside, as ever, is a heavyweight pressing in a clear bag and, on this occasion, a new sleevenote from renowned jazz journalist Thomas Conrad. A jazz guitarist who had a lengthy battle with drugs in his early years, Pass found his feet in his thirties and this record pays musical and titular tribute to Django Reinhardt. A mix of songs for and by Reinhardt, this set serves to highlight Pass' remarkable dexterity with his instrument. As ever with Gray's high quality vinyl cutting, the decay of the strings is perfectly captured and the recording puts you right there with the artists. There was some light surface noise on the copy this column listened to, very out of character for this series but seemingly a known issue with a batch of this pressing, so a bit of patience might be called for.
– – –
– – –
However, twelve blemish free sides were found in the flagship Tone Poet title to date, the Ornette Coleman box set 'Round Trip'. The first such project of this series, it is a breathtaking example of what modern vinyl can still achieve. A glossy outer box holds four gatefolds, two standard tip-on sleeves and a 12"x12" booklet which contains an essay by the aforementioned Thomas Conrad. This collection begins as Coleman re-enters the fray following several years of disenchanted exile after his time with Atlantic Records had failed to sustain his career.
The two volumes recorded at the Golden Circle, Stockholm, with their iconic artwork, are mesmerising in this incarnation. When people talk about exceptional vinyl pressings putting you in the room with the artist, they're talking about editions like this. As noted in the booklet, Charles Moffett's drums are initially given undue prominence in the recording before adjustments are made during the show, but it is anything but a flaw. It's hard to think of a more visceral drum sound anywhere else in Just Played's not inconsiderable collection. In short, the experience of listening to the 'Golden Circle' discs in this set is pretty much why we all buy records. For those not able to stretch to the full £200 set, one hopes some of these titles will fly solo in the future as they deserve to be heard.
Least essential is, perhaps, 'The Empty Foxhole', for which the drum sound comes from his ten-year-old son. This HR decision doesn't quite warrant Shelly Manne's response of "unadulterated shit," but it's certainly different. The playing is passionate and attentive, but some way from Moffett's majesty in Stockholm. 'New York Is Now!' and 'Love Call' were recorded over several sessions within a fortnight and add a tenor sax – Dewey Redman – alongside Coleman's alto plus Coltrane's rhythm section, Jimmy Garrison and the afore-praised Elvin Jones. Together, they are quite the force.
The slight oddity in the set is 'New and Old Gospel', a 1967 album credited to alto-saxophonist Jackie McLean. For this, Coleman plays trumpet and is prominent throughout despite not being the headline act. Side 1 is a four-part suite written by McLean while Side 2 is a pair of Coleman compositions. The whole thing is captivating, but 'Old Gospel' is a truly euphoric ten minutes that could well convert any jazz agnostics in your life.
The box is a tactile delight, each gatefold offering the trademark Tone Poet crack when first opened and delivering stunning photography within. The cuts are sensational and the music is quite the trip. While nobody's bank manager is advocating for regular box sets in this series, if they're going to be done then this is very much how to do it. While not cheap, it's hard to argue that these titles aren't done with the love, care and attention we wish all records were afforded. Magnificent.
Snap, Crackle and Pop
When word got out of a collaboration between Bill Callahan and Bonnie Prince Billy, it felt like an ideal match combining two prolific artists in one hugely promising project. The resulting album, 'Blind Date Party', is a lengthy set comprised of endearing covers from across a range of artists and genres. This includes their own former bands, Smog and Palace Music, as well as work by Robert Wyatt, Leonard Cohen and Billie Eilish. Accompanied by many of their Drag City colleagues, it has an infectious energy and idiosyncratic philosophy that makes for an ideal fan curio.
Originally released in online dribs and drabs after lockdown-driven remote working, the album functions more as anthology for what the pair achieved over a year or so. As is often the case currently, the digital release preceded the vinyl edition which has only recently made it to these shores. And, sadly, based on the three copies this column tried, it wasn't quite worth the wait. Despite both discs being like vintage dinner plates – as ever, vinyl weight really isn't the big deal hype stickers would like you to think it is – at least one in each set tried was lightly dished, with the edge of the record off the platter, and all had repeated low-level clicks across numerous songs even after cleaning. Sadly, this is not uncommon for Drag City's US pressings and this one was done via Smashed Plastic in Chicago. It may well be worth trying multiple copies, as it's rarely a whole batch issue, but I'm afraid my patience ran out.
– – –
– – –
Going Round Again
While most of the fuss is normally concentrated on his output at the end of the Seventies and start of the Eighties, Elvis Costello has many very fine albums across his entire catalogue. One such highlight is 1989's 'Spike', a record that contains several renowned tracks but which works wonderfully as a whole. Having put a number of his Warner Brothers period releases to wax in recent years, Music On Vinyl have now turned their attention back to this delight for an upgrade.
Originally cut to a single disc, both 33 years ago and when first dusted off by MoV in 2013, it is now making its debut as a double LP set. This allows 'Coal-Train Robberies' to be restored to the tracklist, having previously been absent to keep each side to approximately thirty (yes, thirty!) minutes. While it is a welcome restoration, there are many delights across the fifteen songs, including the McCartney co-write 'Veronica', the nimble 'Deep Dark Truthful Mirror' and the quiet rage about Thatcher that makes up 'Tramp The Dirt Down'. However, one of his more sparse and beautiful songs – later covered by A Girl Called Eddy – 'Baby Plays Around' is a lost classic.
The packaging is vibrant, seeming to pull out colours from the distinct artwork that have never quite popped like this before. A chunky gatefold sleeve, which replicates the contents of the original inner bag across its centre, houses two bright green discs pressed at Record Industry. There are only 2,500 of these numbered, coloured editions available before standard black takes over, so those tempted should act fast. The sound is good, an obvious improvement from the crammed grooves of the original. The vocals on more upbeat tracks can still seem a little shrill, but one assumes this is baked into the master. For more complex pieces, there's a real clarity in the mid-range that was hard to capture on that over-long 1989 cut.
– – –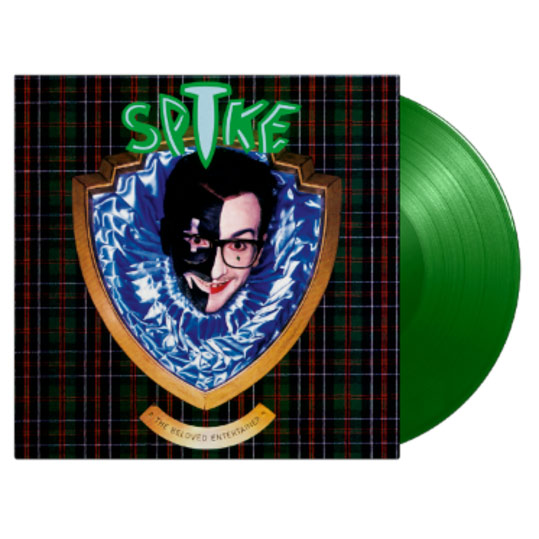 – – –
Here at Just Played, we do like a Precious Recordings double 7" release. Featuring gatefold packaging with new sleevenotes, contemporary artwork on postcards and lossless downloads all thrown in, they are the gold standard for collectible and immersive vinyl projects. Each title presents a classic BBC session and they serve equally well as nostalgic trips down memory lane and primers for lesser-known indie treasure.
This month delivered a bumper four sets, two for The Weather Prophets and two for the aptly named Heavenly. Formed from the ashes of Talulah Gosh, the latter were part of the inimitable Sarah Records scene and their sound evolved considerably over their seven years of activity. One set captures their slightly shambling early days in the spring of 1991 and pads the session with two bonus tracks as their fourth, reggae-infused, number was, as the sleevenotes confess, binned thanks to the gentle guidance of the Maida Vale production team. The second moves forward three years to May 1994 and Cathy Rogers is now firmly part of their harmony-driven, melodic indie pop. Both releases are a delight but newcomers might be best advised not too fall too hard, as those original albums aren't cheap now.
The second pair of sessions captures The Weather Prophets' early years. An October 1985 quartet of tunes for the late, great and much-missed Janice Long ends with a very fine 'I Almost Prayed', while the December 86 Peel performance is clearly a step up from a band that had found its feet. Pete Astor would go on to release a noteworthy and sizeable solo catalogue, but these archive endeavours capture that early rock and roll intent. All pressed at GZ, the odd side did have a few undesirable ticks and pops but the majority were quiet and allowed me to get lost in the wonderful music. Long may this archival enthusiasm from Precious Recordings continue.
– – –
– – –
It seems faintly ridiculous to already be marking fifteen years since the appearance of Jamie T's 'Panic Prevention', although there are few records more mid-Noughties than this one. Telling tales of alcohol abuse, violence and trying to make sense of being young in the city, it is well known for its outward bravado despite also unpicking life with anxiety. Diddled out of a Mercury Prize by the Klaxons, it introduced us to a singular figure whose position in our attentions hasn't quite been as sustained as might have been expected when this album first took flight. Some of the lyrics are more than a little jarring now, but it still fizzes with intent just as it did on initial exposure.
Along with an expanded 2CD set, the anniversary is also being marked with a white vinyl reissue. Pressed at Takt, it sounds pretty solid and plays with a little surface noise here and then. The copy used for review had a mild edge warp which didn't affect play, but things felt a little crunchy as each side came towards a close. While we've not heard an original, it was cut at The Exchange and is likely to have a slightly more nuanced control of the top end than this edition does. It's still a perfectly listenable disc, with 'Sheila' and 'If You Got The Money' still pretty remarkable belters which now also double up as a vivid time capsule of a different time. Solid but unspectacular, it will no doubt please those unwilling to shell out on a pricey 2007 edition.
– – –
– – –
The annual Paul McCartney half-speed master series arrives at 'Wild Life', the first Wings title to get this treatment. Sometimes overlooked as rather frothy and inconsequential – not helped by 'Bip Bop' – it's actually awash with melody and often pretty charming. 'Love Is Strange' and 'Dear Friend' are two very fine places to start if you need to ease yourself in or fancy a reappraisal.
That said, such reappraisals may have already happened in 2018 as this was a relatively recent addition to McCartney's slow-moving, career-spanning Archive Collection project. More soon, please, Sir Paul. While that project had an accompanying decent sounding vinyl cut, this version by Miles Showell is superior. Using his half-speed method, cutting from high-resolution transfers of the original masters, he has given the record a little more stature and a little less of an over-saturated hue.
At times, old versions could sound like a deliberate rendering of that old vinyl cliché about records sounding warm. While that can be a delight, some of the layers of these songs needed more definition and to be a little more sculpted. Or at least that's how it feels after hearing them here. The artwork on this Optimal pressing is well rendered for the cover and the back of the sleeve reinstates the original design after the Archive Collection revamp. Our copy had some light clicks on side 2 – how about a poly-lined bag for the disc plus the replica original sleeve for completists next time? – but the overall sound marks another triumph for this series. Well worth the time.
One Little Independent have paired up with Crass Records, the label owned by the punk band of the same name, to commence the '2 By 2 and Back Again' reissue programme focusing on associated artists from their catalogue. Plucking a selection of original 7"s from across the relatively brief life of the label, they have all been remastered by Alex Gordon at Abbey Road and cut as 12"s with deliciously wide grooves.
While these may not be recordings that prioritised audio quality, this opening pair do sound excellent. One is Honey Bane's 'You Can Be You' single, recorded in collaboration with Crass whilst on the run from social services, while the other is soprano Jane Gregory's 'Do Not Go'. An original 7" of the latter will set you back at least £100, so the £17 price for the 12" might be less shocking in that context. This has promise as a collectible series, as the artwork is beautifully restored alongside the excellent sound. Not sure it will pick up many casual listeners, mind you.
– – –
– – –
One imagines that those who purchased either the orange or yellow vinyl RSD21 editions of Cat Stevens' 'Harold And Maude' soundtrack will be more than marginally disgruntled by the superior release that has recently made it to the racks. Now fully incorporating clips from the film itself, it feels much more like a complete product rather than a simple selection of Stevens' songs.
Mastered and cut by Geoff Pesche at Abbey Road and pressed at Optimal, it sounds superb. The soundstage is wide and open, with instruments fully carved out and vocals rising into the room. The piano presence is a particular highlight – most notably on 'I Think I See The Light' – and the disc plays quietly throughout. In addition, the vivid and embossed gatefold sleeve houses a 12"x12" 36 page glossy book. It features photography from the film, handwritten lyrics and an extensive sleeve note. Given it's retailing only just north of £20, this is an exemplary reissue title that offers hope in the current situation.
– – –
– – –
After a quiet January, Demon's Britpop resuscitation programme reaches Dodgy's catalogue. As well as a pretty comprehensive CD set, there are two vinyl options depending on what you think is, ahem, good enough. Sorry. First up, there's a sturdy box set containing all three studio albums and an accompanying booklet with fresh sleevenotes. Secondly, the compilation which emerged around their initial split, 'Ace As and Killers Bs', makes its debut on vinyl. Listening to this music again after some time, it's a welcome reminder of their knack for irresistible hooks and beautiful harmonies – 'Melodies Haunt You', 'Making The Most Of' and 'Every Single Day' are all highlights amongst many.
Naturally, there's all sorts of colours involved. In the box, you get their debut on white, 'Homegrown' on a near-fluorescent green and double LP 'Free Peace Sweet' is pale blue. For the purposes of this review, Just Played conducted a shoot-out with an original of 'Homegrown'. The artwork has been fairly faithfully replicated, although the inner sleeve is a little pastier than it used to be. As is often the case with these digitally sourced reissues, the more acoustic elements of the mid range feel a bit subdued and boxed-in compared to the original. That said, vocals are clear and well presented and the overall sound is still good, if not sensational.
The same is true for the other albums, with only some light clicking on a couple of tracks across all eight sides. Essentially, those purchasing knowing these won't be audiophile pressings will likely be pretty pleased. All three were a decent listen but, most notably, it was the compilation that most pleased my ears. It's not night and day or any other hyperbole that I believe is meant to be compulsory when comparing vinyl, and one imagines the same sources were used, but things felt a little more balanced across 'Ace As and Killer Bs'.
The box contains a slight but appealing 12 page booklet with an effusive note from Matt Everitt and commentary on all of the songs from the band, while the compilation replicates John Harris' original comments from 1998. The audio has been mastered at Air and the records pressed at GZ. Similar to the box, there was only minor surface noise on a couple of tracks on the 2LP set. The first disc is translucent green, the second translucent yellow. However you like your Dodgy, this excellent pair of releases should have you covered.
– – –
– – –
At The Front Of The Racks
A slightly subdued Cate Le Bon emerges on 'Pompeii', her first new album in three years. There is a late-Seventies glacial Bowie feel to a number of these tracks, unsettling bass lines weaving around angular drumming, while Le Bon's vocals are often washed with reverb. In a fraught, traumatic world, it provides a retreat that is very welcome. With artwork that comprises photos of photos on a screen, the sense of distance and layers of removal is clearly deliberate.
'French Boys' captures much of the above-mentioned aesthetic, while side 2 opener 'Running Away' adds Stephen 'Sweet Baboo' Black's fabulously haunting saxophone. An Optimal pressing on Mexican Summer and housed in a gatefold sleeve, its playback was silent and allowed this beguiling music to sit front and centre without distraction. Le Bon's vocals occupy a powerfully broad space in the middle of the soundstage, with the instrumentation given a discernibly 3D arrangement. This one really dissolves the speakers, as a record this distinctive should.
– – –
– – –
All of the titles reviewed above were cleaned before playback using the ultrasonic record cleaning machine, Degritter. A full review of its capabilities can be found in a previous column.
Words: Gareth James (For more vinyl reviews and turntable shots, follow @JustPlayed on Twitter)
– – –
Rae Morris returns with new single 'No Woman Is An Island'.
A songwriter who first found success barely out of her teens, Rae Morris has grown up in public.
Taking a step back to focus on her young family, Rae returns with a new single, her first release in four years.
Out now, 'No Woman Is An Island' has that classic feel, reminiscent of Carole King's work in places.
There's also an inherent sense of drama, however, putting you in mind of Kate Bush, say, or even Steven Sondheim's catalogue.
A song about independence, femininity, and finding your path through the world, Rae Morris says of her new song:
"Someone at my old label described me as 'an island', because I didn't go to enough parties or whatever… But really you only share yourself with others if you feel you're being respected."
Directed by Noel Paul the video was filmed in and around her Blackpool hometown, featuring the famed waterfront, tower, and more.
Tune in now.
– – –
Kojey Radical and Joy Orbison are amongst the line up for this year's Naked City festival.
The South London festival returns this summer, with Naked City settling into its Beckenham Place Park location on September 10th.
The line up leans towards homegrown talent, with over 80% of acts hailing from London. Kojey Radical will play Naked City Festival, joined by Joy Orbison, Enny, Don Letts, and Alewya.
The Blessed Madonna is set to perform, joined by FAUZIA, Heléna Starr, Children Of Zeus, COOP, and Rhythm Section act Chaos In The CBD.
Jazz ensemble Steam Down hit Naked City, with Touching Bass co-founder Errol joining legends such as Moodymann on the bill.
With five stages and extra food, drink, and other entertainment, Naked City looks pretty essential.
Tickets go on sale from March 9th.
Naked City Festival takes place on September 10th.
– – –
Ellie Goulding and Glass Animals are amongst the artists contributing to Trekstock's Merch For Good campaign.
The charity campaign launched a few weeks ago, and aims to channel proceeds from special merch runs towards young people coping with cancer.
More than £30,000 has been raised so far, featuring exclusive merch from The Cure, Glass Animals, Bullet For My Valentine, and more.
The latest run features some big names, with the likes of Ellie Goulding, KT Tunstall, and Keane all contributing.
Remember, 100% of the profits go towards supporting young people living with cancer, while future runs include exclusive tees from Youngblud, Mel C, Pale Waves, and more.
KT Tunstall says: "Trekstock does amazing work to support young people in their 20's or 30's with cancer. I loved creating this hand-drawn design – inspired by the interconnection of Yin and Yang and how we need one another – for an exclusive t-shirt, in the hope to help them make a difference through Merch for Good."
Priced at £24.99, each tee is made sustainably, using water-based Eco Inks that are 100% non-hazardous, toxin-free and totally vegan.
Ellie Goulding adds: "I am happy to donate this exclusive design to the Merch For Good initiative by Trekstock. This charity does important work supporting adults in their 20s or 30s living with and beyond cancer and I am proud to support them."
Check out Merch For Good HERE.
All-female Icelandic rap choir Daughters of Reykjavík have shared their new single 'Turn This Around'.
Out now, the track won the regional heats to represent Iceland at this year's Eurovision song contest.
The group have big shoes to fill, of course, with last year's contestant Daði Freyr supplying one of the competition's most irresistible ear-worms.
Thankfully, Daughters Of Reykjavík have prepped an all-out banger, with 'Turn This Around' erupting out of the speakers.
The group formed at a series of open-mic nights, a loose knit collective of more than 20 female identifying artists who wanted to speak their truth.
Settling on an eight-strong line up, Daughters Of Reykjavík push empowerment to the fore on new single 'Turn This Around'.
The group comment…
'Turn This Around' is a song that represents the energy Daughters of Reykjavík possess and give. It is a song made to inspire people to move, to change, to take action and to love themselves and others. It represents the space we can take up if we so choose as well as the things we can give…
Tune in now.
– – –
Welsh Music Prize winners Adwaith will release new album 'Bato Mato' on July 1st.
The band's wonderful debut album was a word-of-mouth success on its 2019 release, and was rewarded with the Welsh Music Prize.
A chance trip to Siberia broadened their horizons, with Adwaith taking this sense of travel and adventure – not to mention the wide open spaces of the Siberian plains – into the studio with them.
Out on July 1st via Libertino, it's led by 'ETO', a song that attempts to pin down that sense of space.
"We really wanted to write a heartfelt song about being infatuated with someone," explain the band. "This isn't something we normally write about and we wanted to approach this song differently to our other ones. We felt inspired to write a big pop song."
Taking their post-punk roots into new arenas, 'ETO' is dynamic and accessible, an open, pop-centric return that kicks off a fresh chapter.
Tune in now.
Welsh artist Gwenno will release new album 'Tresor' on July 1st.
The new album is the songwriter's third to date, and it marks a turn towards the personal, with Gwenno turning inwards.
Crafted in St Ives, Cornwall before being completed at her home studio in Cardiff, 'Tresor' pivots between pointed synth pop and psychedelic textures.
A record framed by her experiences of motherhood, the incoming LP is led by new song 'An Stevel Nowydh (The New Room)'.
A glorious listen, the song is accompanied by beautiful visuals, which point to a larger incoming project.
Gwenno comments…
'An Stevel Nowydh (The New Room)' is a song about finding yourself somewhere entirely new and realising that you're completely lost, and acknowledging that the only thing to do in an existential crisis is to don your favourite hat and dance!
The short is part of a longer film that I've created with Anglesey-born filmmaker Clare Marie Bailey due to be revealed this summer. It was shot on Super 8 in Bryn Celli Ddu, Mynydd Parys, and Porth Ia (St Ives) during Summer 2021, it was edited by Joan Pope and stars the incomparable Eddie Ladd as 'Greddf' (Instinct).
Tune in now.
Tracklisting:
1. An Stevel Nowydh
2. Anima
3. Tresor
4. N.Y.C.A.W
5. Men An Toll
6. Ardamm
7. Kan Me
8. Keltek
9. Tonnow
10. Porth La
Photo Credit: Claire Marie Bailey
– – –