Limp Bizkit have shared their new album 'Still Sucks' in full.
The band's new album follows some viral-worthy videos, and it ends a protracted wait for new material.
Sessions have criss-crossed the past 10 years, with Limp Bizkit losing members in the process.
The new album lands 10 years on from 'Gold Cobra' – and a whopping 21 years since their 2000 commercial peak 'Chocolate Starfish and the Hot Dog Flavored Water'.
Out now, 'Still Sucks' is only 32 minutes long – not exactly a huge return for a decade's work…
Check it out below.
– – –
Harry Styles brought out his inner Judy Garland for a show at New York's Madison Square Garden last night (October 30th).
The show was dubbed Harryween, with fans from across America and beyond dressing up for the occasion.
The pop icon brought out all the stops, and surprised onlookers with his Harryween costume – and his performance.
Yep, Harry Styles dressed up as Dorothy from the Wizard Of Oz, singing 'Somewhere Over The Rainbow' while clutching the Pride flag.
The crowd – suitably – went wild.
It's sometime after noon, and Swindle connects into our Zoom call, seated in front of the piano at his home studio, and immediately I'm drawn to the deep blue velvet couch to the right of him. "That's where you sit and write your bars," he tells me, catching my gaze towards the couch, as he moves the mic in front of him out of the camera's frame.
Within seconds of our meeting, it's become clear to me that the Londoner's energy is a beaming reflection of the awe-inspiring music that he creates; a fine mix of captivating sound, upbeat funk, lingering grime hooks, and the frequent spontaneous references to the music that inspires him.
'The New World', the latest album from seasoned artist Swindle, recorded in one week last summer under lockdown, is both a testament to his versatility as a musician, and a rich culmination of intimate thoughts, gentle reflections on social experiences, and enlightening moments shared with his closest friends during the album's creation.
"The success is always in making it, and you letting it out into the world, and it going on its journey," he blithely shares, reflecting on the response he's received since releasing two singles from the album. "What I'm most happy about is how people are taking it… the narrative, the messaging, and understanding that in a lot of ways this is like a statement."
– – –
– – –
I want to start with the title 'The New World' — It's striking to me, in the context of it being recorded last summer as the lockdown was lifted, and this also being your first body of work since 2019. Talk me through the process of making the album? And what meaning might there be behind its name?
Swindle: So, it's 2020. No one's seen each other for ages, no one's creating, and we're all dealing with so much, in terms of the impact of the pandemic and having to deal with many dark memories, and having lots of very uncomfortable conversations around race and racism. I'd only really left my house to protest, and I guess in that short time, this record served as much of a healing process. I sent a text to some of my favourite artists, collaborators, musicians, and said let's get away… reconnect while having a musical retreat, and we'll figure out how we'll enter a new world. And when I got home and listened to the music we had created, and the most interactional and conversational pieces that we made during that week, it was 'The New World'.
You've mentioned having to deal with trauma and having uncomfortable conversations about race during the time the protests were going on. How much of that do you think informed the sounds of this album?
Swindle: Looking at the experience of being a black Brit, it just brought up so much. You know, at this time, people are falling out with some of their best friends… their white friends, because certain of them aren't ready or willing to have that conversation or try to hear it. And listening back to some of the songs, like 'No Black, No Irish'; this was a real conversation with Joel Culpepper voicing his pain, and Mav listening to him with an open heart and hearing him. So answering your question, it's informed a lot, if not all of it.
– – –
– – –
You've got a stellar cast on this album, some of whom you've previously worked with in the past, and I've always seen album/mixtape features as the crucial finishing pieces to a puzzle. How did you decide who you chose to be featured? How were you able to find the balance of each person's involvement?
Swindle: We were all there together, and people that I reached out to were people I already had relationships with, so it was all organic. It wasn't an attempt at anything. If we had come out of this with no music, it would've been just as valuable, because the conversations around that dinner table were some of the most important conversations I think I've ever had. It was personal, so when we got to the studio, there were no cameras and no film crew. I wanted everyone to be comfortable, and there were no rules. It was simply, jump on what you jump on, don't jump on what you don't jump on. There's a laptop with 100 beats… do what you want, write together, eat when you want, sleep when you want, and that's how these songs came up. It was completely free because I needed everyone to express themselves honestly, and you've got to be relaxed to do that. Once that week was done and I left, I told myself we're not adding anything else. That's it.
Given the nature of the approach to this album's creation, would you consider this an experimental body of work?
Swindle: I feel like this album happened to us. It's not an experimental album, it's an impromptu album. No More Normal took three years of meticulous planning and attention to every minuscule detail, trying to find the balance. There was some fine-tuning done after that one week, but the whole body of work was done then, and it was authentic to what it is.
In the process of this album's creation, impromptu to what it was, with new sounds and collaborating with fellow musical acts, are there things from your past that you're rediscovering in the body of your work?
Swindle: Outside of music, in that week and time, I had to have a close look at some of the hardest parts of my childhood, dealing with racism specifically, something I haven't really spoken about, and the new me being more open to speaking about it and things I haven't really touched on in the past. Messaging is so important to me, always trying to put out this message of Unity, Peace, Love & Music, and all of that. And I had to ask myself if this was some kind of defence mechanism—always pushing all this positive to the forefront of my music—against dealing with some of the darkest things that I've been through. Whereas now, we're making those tough songs, because just smiling and peace signs isn't enough anymore. I will certainly continue to be honest and write how we feel, and I think that's all I can say continuing on this path.
Getting to listen to the album, prior to its release today, I was taken aback—shocked as much as I was amazed. You've been able to create a good balance of the energetic funk, varying skilled lyricism, countless layers of fetching choruses and rhythms, all while crafting a surreal nostalgic experience. What influenced that decision on this album's sound?
Swindle: I don't think it was a decision, I think it just happened. When I was in the room, and the decisions of the sort I was making were more on the production, those were the sonic decisions in how we present this. We were the painting and I just needed a way to frame it, and that was my role, making sure the frame is right, and the idea is clear, and that we executed it to what I hope is high quality and standard. Everything else was organic. There wasn't much planning at all.
The song that really stood out to me was 'Blow Ya Trumpet' ft. Knucks, Ghetts, Akala & Kojey Radical — I appreciated the fact that while there was the nurturing rap essence playing out, you were still able to communicate your love for the upbeat funk and jazz at key moments in the track…
Swindle: I'd say I was really proud of that because I've taken something I've been trying to do for years, and then taken it to the farthest that I've ever been able to. It involved so many different processes. This might be odd to type out, but do you recognize this melody [humming and twirling his finger to a chaotic but elegant rhythm]? This sound comes up in so many things, and I thought to myself, what if we nodded to that melody, but played it in a half-whole scale, which is like the ultimate movie. That's how the intro came together, with grandeur and the mix of euphemisms. And I play the beat, and everyone is claiming their spots on it, and we got straight into writing. From the youngest to the vet, Akala to Ghetts, and I just wanted that generational greatness passing the baton on as the song rolled.
Reflecting on 'The New World', and its clear existence as being a testament to both musical and creative genius, I'm curious to know if we're ever going to get a visual counterpart to it or simply a music video?
Swindle: [laughs as he abruptly falls back into his chair] Blud! We just shot the maddest short film ever. It's all under wraps and hardly anyone knows that we've done it, but it's probably the best thing I've done ever. It's gonna be coming out Tuesday, but when I tell you it's crazy, I think it's the best thing ever. Not ever, but you know what I mean. I would've wanted you to come to the studio and be able to watch it, and take it in. And I think working with moving images and pictures has definitely shown me that I could draw a passion for film.
– – –
– – –
Is there an impact you'd like to have on the industry? And how do you see that playing out in the coming years?
Swindle: On a human level, I want to know how many people I can really impact positively because I feel like I can use my resources, my facilities, and my energy to help people, and it's already starting even in a small way. Making those little contributions is something I find massively rewarding, and I want to continue with that. Giving young producers laptops to make beats, or dropping off keyboards at places, and helping people connect with one another, and that's a challenge I set for myself. In terms of the industry, I want to be an example of the fact that we make music for the sake of making music. I don't get in the studio and look for hits or trending sounds. I want to see honest music, or even just contribute so people don't feel like they have to fit into what's popular because that's the music I grew up on.
On that topic, what sounds or genres from your childhood influenced your music today?
Swindle: 60s, 70s, and early 80s reggae stuff in the house, along with jazz, funk, and soul. My dad just taught us to love and appreciate Caribbean music… Black music, and all that came with it. And then growing up in London, being exposed to all the other groundbreaking genres we've seen being created as we grew up; Jungle, Garage, Grime, and then Hip Hop. Growing up, I loved a lot of stuff from the states, as kids choosing camps and whose side you're on [laughs]. Oh, Biggie's the best. No! Pac is the best. But my true love, I was finding in G-funk, which sort of led me to some of the sounds that I loved. And what I do now is really just me naturally applying all those sounds to my music.
Acknowledging firstly that each artist approaches their craft in different ways, as you've become more in touch with the music and subsequently more established, do you feel as though it gets easier or harder to be creative?
Swindle: With this album, I don't think I've ever turned around this amount of music in this short of time. No More Normal took a few years. Joel Culpepper's album was about two years. Kojey's album was the best part of a year. The music pulled out of us. The lockdown, the protest, the pandemic; those were all sort of the catapult stretched back, and you could feel the tension cut once we got into the studio.
You've also mentioned having kids, and I'm curious, has that affected what you put in your music and how you choose to present it?
Swindle: It made me want to make more meaningful contributions with my music. It also made me think more about where I'm putting my time, and what legacy I want to have. The first thing that happened after my daughter was No More Normal. Yeah, it's definitely changed things… I've started like a whole new career [laughs]. Much more focused. I've stepped away from DJing, and things along that line.
– – –
– – –
As our conversation reaches its end, coincidentally having his doorbell go off, which we both visibly found amusing, Swindle's voice softened as he once again reflects on the healing power his work has been able to embody, and his love for honest music in its entirety. Encountering an artist who finds solace in his craft as much as he has, creates a rare and surreal feeling that radiates a shared passion for what life is able to offer.
"I want people to be able to say to themselves that, yeah I can do more for my peers, I can do more for myself, I wanna be able to work with people that respect me, and people that have a mutual love for art, music, or whatever their passion is, and still be able to create our own spaces to flourish."
– – –
– – –
'The New World' is out now.
Words: Olisa Tasie-Amadi Jr.
Photography: Rosie Mathieson
– – –
As we begin the run in to the festive season, new releases are a little thinner on the ground and the spangly deluxe sets are starting to put in an appearance. The delays for vinyl pressings keep coming and uncertain times lie ahead, most notably for the smaller labels. Now, more than ever, it's important to pay for the music that matters most to us.
With that in mind, it helps to know which titles are worth the outlay, right? Allow us…
Freshly Pressed:
There were those in the otherwise always entirely positive Twitter universe who raised a few eyebrows when Coldplay announced their new album with a relatively short lead time prior to physical copies appearing on shelves. It should be said, labels are booking slots months in advance and allocating according to their priorities, so there's no evidence of subterfuge here. Perhaps of more interest was the news that 'Music Of The Spheres' would be pressed on recycled vinyl, using offcuts of varying hues to produce a sort of 'infant after five minutes with a set of paints' colour. Having seen several, the effect is rather underwhelming but, unusually for coloured vinyl, it's not about what it looks like.
The recycling doesn't stop there, with chants of 'olé olé, olé olé, Coldplay, Coldplay' worked into 'Infinity Sign', a track which apparently attempts to imagine what a festival on another planet might sound like. Quite. I've long since made my peace with the band and their unashamedly feel good crowd-pleasing knack for unifying melodies, but this is a strange album. 'Higher Power' still stands up amongst company and BTS have served their purpose in delivering global number one positions, but this record rings hollow to about the same extent that 'Ghost Stories' felt endearingly sincere. It's an Optimal pressing which sounds pretty good. The first copy we tried was warped and a little noisy, but a second was flat and largely quiet. The cut is as open as you're likely to get such polished songs to sound and the die cut sleeve is lovely. Musically inessential, sadly.
– – –
– – –
The official bootleg series is a long-running and often-rewarding project for Bob Dylan fans, unearthing all sorts from a catalogue that is already pretty substantial. Vinyl editions have varied, with different quantities from the super deluxe CD sets making it to the twelve inches. This time around, there's a standard double LP edition plus a Third Man Records box which pretty much divide the contents of the more compact-sized set between them. Completists will be a little frustrated but the more casual fan should find much to enjoy in the svelte highlights collection of 'Springtime In New York: The Bootleg Series Volume 16: 1980-1985'.
With a beautiful fold-out sleeve, wide-spine, spot-varnish and 28 page luxurious booklet, the production values are high end and the sound of the Sterling cut and MPO pressed vinyl is excellent. A very minor patch of non-fill noise on side 4 aside, the copy Just Played experienced was pretty much silent. Centred around 1983's 'Infidels', it captures a period where Dylan began to agonise over the relevance of his sound, just like so many other established artists in that tricky decade. As the opening track – an alternate take of 'Jokerman' – demonstrates, the overdubs weren't always wise and there's plenty of magic in these glimpses of a different path.
– – –
– – –
Perhaps the most high-profile example of the increasingly common 'digital-first / vinyl eventually' strategy that current limitations are forcing upon labels, Taylor Swift's first release in her series of re-recordings, 'Fearless (Taylor's Version)', finally gets a 3LP pressing. The discs are, quite loosely, gold coloured and the pages of the CD artwork are tiled disappointingly on the inside of the triple gatefold sleeve. But how does it sound?
Well, by now you're probably well aware that the recordings are pretty faithful, but there's some suitably intriguing bonus material included to take this to six sides. The pressing itself is cut at Sterling and done through Optimal. With only a few bursts of minor surface noise, it was a marked improvement on the 'folklore' and 'evermore' vinyl editions and hopefully a sign of things to come for the rest of this project, given 'Red' is due next month. 'Love Story' still sounds magical, even with a little of its original naivety transformed into a richer tone. Pricey, but very well done.
– – –
– – –
Those primarily familiar with Yann Tiersen for his early Noughties soundtrack work may be a little surprised by his latest studio outing, which has more than a little of the Erased Tapes feel to it, despite being released by the lovely folk at Mute. If reverb washed soundscapes, flicks of percussion and a little light transcendence is your sort of thing, then 'Kerber' could well be for you.
These seven pieces require a good pressing and the black vinyl Optimal cut that we played was near silent over both sides. The space around the sounds at the start of 'Ar Maner Kozh' is delicately sculpted before the listener, opening up a soundstage which remains dynamic and defined throughout. The title track is a multi-act triumph, pitting emphatic, cascading piano against glitchy noises. Field recordings play their part here and across an album which offers balm as the weather turns hostile.
It has been quite a while since the last standard studio release from Efterklang. Nine years on from 'Piramida', have they still got it? The answer is a resolute yes, with an especially strong side A on 'Windflowers', their first for City Slang. Casper Clausen's often mournful but irresistible vocals float out of these songs, a very welcome old friend. 'Hold Me Close When You Can' will also draw in old Bon Iver fans feeling a little left-behind, while admirers of Justin Vernon's more recent work will enjoy the delicate disco of 'Dragonfly'.
It's a clear vinyl edition in an impossibly glossy sleeve and with an accompanying lyric sheet. It is presumably pressed at Optimal, given City Slang's preference, although it's hard to be certain. It's a largely quiet, fairly open sounding cut, keeping the high end in check during the shimmering electronic parts. It's not 'Magic Chairs', but then not much is.
– – –
– – –
Snap, Crackle & Pop:
Regular readers of this column will know how much we have enjoyed many of the recent mostly analogue Blue Note reissue series, both the Tone Poets and the Classics. While the former have Stoughton tip-on sleeves and are pressed at RTI, the latter are housed in standard sleeves and made at Optimal. Although the sound quality is excellent across the board, the prevailing concern around the Classics is about the frequent presence of non-fill on the discs. Jazzers across the world have noted the distinctive dashed white lines in the grooves of their copies and heard the tell-tale ripping noises when sitting back for an all-analogue delight. Why it is proving so common with this series is a mystery and good copies of each title do exist but, having tried Duke Pearson's 'Merry Ole Soul' several times, they're not always easy to find. The mastering and cutting of these releases remains superb, but this particular aspect of quality control is getting many fans justifiably exercised. Here's hoping for a solution soon.
– – –
– – –
Going Round Again:
Few musicians split opinion like Robbie Williams and the news that his first two albums would finally be making an appearance on vinyl was more ammunition for those dismayed about the current backlog. However, given it has been over twenty years since their original releases on CD and their role in establishing Williams as one of the defining figures of Nineties and early-Noughties pop, it might realistically be asked why hasn't it been done sooner? Williams' vinyl has largely been excellent down the years, with 'Sing When You're Winning', 'Escapology' and 'Intensive Care' all sounding especially great.
"Life Thru A Lens' and 'I've Been Expecting You' are both given the gatefold sleeve treatment, with artwork reproduced to a pleasingly high standard throughout. The vinyl cut appears to be done at GZ, who also pressed these, although the recent George Harrison reissues highlighted that some titles cut by Abbey Road – Geoff Pesche has created these vinyl masters there – don't always have such info in the runout groove. After a clean to remove the white lines of doom where glue and paper fragments have been deposited on the disc, they play pretty quietly. The sound quality is reasonable given the compressed sources that were en vogue at the time. The soundstage is sharp around the edges but a little dense in the mid-range. A welcome arrival on vinyl, but not quite the tour de force they might have been. 'No Regrets' is still an absolute giant of a song, regardless.
– – –
– – –
Ever since the deluxe, remixed reissues of The Beatles' catalogue commenced with 'Sgt Pepper's Lonely Hearts Club Band' in 2017 there has been a clamour for similarly plush vinyl sets to match their CD brethren. For 2018's 'The Beatles' set, the Esher Demos were packaged with the main album is an aesthetically pleasing but far from complete edition and 2019's 'Abbey Road' delivered all of the music on vinyl but lacked the enjoyably plush hardback book available elsewhere. Pleasingly, the fans' cries have been heard and the 'Let It Be' set delivers exactly what has been requested.
A die-cut, glossy box houses 4LPs, a 12" EP and a 100 page 12×12 book that is arguably the definitive version of this expanded set, feeling rather more high-end than the CD equivalent. Featuring half-speed mastered vinyl cut by Miles Showell at Abbey Road, these Optimal pressings are each housed in poly-lined sleeves and then slipped into their own relevant artwork. The demos, out-takes and jams double disc collection allows for an alternative cover to be created using the apertures in the outer box, while a version of Glyn Johns' 1969 mix of the abandoned 'Get Back', admittedly with a few 1970 snippets flown in, finally makes an official appearance on vinyl.
The sound is largely excellent, with barely a click across ten sides. The new remix of the main album by Giles Martin and Sam Okell fine tunes the soundstage, tames some of the Spector orchestration and generally adds a little body to the mid-range without bloating the listening experience. While a little brighter, 'Get Back' is a fascinating disc to finally put upon the turntable. Offering a rough and ready document of the period that is soon to be massively expanded upon by the Peter Jackson series of the same name, it is a visceral, joyful and notably unvarnished perspective on the band's dynamics. It's not difficult to understand why it wasn't released at the time, but in our contemporary quest for any and everything Beatles, it has much to offer.
The only slight downside is the 'Let It Be EP' which occupies the space in the box many had expected to be filled by the rooftop concert. Instead, new mixes of the single version of the title track and the oft-covered and still marvellous 'Don't Let Me Down' take up one side, while Glyn Johns versions of 'Across The Universe' and 'I Me Mine' are on the other. This latter pair have more than a whiff of the bootleg about them, 'I Me Mine' in particular being awash with various intrusive noises which don't allow for an especially pleasing listen.
However, this is minor nit-picking for what is a good example of what can be achieved when labels and project managers listen to feedback. Of course, there are hours and hours of recordings from that era which could have featured and CD listeners may have a point about the bonus discs being crafted with vinyl playback times in mind but, for this format at least, it is the highlight of an already greatly enjoyable reissue programme to date.
– – –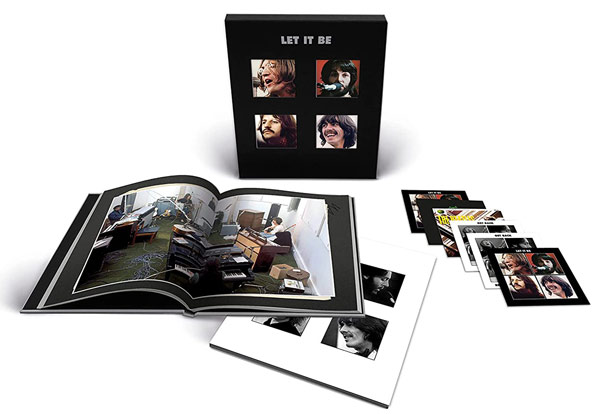 – – –
Having had a snazzy blue edition for RSD in July, a standard black vinyl pressing of Ennio Morricone's tremendous soundtrack to 'The Blue-Eyed Bandit', known as 'Il Bandito Dagli Occhi Azzurri', is a welcome addition to the racks. Atmospheric widescreen jazz is the not entirely predictable order of the day, composed mainly in 5/4 and fluctuating between the evocatively sinister and the stridently propulsive.
Pressed in Italy, although at which plant is anyone's guess, this is a largely quiet disc with decent dynamics and a beguilingly open soundstage. Emphatic sleevenotes from Enrico Pieranunzi and Franco Nero complete a thoroughly enjoyable package. As the former notes, "never again would Maestro Morricone use the jazz language in the many soundtracks he subsequently composed." In a world where we're meant to be excited about already available reissues appearing in yet another new colour variant, this is a refreshingly vital and unusual dig into the mists of time.
The Spaceman Reissue Programme from Spiritualized reaches its fourth and final title with 'Let It Come Down'. Just Played is especially fond of this album, finding its bombastic arrangements and orchestral decadence all very charming. While for a number of listeners it was something of a, forgive me, come down from the dizzying heights of 'Ladies and Gentlemen We Are Floating In Space', for others it was a confessional, melodically melancholic explosion of songwriting which rewarded repeat listens. The original vinyl edition sounds wonderful and was always going to be a high bar against which to judge this new attempt.
Once again cut by Barry Grint at Alchemy, seemingly plated at Memphis Record Pressing and pressed to ivory coloured vinyl by GZ, this remastered version isn't going to reduce the value of the original. The bass is especially bloated at points, making the more cacophonous moments feel like an onslaught rather than emotive outpourings. It serves to remind the listener that they are in the company of a manufactured product rather than being swept away with the artistic expression. This is music on a scale that should transport you, dissolve the speakers and get in your head. While there are still some moments, the overwhelming sense is that nuance takes a bit of a backseat to heft.
The artwork is excellent, repurposing the mould from the original limited edition CD case and the heavy duty cardboard sleeves are satisfyingly substantial. The audio quality, however, while not terrible is far from definitive and the regular issue of intermittent surface noise which has dogged this entire series is, sadly, once again present.
– – –
– – –
This column previously featured the early releases by Precious Recordings Of London, a reissue label delivering deluxe 2×7" sets of carefully selected BBC Radio sessions, replete with new sleevenotes and arty postcards. Well, their fifth title, Blueboy's John Peel Session from December 1994, is now available. An indie-pop act who knew their way around a cello, they were Sarah Records favourites whose debut album 'If Wishes Were Horses' is well worth seeking out.
These four tracks split neatly into two pairs. The first 7" contains the sparse beauty of 'Toulouse' and the never before released 'Good News Week'. The second disc has the much more ragged jangle of 'Dirty Mags' and 'Loony Tunes', both uncannily evoking mid-nineties evenings on Radio 1. Pressed at GZ and with an accompanying lossless download, it's another fine offering from Precious Recordings and a great sounding tribute to an oft-overlooked band and the DJ who championed them.
– – –
– – –
This month's Demon Records Nineties archive raid goes to Britpop also-rans Heavy Stereo. Fronted by Gem 'latter phase Oasis and Beady Eye' Archer, they only managed one studio album during a six year career which never quite saw any of their singles break into the Top 40. Indeed, 'Déjà Voodoo' itself only reached number 76, but it still has its admirers. They will be delighted with this dust off, which takes the form of a 2CD deluxe book edition containing B-sides and live tracks or a clear vinyl cut of the main record. – Manufactured by GZ, as ever, the sound is a little narrow and the top end focus of the times is only partially tamed here. At the glam end of the genre, the riffs are pure and simple and the vocals passionate if actually not a million miles away from Archer's future bandmate Liam Gallagher during the lost years. 'Chinese Burn' best demonstrates this, while 'Cartoon Moon' is a little like The Boo Radleys covering the Super Furry Animals. It's a nostalgia-fest with a winning glint in its eye. It's a solid pressing but one imagines there's only so much you can do with those masters.
There's something quite heartening about the slightly bizarre festive Blondie and Fab 5 Freddy 12" release, 'Yuletide Throwdown'. The original 1981 version, built round the same samples as 'Rapture' but at a more sedate pace, is included here, alongside a new Cut Chemist remix which is presented in its full length and edited form. Originally released as a free flexi-disc with a UK magazine, it has been remastered from the original tapes. It's good fun but possibly not quite enough to warrant the £20 price tag. The artwork is delightful and the vinyl is a fairly quiet GZ cut available in vivid magenta or standard black.
An intriguing 12" curio from Metallica made it to Just Played's turntable this month. The SebastiAn remix construction of 'Don't Tread On Else Matters' merges parts of 'Don't Tread On Me' and 'Nothing Else Matters' from 1991's self-titled record, more commonly known as 'The Black Album'. A limited pressing via MPO from Ed Banger Records, it's a one-sided one track affair with a nifty if entirely ornamental etching on the flip. It serves as a teaser for the sizeable 'Metallica Black List' project which features many more collaborations and re-works of material from that album. The first phase has more than a nod to the sheer funk of side one of Bowie's 'Low', while the latter stages add synth trumpets and glitchy beats. It's bizarrely enjoyable if rather expensive for what it is.
At The Front Of The Racks:
Newcomers to the vinyl reissue game, Plastic Pop Records, have confidently announced themselves with a quarter of Sophie Ellis-Bextor titles, none of which have ever been on this format previously. The first three have now emerged and they are a real delight for fans of these excellent albums. The covers feature delicately deployed spot varnishing and the artwork is vividly replicated to an admirably high standard. This is what happens when true fans get the time and space to do something for the love of it. Given how many albums from this period never made it to vinyl, these reissues could act as the template for how to give many others a second life.
Incorporating colours from the original sleeve, 'Read My Lips' is on red, 'Shoot From The Hip' on white and 'Trip The Light Fantastic' is green. They are all made at GZ but Just Played witnessed no more than a handful of clicks over the twelve sides and the label talk proudly of their meticulous attention to detail when dealing with the pressing plant. Again, there's a lesson in there for some.
But how do they sound? Pretty good, actually, especially given the era from which these recordings come. The top end is open and the bottom end is controlled, keeping the bass in check and avoiding the slightly smeary mid-range that can happen on such reissues. While it is, naturally, a delight to revisit singles like 'Take Me Home', 'Mixed Up World' and 'I Won't Change You', it's a particular pleasure to realise what an excellent, diverse and occasionally quite strange album 'Trip The Light Fantastic' is. The disco strings of 'Me And My Imagination' are joyous ,while the hiccupping shuffle of 'If You Go' feels particularly timeless.
The first pressing of the debut is long sold out, but a repress is due early next year. The other two have recently hits the shelves of your local indie and are highly recommended. In another sign of a quality label, their FAQ pointedly observes that they won't ever stoke the flipper market by announcing pressing numbers or describing items as limited editions. If there's a demand, they'll press it. How we've ended up at a point where that seems a novel idea, we'll never know. Keep an eye on Plastic Pop – they should go far.
All of the titles reviewed above were cleaned before playback using the ultrasonic record cleaning machine, Degritter. A full review of its capabilities can be found in a previous column.
– – –
Words: Gareth James (For more vinyl reviews and turntable shots, follow @JustPlayed on Twitter)
– – –
Princess Nokia is the fourth face of Clash 120.
Few artists fold in as many diverse influences as Princess Nokia. Growing up between the Bronx, Harlem, and Lower East Side, part of underground rap and ballroom culture, she's the embodiment of a rich mix that finds its way into all she touches.
Opening up to Clash, she reflects on her genre-bending back catalogue and ever evolving aesthetic: one moment a skateboarding tomboy in baggy pants, the next a teen cyber goth. It all speaks to the seriousness with which she takes her work. For Princess Nokia, music isn't a part of life, it is life.
Peeling back the layers of this profound, multi-faceted artist, Princess Nokia tells Clash: "I have worked really hard to create this fantasy of mine, this world for myself."
Also featured in this issue is adventurous solo star Chlöe; multi-faceted London group NiNE8 Collective; the hushed intimact of Clairo; groundbreaking UK rapper M1llionz; the breathless pop honesty of Gracie Abrams; formidable South London force Enny; and a profoundly personal essay on self-care from Ray BLK.
Order your copy of Clash 120 HERE.
Words: Emma Finamore
Photography: Courtney Paul
Fashion: Matt King
Creative Direction: Rob Meyers
NYC outfit Blak Emoji return with new single 'Float'.
The group's potent sound is an outlandish, hyper-energetic fusion, embracing everything from punk and indie to pop and beyond.
A sound they dub "eclectro" – the term is also the title of the band's debut album – Blak Emoji are determined to erase the word 'genre' from their vocabulary.
A pot pouri of helter-skelter sounds, the band return with their latest single, the effervescent 'Float'.
If it sounds celebratory in tone, then that's exactly the way Blak Emoji intended it – it's a carpe diem banger for the disaffected.
Incredibly catchy, it finds the band distilling those varied influences down into a delicious aural stew.
Kelsey Ware comments…
"'Float' is basically a celebration of living. I felt this way previously, but when the pandemic hit last year it really forced me to be thankful and take advantage of what I have in life, which is a lot of good. We all get older and life flies by so why not make the best of it and seize the moment? Do whatever you can or want without hurting anyone, including yourself."
Tune in now.
Toronto songwriter Chris Grey has shared his new single 'Seamless'.
The Canadian artist tends to focus his art on what is crossing his mind at any given moment, formulating a kind of diaristic appeal to his lyrics.
Take new single 'Seamless'. It's a love song written in real time, with the lyrics moving from early flirtation to infatuation.
Drawing on his own experiences, it opens in pastoral territory before soaring to that surging finale.
"My girlfriend and I had recently crossed the line between being friends and co-writers to dating," Chris explains. "We were joking about being seamless together and also how seamlessly we had moved from working together to being a couple. She started joking around singing 'with you it's just seamless' and we both looked at each other and realized that would be a cool song. We got out of bed and instantly started bouncing off rhymes and writing the song. The song came together seamlessly!"
Out now, it's a sign of his further maturation as an artist, without sacrificing his autobiographical appeal.
Tune in now.
Today marks the release of Jelani Blackman's debut project 'Unlimited Mixtape'. The West Londoner fully utilises the 12-track project to amplify his unique sound – a sound intricately weaving together grime, soul, and R&B influences through his sleek flow and captivating voice.
Underpinned by this absorbing flow, it's inevitable that 'Unlimited Mixtape' will set the waves of Jelani's musical talent in motion – its continuous, rhythmic pulse providing the waves with a dominant, far-reaching impact.
Listeners are plunged into the unrestricted beats of 'Unlimited' and 'Secrets' and the merciless, animated force of their powerful incline. Jelani's rumbling voice adds to the mystery that these first two tracks generate. Previous releases have drawn attention to rappers' impressive vocal range and 'Unlimited Mixtape' sets the personal bar even higher.
The inclining wave of the first two tracks buzz with an infectious energy that ripples through 'Gorgeous' featuring Jords, and 'Trust'. As this wave spill over and flows into 'Hello', 'Smile' and 'Burning' the change in energy is no bad thing. Instead, Jelani's wildly celebrated ability to effortlessly slide between rapping and singing is reflected in the fluctuation. An alluring beat is maintained as the thrilling power of the first few tracks seems to settle. This allure drags the attention to a calmer, conversational voice – but you should always be prepared for the enigmatic rise of a bass-heavy beat. It is an insane ebb and flow that is sure to grant Jelani Blackman with the recognition he truly deserves.
Jelani's ability to give rise to this oscillation of sound throughout 'Unlimited Mixtape' perhaps mirrors the strange, unpredictable situations and emotions he has experienced in recent years. After all, this is a mixtape born out of the wildly uncertain pandemic. Each track varies – from heightened, sonic elements to calmer, more personal moments. They create parts of a whole body of work, offering various snapshots of Jelani's life during these unfamiliar times. All the while, translating into familiar and relatable music.
'Unlimited Mixtape' showcases the versatility of Jelani Blackman. It is sure to initiate an exciting and prolific future for the unparalleled rapper and singer.
8/10
Words: Amelia Kelly
– – –
– – –
Finneas O'Connell is ready to release his first album. Eight-time Grammy award winning, Bond soundtrack writing, one of the most in-demand producers in pop Finneas O'Connell, or just FINNEAS, as he prefers to be known in this context.
The 24-year-old's creative partnership with younger sister and future Glastonbury headliner, Billie Eilish, has given chart-skeptics of all ages the perfect living, breathing example of why platinum-selling music can still be interesting, creative, and boundary pushing.
With the arrival of Billie and Finneas' creative tag team, the pop rulebook has been torn down the middle for evermore.
'Optimist' screams otherwise – O'Connell colours firmly between the lines. His ideas do not stray beyond the conventions you'd expect for each singer-songwriter outfit he puts on from song to song.
There are tunes that could've been covers of Elton John, Sam Smith. More modern takes from the Troye Sivans of the world. The only thing separating them is O'Connell's intuitive production that, nonetheless, doesn't quite match the bar he set for himself creating dark, daunting earworms for the past five years. It could happen anywhere, at any time.
Constantly mentioning said brother-sister partnership feels cruel, but inevitable. So it stops now. Because the maestro should not replicate the sound palettes that earned him his acclaim – though there is nothing stopping him from digging deeper into the creative ideas that got him here.
It's frustrating. You want to shake him and say: "You can do better than this".
Because we know he can. In between producing albums coated in the sibling's musical chemistry, FINNEAS has released 20 songs under the mononym. The majority have been intriguing and full of promise. The end production of this period of creation can best be described as middling, full of unfulfilled sonic inventions and discoveries.
On to the good parts. There are some. 'A Concert Six Months From Now' does a great job of double entendre-ing heartbreak with the woes many of us have felt about our relationship with the arts during this pandemic. 'Medieval' hits a sweet spot, creating a gritty landscape of fame-commentary without coming across as disingenuous and pallid.
'Optimist' is an album FINNEAS enjoyed making. His sister has remarked that in the months it takes her to create one song, O'Connell is producing several each day.
"Why would you build your own house if you were a carpenter?" he told the New York Times from his Los Angeles studio.
"Why would I hire someone else to do something I know how to do and can execute myself? And it's also really fun."
It's great that O'Connell enjoyed doing this. He has, and will continue to be, one of the most important producers of this century, with the credentials to back that.
Perhaps having fun creating the end product is the real triumph of this tale. It has been a rough 18 months, after all.
5/10
Words: Shannon McDonagh
– – –
– – –
West London p-rallel returns with new single 'Believe'.
The multi-faceted artist has signed to 4ZA, a tastemaker imprint within the always on-point Black Butter Records.
New single 'Believe' sits in a house vein, the bubbling electronic textures interwoven around some fantastic guests.
Fredwave and Jeshi guest on the single, taking p-arallel's energy to the next level.
The video is online now, and it references Jay-Z's deeply influential 'Marcy Me' video, while also giving a nod to cult classic Human Traffic.
Tune in now.
Photo Credit: Cosmo Webber
– – –