This week's column takes a moment to remember an actor whose death on February 2nd, at the age of 46, has been acutely felt by his peers.
- - -
That Was The Week In Which…
We lost Philip Seymour Hoffman.
"A middle-aged man, a credible and decorated actor, the industrious and unglamorous artisan of Broadway and serious cinema? The disease of addiction recognises none of these distinctions." Russell Brand (link)
"He didn't die because he was partying too hard or because he was depressed – he died because he was an addict on a day of the week with a y in it. He'll have his well-earned legacy – his Willy Loman that belongs on the same shelf with Lee J. Cobb's and Dustin Hoffman's, his Jamie Tyrone, his Truman Capote and his Academy Award. Let's add to that 10 people who were about to die who won't now." Aaron Sorkin (link)
"He was not only the most gifted actor I ever worked with (and judging by the legacy he leaves behind I am certain I share this with most if not all directors who were fortunate enough to work with him), he had also become an incredibly inspiring and supportive friend. I am so terribly sad as I find it impossible to comprehend what happened today and to collect my thoughts properly. I have to think about Mimi and the children and I wish them much strength coping with the loss of this truly great man as a father and partner." Anton Corbijn
Capote, official trailer – Hoffman won the Academy Award for Best Actor in the lead role
- - -

The Big Film: Dallas Buyers Club
This is an exceptional, essential piece of modern cinema. As Ron Woodruff, a gruff, philandering, bigoted Texan who reacts to his HIV-positive diagnosis in the early days of the AIDS epidemic by seeking alternative forms of treatment, a physically atrophied Matthew McConaughey cements his place as a truly fine actor – a continuing reinvention following strong performances in the likes of Killer Joe and Mud.  A jarring and emotionally wrought performance from Jared Leto as Rayon, a street hustling HIV-positive drag queen who becomes central to Woodruff's operation, is the other surprising standout in a movie that turns the ham-fisted, tired biopic genre on its head.
Noteworthy also is director Jean-Marc Vallée's deadpan and determinedly austere treatment of the material – from the movie's sparse and unobtrusive cinematography through to its refusal to wallow in trite sentimentality. His reliance on the inherent power of Craig Borten and Melisa Wallack's script, and the trust he places in his actors, pays dividends. It's not the first time Vallée has impressed (his 2005 effort C.R.A.Z.Y. is an undiscovered gem of Canadian cinema), but this is on a different level altogether.
The whole film feels imbued with the vitality and urgency of the American New Wave of the 1970s, and in channelling that energy becomes one of the more important films of the last ten years. Words: Andrew Law
Dallas Buyers Club, official trailer
- - -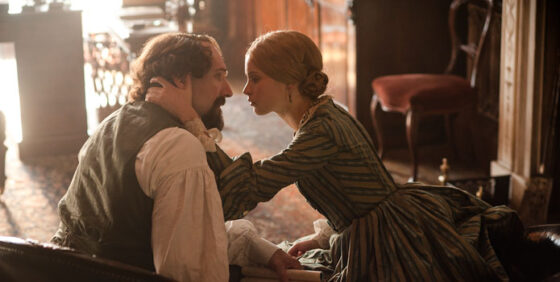 Also Out: The Invisible Woman
"Charles Dickens? More like Charles Dickhead," would be an accurate if wholly inappropriate tagline for this examination of the literary legend's complicated private life. Stuck in a one-way marriage, the middle-aged Dickens (Ralph Fiennes) relishes his celebrity status – especially the admiration of women who are younger than his neglected wife Catherine (Joanna Scanlan). Dickens embarks on an affair with the aspiring if borderline incompetent teenage actress Nelly (Felicity Jones) and ditches his wife with a callous disregard usually reserved for the clinically psychopathic. The couple's subsequent divorce, almost unheard of in the era, was cause for scandal.
The Invisible Woman bears the hallmarks of an accomplished period drama: lavish costume design, acutely observed historical details and strong performances. Fiennes imbibes Dickens' personality defects with some garrulous charm, while Jones effectively portrays Nelly's reserved passion. However, it's Scanlan who impresses the most with an extraordinary ability to demonstrate hurt, bewilderment and rejection in a flash of an expression.
Unfortunately that's as gripping as The Invisible Woman gets. The remedial chemistry between Fiennes and Jones provokes little empathy for their situation, and the story – cleverly constructed around two differing time periods – offers little in the way of tension or surprises, leaving a visually accomplished film that's dramatically inert.
The Invisible Woman, official trailer
- - -

New Talent: John Boyega
Who? John Boyega is a 21-year-old actor from the mean streets of Peckham.
What's he been in? He's best known for his role as gang leader Moses in south London sci-fi comedy Attack The Block (pictured centre, above).
What's coming up? Plenty! He's set to play a computer tech in the return of Kiefer Sutherland's Jack Bauer in 24: Live Another Day, as well as the iconic athlete Jesse Owens in the biopic Race and another lead role in inner-city drama Imperial Dreams. Next month sees the UK release of a Half Of A Yellow Sun, in which Boyega features alongside Thandie Newton and Chiwetel Ejiofor.
They say: "He is a brilliant actor. I am pretty much 100% confident that John Boyega will go on to be a major star." Attack The Block director Joe Cornish (link)
He says: "My biggest challenge is to not do urban movies for the rest of my life, those alpha hoodies… I am just 21, but I'm done with all the urban stuff. You get sent these urban movies and it's the same old thing." (link) 
Half Of A Yellow Sun, official trailer
- - -
Shorts
Director Michael Winterbottom is no stranger to controversy. In 9 Songs, he cut live sex between performances from Super Furry Animals and Franz Ferdinand. Butterfly Kiss followed a bisexual serial killer, and The Killer Inside Me depicted Jessica Alba taking a savage beating. So he'll probably be prepared for some of the adverse reaction to the Amanda Knox-inspired Face Of An Angel.
The Wolf Of Wall Street ruled the UK box office for a third successive weekend. Other new entries came from That Awkward Moment (3), Frankenranken (4), Lone Survivor (6) and Out Of The Furnace (13).
12 Years A Slave was the big winner at the London Critics' Circle film awards as it collected the honours for Film of the Year, Actor of the Year (Chiwetel Ejiofor) and Supporting Actress of the Year (Lupita Nyong'o).
Finally, Matt Damon commented on the depiction of him in Team America: "I thought it was brilliant! I mean, I never understood it, and then I heard an interview with them and they said the puppet came in looking kind of mentally deficient and they didn't have time to change it, so they just made me someone who could really only say his own name. All the comedy they're doing is really next-level stuff. Also, I liked being included as a person who was against the Iraq war." (link)
- - -
Words: Ben Hopkins (except where indicated)
Get more Film content on Clash, here.